getting my son's rifle ready
10-19-2008, 07:45 PM
Nontypical Buck
Join Date: Mar 2008
Posts: 1,177
getting my son's rifle ready
---
Today I took my son and his TC Renegade out to shoot. His load is a bullet I make for paper patching. It is a Lee C-501-440-RF. When I pour them out of pure lead they are 456 grains, and I call them the Moose Maulers. I load them Paper Patched with 80 grains of Pyrodex P, and a home made wool over powder wad lubed with Hornady Great plains lube. This load has proved to shoot Sub 2" groups at 100 yards.
His sights are Lyman 57 SML peep sights. I took off the scale off the side that is used to set the sight. I heavily scribed the settings for 50, 100, 150, and 200 yards. I painted them white and left the marks between them black. So if I want to set it to 75 yards it is the black line between the white 50 and the white 100 yard marks. This picture was before I painted the hash marks for my yardage.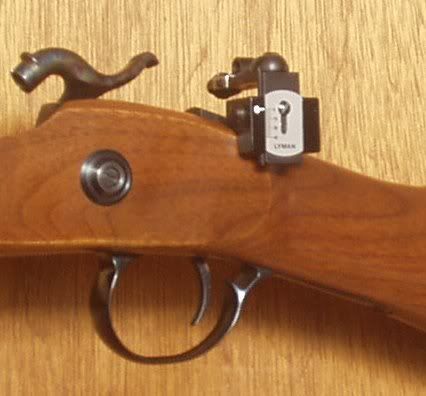 Well I loaded the rife and shot the first round. The target was a milk jug at 150 yards. I had about a 10 MPH wind from about the 8:00 position. I held about 4" to 5" to the left Shooting from my home made Cross sticks.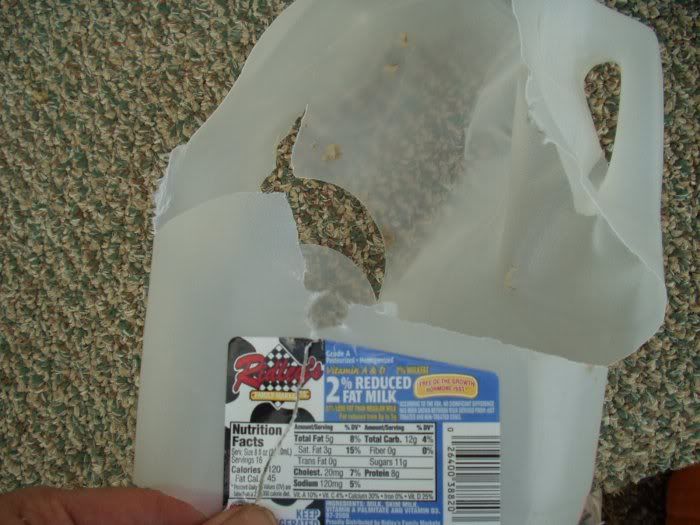 After that I cleaned it and gave it to my son Jacob. He loaded it and took on the 75 yard jug and it died. The impact was so violent I could not get a good picture of the bullet entrance. His next shot was at 100 yards and this hit just grazed the jug and dumped out the water. He was also shooting off of my cross sticks.
He has a any weapon doe hunt that opens next month. His goal is to shoot one with this rifle. We have a few more weekends to practice but I think he will be ready, I know the rifle is. Ron
10-19-2008, 07:54 PM
Nontypical Buck
Join Date: Dec 2005
Location:
Posts: 3,246
RE: getting my son's rifle ready
---
I look forward to seeing theresults. I really like the way you made use of all your home made things; I hope your son appreciates all your wisdom and planning to get him set up.
Best Wishes,
Chap

10-20-2008, 07:16 PM
Nontypical Buck
Join Date: Mar 2008
Posts: 1,177
RE: getting my son's rifle ready
---
I have three Renegades with the Lyman 57 SML peeps. I think they are great sights for hunting or target. For front sights I have two Lyman 17 AML globe sights with Lee Shavers long rangeinserts. The other one is a Lee Shavers globe with a level and Long range inserts.
I hope he gets the chance to shoot a deer with this gun he is excited. Ron

Thread
Thread Starter
Forum
Replies
Last Post
Posting Rules
You may not post new threads
You may not post replies
You may not post attachments
You may not edit your posts
---
HTML code is Off
---