roundball loads
02-13-2008, 09:08 AM
RE: roundball loads
---
Normally you will find the long rifles are excellent roundball shooters. Depending on the powder, sometimes a wad is needed. All you can do is try them with and without. I find that if I shoot a substitute powder, I get more control with a wad, but when shooting Pyrodex or Black powder, the wad really seems to make little difference. Still, try the rifle both ways.

I was told by an old muzzleloader shooter that they used use, cornmeal, bee hive, chunks of wool yarn, all sorts of things as a wad. I have made my own and now purchase them. Getting too lazy in my old life to sit and hammer them out. Although I still do once in a while for the fun of it.

As for the sprul or spur as some call it.. when you cast a roundball you will often times get that spur on the top from where the mold cuts the lead at the pour. I have found that if the home cast ball are consistent, it makes little difference in accuracy. Then there is the debate of spur up or down in the barrel. I like to put them up. Does it make a difference? I don't know but it makes me happy. At least I know where the thing is and I am consistent with the loading.

Another thing about long rifles, they can shoot real accurate with less powder. Some of them I have seen do very impressive shooting with only 50 grains of Goex. In long barrel rifles I like to shoot a 3f powder. I think the longer barrel is able to use the barrel pressure better. Pyrodex P is another good powder in the longer barrel rifles. Start shooting it once at 50 grains and see what happens. Also, never under estimate 50 grains of powder. I know a fellow that hunts deer with 50 grains and a roundball. He shoots a Lyman Great Plains Rifle in .50 caliber. His theory is he wants that ball to stay in the body cavity and release all its energy in there for shock factor. Whether that happens, I do not know. I am not a ballistics person. And his shots are all close. But he claims he still normally gets a pass through. Another friend of mine shoots a Tradition's Kentucky long rifle in .50 caliber and he loads 110 grains of Pyrodex RS. I watched him drop a big deer in its tracks at over 100 yards. That was an amazing shot. Whether it was luck or skill, I do not know, but to watch that deer fold at that distance from a simple roundball was amazing.

02-13-2008, 09:40 AM
Giant Nontypical
Join Date: Nov 2004
Posts: 5,425
RE: roundball loads
---
In my .40 caliber flintlock, I shoot a .390 home cast ball with .018 WalMart pillow ticking and homemade lube which consists of 2 parts bees wax, 8 parts castor oil and 1 part Murphys Oil soap...I shoot 25 grs of Goex FFF for small game and have shot up to 60gr for longer ranges...

In my .54 flintlock, I shoot a .530 home cast ball, same ticking and lube and 80grs of Goex FFF for deer hunting...I have gone down as far as 50grs FFF for small game and target shooting and used to use up to 100-120grs for hunting (my barrel is 1 1/16 thick at the breech)...Without knowing how stout your barrel is I wouldn't suggest going over 90-100grs of Goex FFF or Pyrodex R-S...

When I used to shoot a .45 flinter, my small game load was a .440 ball and 40grs FFF and my deer load was 75grs FFF....

Point being...Start with a ball .010 smaller than caliber and 40-60 grains for targets for small game and 75-100 grs for deer....

I used SnoSeal for lube for 30 years or so, it works well....

I prefer to buy cotton ticking from WalMart and lube and cut my own patches because it's cheaper and I had patch burnout with the pre lubed patches....

Start with a lighter load and work up...Always look at the patches after shooting, this will let you know if you need a bigger ball, thicker patch or some type of wad, nesting or buffer patch between powder and ball....

As Cay mentioned, my cast balls have a sprue, I just center it when loading and put it up...

02-13-2008, 02:11 PM
Join Date: Jul 2006
Location:
Posts: 5,180
RE: roundball loads
---
My traditions Kentucky @ 50 yards with small game load and hunting load. 40 grains for rabbits " single big hole is total of 9 shots" and then my hunting load of 110 grains FFFg goex. I started using .018 pillow ticking and the thicker patches seem to help.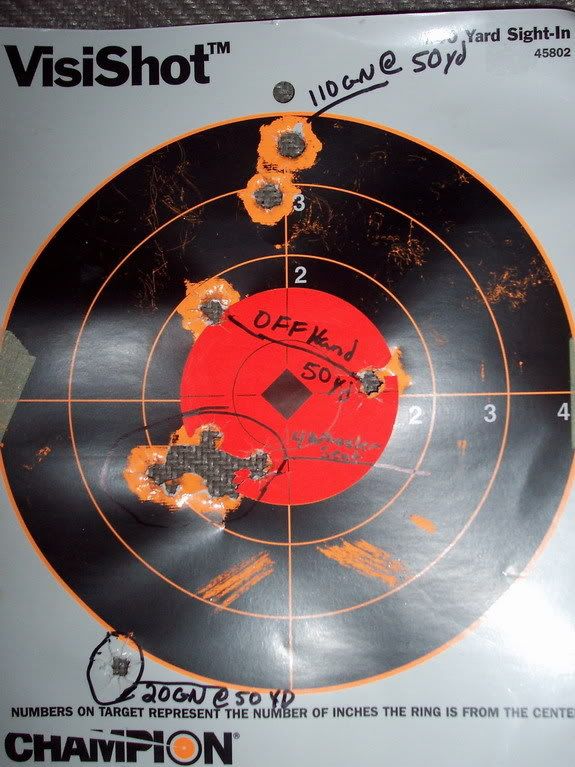 02-13-2008, 02:30 PM
Giant Nontypical
Join Date: Nov 2004
Posts: 5,425
RE: roundball loads
---
lemoyne...Yep, sure have...Used to do a little competitive shooting as well...
Used to have to pound it down the bore with a short starter and a mallet...
After my retna tore, I gave that up...Dropped down a ball size and really concentrated on trying different patching material and lubes...

Most of my shooting is casual targets and hunting now and found a smaller ball and thicker patch was easier to load and pretty accurate...

My rifles both have Ed Rayle barrels with .015 rifling, that might make a difference as well...

02-13-2008, 06:43 PM
RE: roundball loads
---
little-d that is the same twist my friends rifle has. That rifle is really an accurate rifle. One afternoon I stopped over at his place and he had his mother out in the back yard shooting that thing. He loaded it with 50 grains of powder for her, and she was just smoking soda cans at 35 yards with that rifle shooting roundball.