Who's your hunting buddy?
06-22-2007, 11:06 AM
Join Date: Jul 2006
Location:
Posts: 5,180
Who's your hunting buddy?
---
Seeing how the board has been a little... Ok, A Lot slow, i figured i'd start something we can all talk about. Who is your hunting buddy, and what do you guys hunt and shoot with?
Here is my New hunting/shooting Buddy that wants me to teach her how to shoot blackpowder and how to hunt. How could i say no?
I'll start her off small with my deercreek .45 and patched round ball.
06-22-2007, 01:40 PM
RE: Who's your hunting buddy?
---
I normally hunt alone. I know this is not a wise thing to do and I catch the devil for it from family, but I like to wander around. Then I sit. Then I wander. And I do not like to be responsible for keeping track of anyone else. If I decide I have had enough for the day, I do not offend anyone by going home and having some coffee.

The nice thing is, if I do get one down and need help, I have always been told by my friends that they are as close as a phone call away. So far I have been able to get them out. A good 4 wheeler is a life saver. Although there was one big one back in the cedar marsh that just about had me giving up. I can't remember being that tired. When you are basically in a thicket and having to move a 140# deer through that stuff, and over it, and under it, and through the creek, you know what work is. Actually I even considered letting it pass when I saw it. But the sausage monster in my head was teasing that there was none in the house, so we took the shot.

Sometimes I still hunt with a group of guys, but I do not like the idea of all these people in one small area hunting around me. Also I am not one that likes to be visited to "see how things are going." I like to be on my own property, all alone, and just sit. I like to blind hunt the most. This year though I might have a visitor as a goodfriend wants me to help her son learn how to muzzle load hunt, etc and has no one who will take him along. He's a good kid, so what the heck.

06-22-2007, 01:52 PM
Join Date: May 2006
Location: Tri Cities, Washington
Posts: 1,616
RE: Who's your hunting buddy?
---
My 15 y.o. son. We do a little deer hunting, little pheasant hunting and are starting to get into coyote hunting. When we are pheasant hunting, our lab is our partner and sometimes my 9 y.o. son comes. That will be more frequent in the coming years.

Dave, I hear ya about hunting alone. As you know, my dad has heart problems but continues to hunt every year. Mom worries herself sick about him being out there, but you know he could have the big one sitting in the chair at home just as easily. A man's gotta do what a man's gotta do.

06-22-2007, 02:30 PM
RE: Who's your hunting buddy?
---
when its flintlock season its normally deer driving only. stand hunting is pretty much fruitless...the deer been hunted HARD since september...they just aint dumb enough to move...i tried still hunting...im not patient enough...i move too fast and dont really know where to go to do good...i still do both...but not much...usually small drives.

i hunt with buddies...usually only a couple of us...usually the guys that killed their bucks in rifle come out and drive for the rest of us...couple of us diehards deerhunt for 2weeks in rifle and then drive for 3 more weeks in flintlock season...its a good time...we usually make some smoke every day...my gun doesnt go off much...i just never ever seem to be in the right spot at the right time in flintlock season...think my gun might be cursed..but my buddies always get alot of shootin in...just dont do much killin. they dont do much target shooting...dont do much gun maintnence...just dont care enough...sad...im slowly getting them there...they still dont believe i shoot a pound of powder a year. i told them that wasnt alot and i wish i had time to shoot more..

06-22-2007, 04:03 PM
Join Date: Jan 2007
Posts: 426
RE: Who's your hunting buddy?
---
I have a couple buddys I hunt with but never more than 2 of us at any given time depending upon the season. We all do archery in climbers during early season. Our archery season opens October 1. Gun season usually opens 1st week of November. Last year I hunted deer with bow throughout the year. This will be my first year with the muzzleloader. I will hunt with it during gun season which we can do here in Indiana.

When I am hunting with a buddy we never see each other until we get back to camp. We do have cell phones muted and to be used for emergency or to tell the other that game is down.

You cannot explain to someone that has never experienced it what its like to be in a tree well before daylight and watch the world come alive. Its a blessing!
06-22-2007, 05:31 PM
Fork Horn
Join Date: Mar 2007
Location: Indiana
Posts: 498
RE: Who's your hunting buddy?
---
My hunting buddy is my friend Jim. We have been hunting opening weekend together for about 12 years. Just would'nt be the same without him.

I always grab the same gun when I go hunting, my White Super 91. I have 8 muzzleloaders but always grab that one when I go hunting.

06-22-2007, 07:58 PM
RE: Who's your hunting buddy?
---
I have a few buddies that own farms and we swap bowhunts throughout the season on each others properties but thus far my gun huntin' buddy is my 11 year old Daughter and I look forward to my 2 Sons joining us over the next couple seasons.
This year my Daughter is looking for her first muzzleloader kill with her T/C Omega!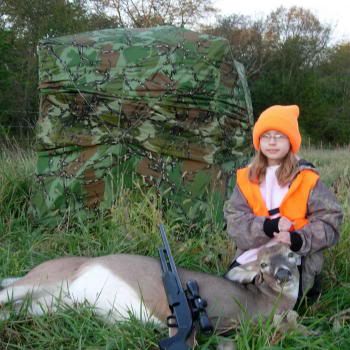 06-22-2007, 09:49 PM
RE: Who's your hunting buddy?
---
Small game: son
Deer firearm: Bros and friends (4-5 people)
Deer bow: Brothers
Deer Muzzleloader: brothers

My son wanted to go deer hunting but he's notquite ready yet. Maybe a couple more years and he'll be joining the group.
06-22-2007, 10:44 PM
RE: Who's your hunting buddy?
---
Typically I stand alone.

I've tried taking some friends out before and even though they "know what they're doing" and talk a big talk it seems everytime I get in the woods I feel as though I should be lucky they didn't scare the trees off with their talking and scooting and bumping around.

I might take my girlfriend out a time or two this fall before it gets too cold just to see what she things. I've had her shooting a little and now she tells me she wants to "shoot something" so I'm thinking squirrel with a .410 might be her game.

However, if ever offered an opportunity to go out with someone more experienced I will not turn it down.