packing the meat out, of some canyon
11-27-2018, 05:03 AM
Super Moderator
Join Date: Dec 2017
Location: fla
Posts: 1,006
packing the meat out, of some canyon
---
I have to wonder how many guys actually think through the process of getting the meat out of some remote area once they have game down,
I generally assume I will have game down at some point so my day pack contains a dozen 2.5 gallon zip lock bags, tools to dress out game, knives sharpeners, and a small block & tackle
meat will spoil rapidly unless cooled, rapidly, this generally won,t be a huge issue if you can place the full ziploc bags in a snow drift,
maybe Im an optimist but I generally have at least 20 lbs of dry ice in a cooler back at my truck even before I have game down, most large grocery stores in game areas sell dry ice
but you should make every effort to pack meat back to a cooler with dry ice as rapidly as you can do so.
you may need to pack out a rear ham with the sex evidence still attached ( check local game laws)
the sharade woodsman
http://www.knifeoutlet.com/shop/10Expan ... e=SCH165OT
two decent values in less expensive hunting knives
https://www.knifecenter.com/item/SCH...leather-sheath
https://www.knifecenter.com/item/SCH...delrin-handles
this woodsman (above) and the sharp finger (below),are both a darn good value in a skinning and dressing game knife,
both work, you may prefer one vs the other,
but both get the job done and at the very low price,
you could buy both and give the one you don,t prefer to a son or friend
https://
www.midwayusa.com/product/310537/old-timer-woodsman-fixed-blade-hunting-knife-5-clip-point-7cr17-high-carbon-stainless-steel-blade-sawcut-slab-handle-black
http://www.survival-gear-guide.com/schr ... inued.html
http://www.amazon.com/Schrade-Timer-Sha ... B000IE3ZKA
https://www.midwayusa.com/product/10...b-handle-black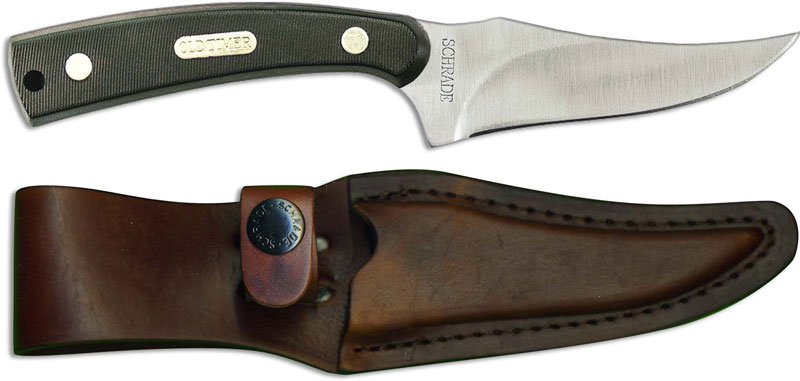 now if your looking for a dirt cheap knife of above average quality for its price both of the knives above do a decent job, Ive used both for many years and while each has its good/bad features both are very handy, I prefer the woodsman by a slim margin as its a bit more useful in my opinion , but either will dress out deer or elk quite effectively
when combined with an ez-lap or similar pocket diamond hone
now I don,t care if your built like a pro wrestler, or foot ball linebacker, if you dropped an Elk in some remote canyon,
Ive run into guys who had an elk down in some remote canyon, with no idea or even vague plan on how to get it back to camp... like one guy said,
" ive hunted elk for 5 years and this is the first time we ever actually shot one... now what do we do??"
creek bottoms like this, where you typically find elk holed up during the season, may be easily a thousand feet of elevation or more and far more than a mile from where you can park your truck, and
your not going to be able to drag the carcass out in one piece.I usually hunt thicker brush, and take my 450 marlin rifle or sometimes my 375 H&H carbine,
now this carbine shoots flatter, but its not more effective like the ballistics on paper seem to suggest it might be, the fact is that the bigger caliber and heavier bullet seems to be just as effective in my experience inside of 250 yards.
YEAH, A BROWNING blr IN 450 MARLIN

but once your games down you certainly don,t want to carry a rifle that might weight 8-10 lbs both ways while your packing a heavy back-pack out of some canyon.
you'll need to at least 1/4 the game , so you'll have several very heavy loads and your not making it out of some canyon 1-4 miles from camp with a 60 lb-100 lb back pack load without a good deal of effort,
in fact I've occasionally let barely legal elk walk right on by in the first few days of a hunt, hoping for something a bit more impressive so the required effort of dragging him out of some remote canyon would be a bit more justified in my mind. (not always smart but Ive done it several times)
you may not be packing heavy loads but with the proper design what ever load you do pack will be far easier to handle, more stable and less fatiguing
BTW good boots with ankle support and stiff cleat type bottoms are almost mandatory
decent quality commercial pack are not cheap
before you bring any back pack on a ELK HUNT youll want to test it out carefully, by actually testing it,with significant weight loaded over at least 30 minutes, what might feel OK in a 2 minute test WON,T feel the same after 30 minutes!
you need to spread the significant load on your shoulders and hips and pad it as much as you can!
you need too adjust the straps and hip belt so 80%-90% of the weights on your hips not your shoulders, and youll want too,find several trash bags and put a 80 lb bag of sand inside them,and duct tape them carefully so it won,t leak, then place the large load simulating a elk quarter or load of meat,in the pack. if your pack won,t fit a MINIMUM of that size load in its main compartment YOULL NEED TO LOOK INTO A LARGER STRONG PACK!
then spend a minimum of two hours walking around ,ideally, up a few stairs,in some out door high school stadium or condo stair case,or across local hills etc, if the pack you selected squeaks or rips, under that load ,its JUNK and you just saved yourself a whole lot of grief knowing that well before the hunt, and getting a better pack is mandatory, because you normally will be packing gear into or elk meat in or out, in your pack, and a pack that fails 1/2 way up a steep canyon is a huge problem.
[img]http://www.grumpysperformance.com/$_12.JPG
I tried at least 4 different welded aluminum frame freighter style pack frames similar to this,(I'm sure theres a dozen good quality freighter packs but the ones I tried were junk!,) every one was noisy and eventually broke under the loads I packed out, of those canyons, they were a HUGE P.I.T.A. and in my opinion a waste of money
http://www.eberlestock.com/miva/merchan ... ry_Code=BP
these are supposed to be top quality
the first few elk I packed out I used an external frame aluminum frame, pack. the first year was a total disaster as the riveted aluminum frame squeaked constantly and eventually broke under the 80 lb loads in very short order, the next year I bought a far stronger name brand welded frame ,that cost over $120 which was a huge expense in the early 1970s, it lasted two years before it broke
, I explained my problem at cabelas store, to an old geezer who had actually experienced similar issues, and the guy suggested a cheap PEAK ONE pack,frame,at that time or something like the CURRENT
RED HEAD ENDURO FLEX
but suggested I have a better bag made,with a larger compartment, I bought a heavy nylon duffel bag and heavily modified it so it securely strapped too and was supported by the flex frame at a dozen plus all adjustable strap locations, on the frame, plus


I used 20 feet of seat belt nylon and brass grommets to make a custom pack,support sewn to the edges with a great deal of sewing of seat belt web strap, to secure the duffel to the pack frame so it comfortably supported 100 lbs of sand bags inside the duffel ,the dozen plus individual buckle straps sewn so the weight stayed centered and close to my body, I bought far better quality hip and shoulder belts and added those and its lasted and worked for 30 plus years, its ugly and not high tech, but like a crowbar its hard to damage, and it works
HERES A GOOD BASIC FRAME
http://www.basspro.com/RedHead-Endurofl ... LL_PRODUCT
http://www.basspro.com/RedHead-RH5000-E ... 160606328/
80%-90% of a loaded packs weight SHOULD be supported on your hips NOT the shoulder straps so a sturdy well padded hip belt is ABSOLUTELY mandatory
you may NOT be able to fing a quality hip belt on a sturdy frame so mix & matching frames, belts and straps might be your only choice
http://www.ebay.com/itm/like/3111784728 ... rmvSB=true
Ive always prefered to carry a magnum revolver in a shoulder holster when packing out meat, you certainly don,t want to discuss rightful ownership ,
of your elk on a return pack trip un-armed if something with large teeth and claws has decided you must have left the parts you did not pack out initially simply because you had no further interest.
so far I have generally used a small block & tackle to haul my elk up to dress it out, but even if your back in an hour or two, you might find your ownership challenged,
so far, Ive had a bear only once feeding on the offal, when I returned and once he saw us, (my partner and I) he decided he had business elseware, but Id hate to be un-armed if he had decided otherwise.
the 44 mag silhouette with adjustable front site and 10 5/8" barrel
YES IT REQUIRES a shoulder holster to use comfortably
---
Last edited by hardcastonly; 11-27-2018 at

07:43 AM

.
Posting Rules
You may not post new threads
You may not post replies
You may not post attachments
You may not edit your posts
---
HTML code is Off
---