Canoe hunt for elk 2015.
10-22-2015, 11:16 PM
Spike
Join Date: Oct 2015
Posts: 32
Canoe hunt for elk 2015.
---
As I crested the top of the steep slope onto the ridge my heart pounded, my calves burned, my lungs gasped for air. I stopped to catch my breath on the well worn game trail that made its way along the ridge's edge and took in the view below me. Upriver the braided channels and backwaters snaked their way through a low delta area where our camp lay. As it flowed past the river gathered its strength, the channels converged, and it hurtled through a jagged gap and into a long series of rapids. In between was my ridge, extending like a claw from the side of the mountain down to the river's edge. For the time being the early morning sky was clear but I could see fog rolling through the Gap and up the valley. Somewhere above me on the mountainside my partner was sneaking into position on a powerline right of way, the better part of a week's worth of hard hunting had lead us here. It would be our last attempt at these elk before we had to move our camp downriver towards the takeout. When my pulse slowed to a half normal rate I unslung my rifle and set off slowly down the trail in the semi darkness.
We had loaded our canoe and pushed off into the icy river 5 days before, past the point of no return, past the modern safety net that provides the illusion of predictability as we go about our regular lives, into a place where we both knew that absolutely anything could happen. A few hours downriver we had found several sets of fresh elk tracks crossing a gravel bar. I had planned to travel further on that first day, but with the canoe you can't come back upriver and experience has taught me never to pass up a good area to make miles early in the hunt. In the days that followed we hunted the area hard, hiking and climbing, reading the sign, eliminating options. After a few days of hunting we began to realise that the elk were not calling, we also saw enough lone elk over the course of the hunt to suspect that they weren't herded up either. The elk were here but it wasn't going to be easy.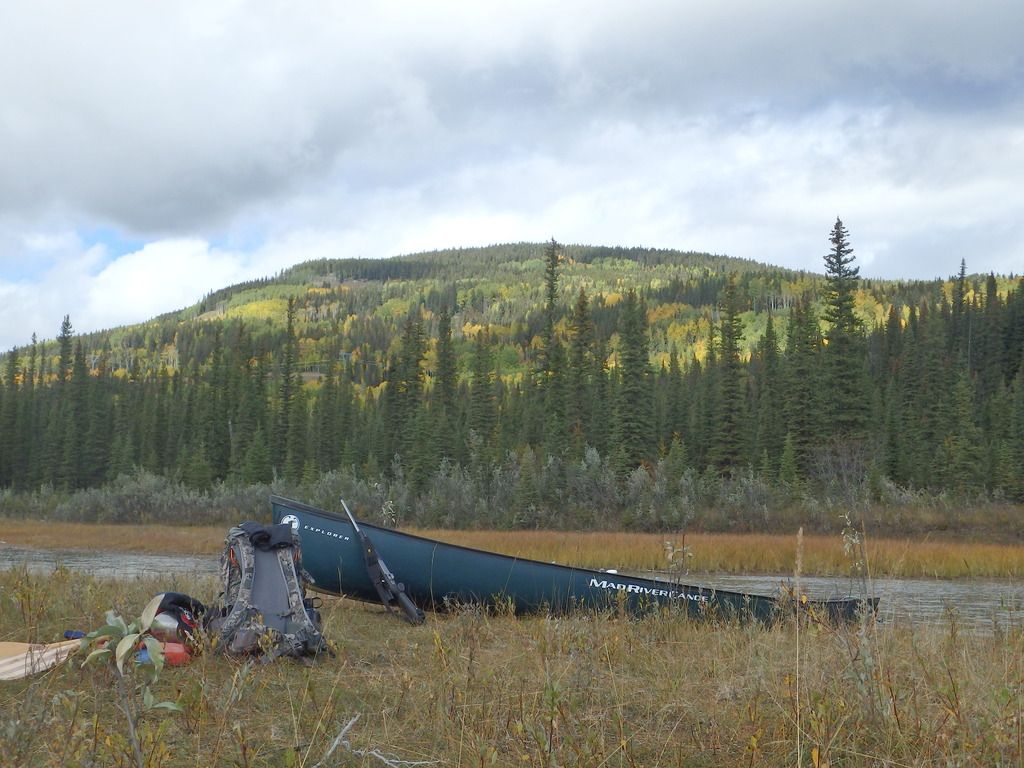 In the breaking dawn I crossed a dry creek bed that marked the border where the dense old growth gave way to a more open mixed forest, here I left the game trail and turned my course away from the river. There was plenty of new elk sign on the ground since the last time we'd hunted here. We had hunted this spot a few days before in a heavy downpour that lasted a day and a half. I don't mind hunting in the rain, but I sure hate hunting in rain gear. Out here not wearing the rain gear isn't much of an option though, if you let your clothes get soaked and the temperature drops you can end up in a survival type situation pretty fast. The last time we hunted through this area it had seemed like we'd found the elk, this time I see it differently, just a small piece of the puzzle we've been working on all week.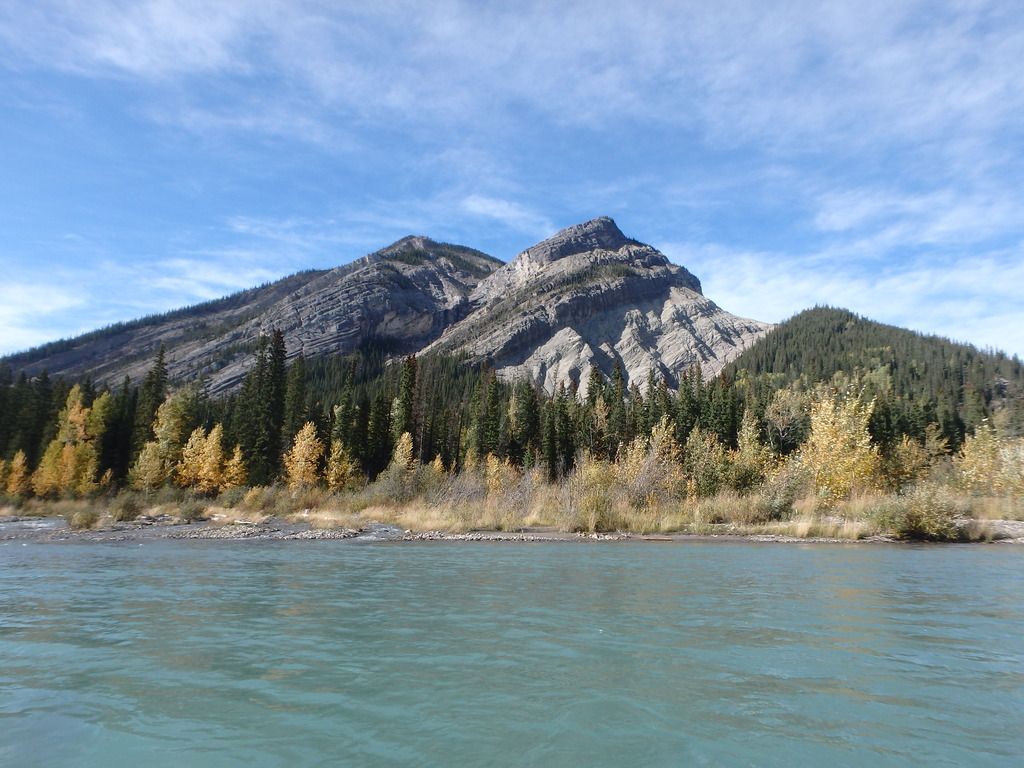 I fought to keep my eyes scanning the bush while I hunted up the mountain towards the powerline, trying to keep my head in the game as I slowly worked my way up the slope. It seemed like we had been right on these elk, so close for so long, without actually connecting that it was getting hard to stay optimistic, to keep believing that our bull could be right behind the next tree. I've gradually evolved into a dyed in the wool big timber hunter, I like to be on the move, on the sign, feeling the pulse of the wilderness. Trying to still hunt for elk however is a daunting task. Moose are easy to see and will generally give you a bit of time to make a shot when you bump them, even the crafty deer have that "freeze instinct" that can work in your favor, elk just start running. Then there's the problem of getting a tine count to make sure the bull is legal, it takes a sharp hunter and a small miracle to pull it all off. The morning after the rain had stopped we'd found fresh tracks in a dry river channel that lead us to a long, narrow island. "I think he's still in there!" I'd excitedly whispered to Cory, "And he's going to have to cross that channel to get out!" Cory had gone along the old channel and I silently crept down the island for about an hour, the bull had eventually spooked at 40 yards and bailed off the island across Cory's channel. I listened breathlessly for a shot, or even a call, but there was nothing. In the maze of old river channels Cory had taken a bad turn and gone down the wrong one.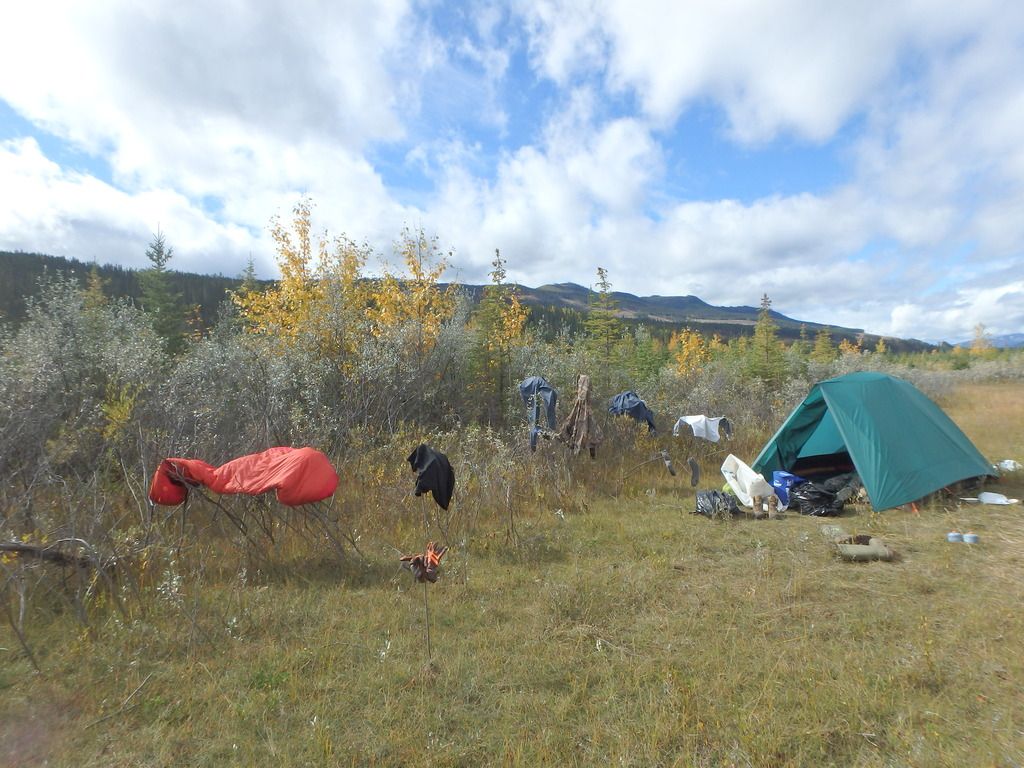 I pulled out my binoculars and started to use them to glass the underbrush. The binoculars weren't really necessary but it's a trick I've learned to make myself slow down and concentrate. As I worked my way further up towards the powerline I finally started to settle into that still hunter's rhythm, feel myself descend into that Zen like state where I am no longer a spectator or intruded in these woods but a part of them. The fog had come up the valley and was now upon us. Dense fog in the morning is common along the river in the early season and it can be a mixed blessing. The elk move around more in the fog, but it can also make it awfully hard to tell if a bull is legal. I knew Cory would be in his spot by now, lying on the knoll and watching the powerline. We had watched that line almost every day, myself from various spots without much luck, and Cory sticking loyally to his knoll that he had found on the first day. He had seen enough lone cow elk cross the line that eventually we both knew our best chance at taking a bull was that knoll. There was no point in both of us sitting there though, and as far as I was concerned that spot was Cory's. He'd put in the time there and if it produced a bull then he deserved to take the shot. The area where the cows were crossing was directly above the ridge I now hunted along, it was the least steep route down to the river valley as well as one of the few options we hadn't eliminated yet. More pieces of the puzzle that was starting to make sense, if only we could complete it in the time we had left.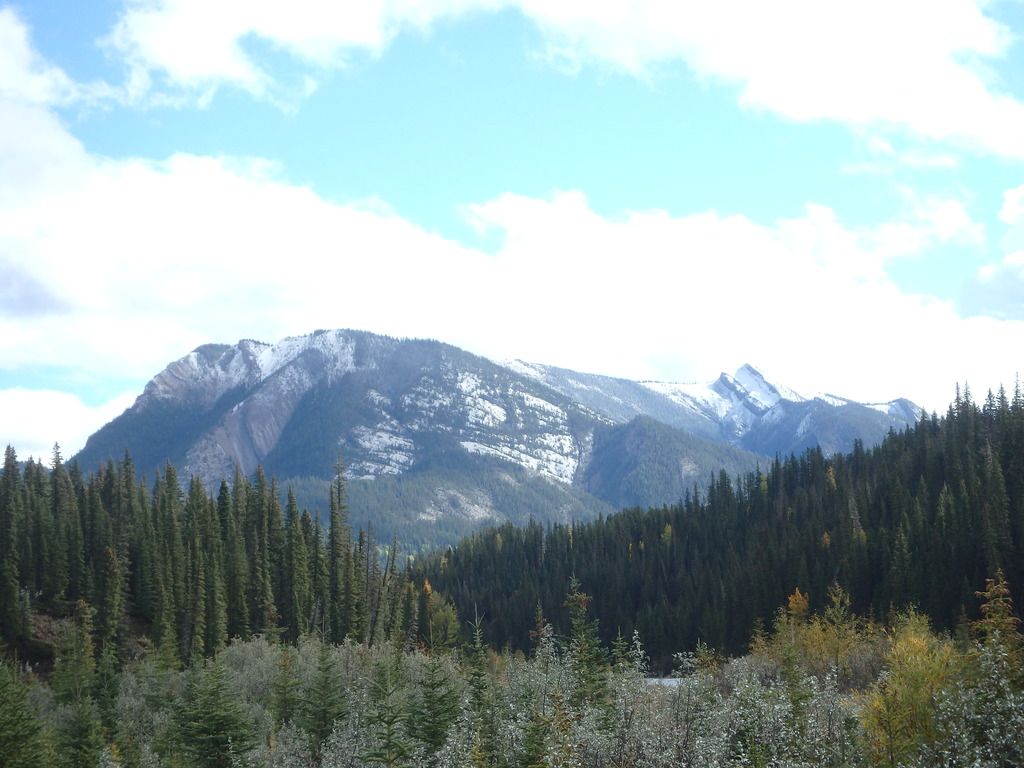 The fog started to thicken and suddenly the sharp sound of a gunshot broke my focus. It had come from above me, it had to be Cory, could it possibly have been someone else? A second shot rang out and this time I was certain it was Cory's .270, a third shot and I knew he had an animal down for sure. I picked up the pace and headed towards the sound of the shots, maybe a big old whitetail buck had come out and tempted him a little too sorely, if that had happened our elk hunt was over. I needn't have worried, when I finally pushed through the blowdowns and deadfall onto the powerline a beautiful 6x6 bull lay in the grass. An ecstatic Cory told me that he had peeked out onto the line to see several cow elk move into the trees. He made a few cow chirps and they came back out. He could see another elk in the trees, hanging back off the powerline, and suspected it was a bull. As the fog started to move in the bull must have felt secure and stepped out of the trees about 350 yards away from Cory. Even in the gathering mist there was no mistaking those dark, heavy antlers. He took the shot and the bull lurched forward about 20 yards where Cory shot him again. The bull went down at the second shot but started to struggle back to his feet. The last shot knocked him down for good.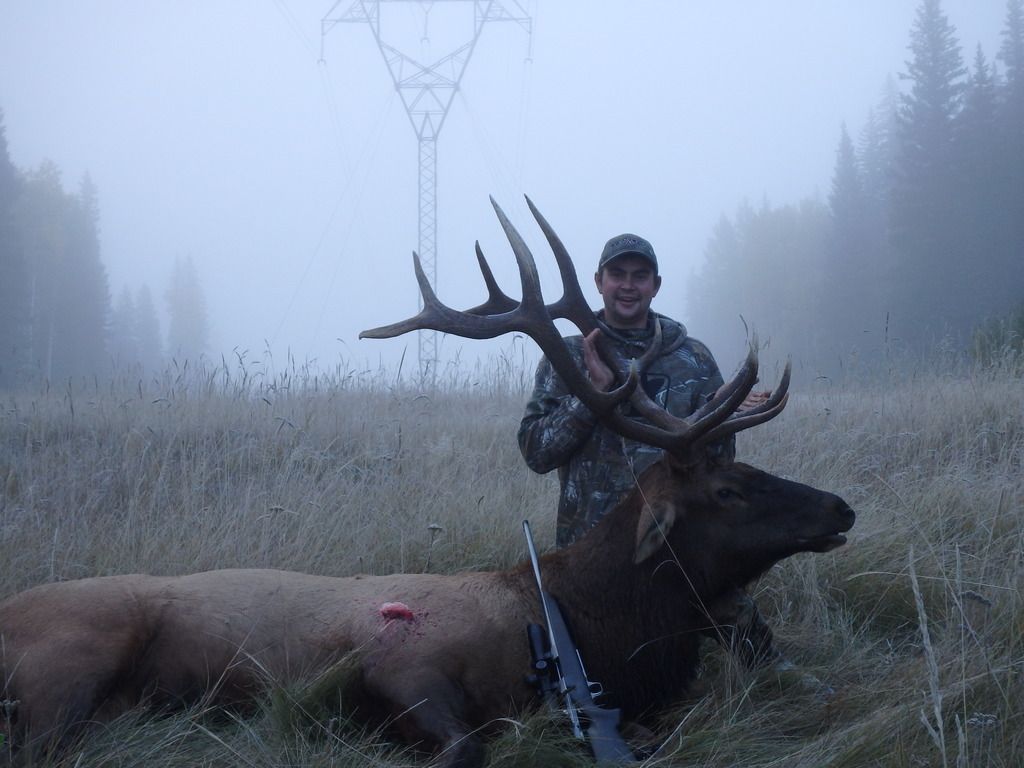 By mid afternoon we had our elk packed down to the river. After a quick meal and a short break, we loaded up the canoe. We fought to limp our overloaded canoe down the rapids but both my arms started cramping up severely from exhaustion and dehydration, it became obvious that leaving without more rest had been a mistake. With the canoe loaded so heavily it handled like a barge and drew a lot of water, staying out of the rapids was tough and even in a modest chop we were taking on water. We had to stop often to bail out, or use ropes to line the canoe around rapids. Even lining the canoe was treacherous, loaded with close to 800 lbs of cargo when it hit the end of the ropes it took all of our strength to control it. By 6:00 we were exhausted and soaked so we pulled over and made camp. We celebrated our success with a huge meal of bannock, hot tea, and a few nips from Cory's flask of Fireball. It doesn't get much more Canadian than that.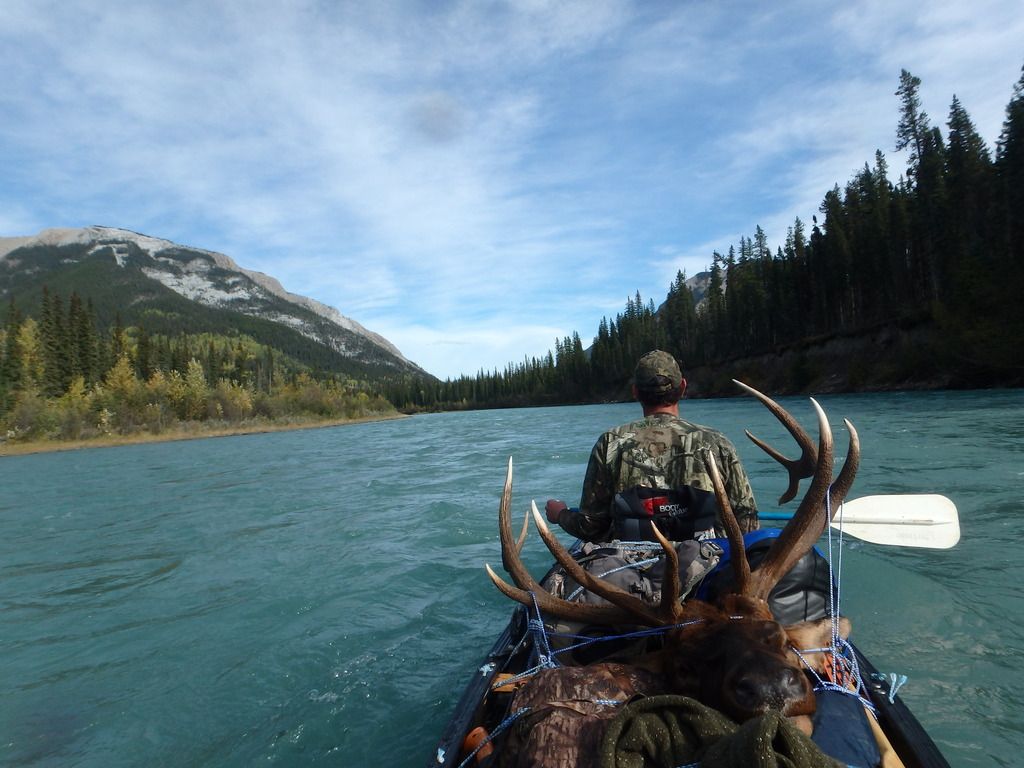 The next morning, we awoke and packed the canoe at daybreak. Our wet clothes had frozen stiff and our boots were like blocks of ice. I was the first to fill my boots with icy river water that morning. "Its actually somewhat liberating." I told Cory, "Once you get soaked you can forget about trying to stay dry and just do whatever you need to." A short while later we were both thoroughly "liberated". Like the day before we did almost as much lining and bailing as actual paddling, progress was slow but spirits were high as we neared our takeout. Finally, late in the evening we rounded the last bend and saw the road. I felt a huge weight lift off my shoulders, for much of the trip since Cory had killed his elk I had been stressed out about the possibility of losing all evidence of it in the river. It had been a hard hunt and a wild ride, we were both soaked and exhausted but once again we had done it! Cory had taken an excellent bull and we'd both experienced another incredible wilderness adventure. That right there is why we hunt this way, more than the game that we pursue, regardless of the outcome, its the hunt itself that is the real trophy.
---
Last edited by Exophysical; 10-22-2015 at

11:31 PM

.