Alberta black bear down!
05-16-2011, 10:59 AM
Alberta black bear down!
---
I shot a 5'4" sow black bear last night over my bait. Rebaited the stand Saturday and I got trailcam pics of her already on it that night. I never had a tree stand set up so I sat on the ground against a spruce tree camoed as best as possible. Got to my stand at 3:00 pm, was bored as hell by 5 pm, had a deer walk right up to me and give me a stare down at 6:00 pm, so I figured I was hidden well enough seeing as bears have worse vision then whitetails. At 9:00 pm I could hear sticks snapping every now and then. I look to my right and theres a black shape that just appeared out of nowhere. It stepped out in the wide open broadside with it's nose up in the air down wind sniffing the air. She's too far to my right and looking right in my direction so I can't move my guns position to shoot. I was basically F'ed. Lucky for me the bear stepped behind some brush that gave me time to readjust. I held the crosshairs in the nearest opening and as soon as her shoulder stepped into it I let her have it. A 130 grain Hornady out of the .270 Win rolled her right on her back. I let her have it again and unfortunately hit it's paw and messed up the hide a bit lol it happens. Got up on her as it was posturing up and shot it a 3rd time in the back. That was that. My first shot was a perfect double lung at 25 yards. The second shot was also 25 yards and the last shot was about 5 feet lol. I sat 6 hours for a bear and have the mosquito bites to prove it, was a boring sit! Was definitely worth it though! Getting the hide tanned, and the skull bleached. I know a guy on this forum who will take the meat so we have the hind quarters in a cooler. So far she's the only bear thats been to this bait. Bear # 2 for me and that .270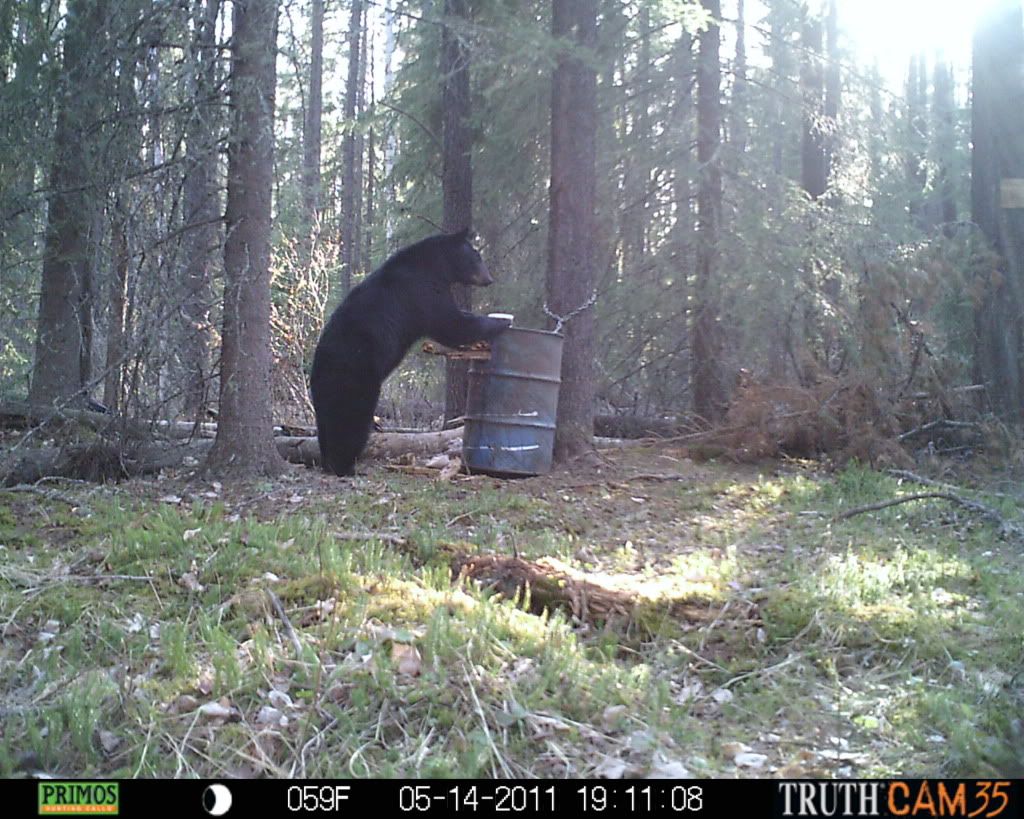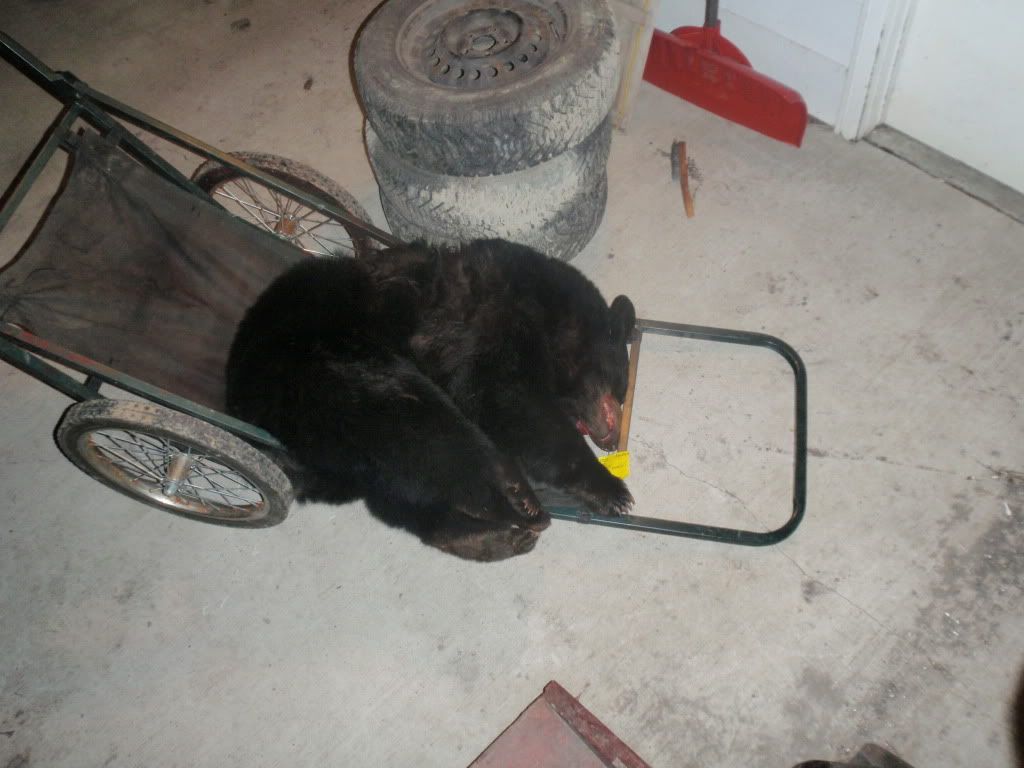 ---
Last edited by moosehunter30; 05-16-2011 at

11:16 AM

.
05-16-2011, 11:56 AM
Fork Horn
Join Date: Oct 2009
Posts: 119
---
Good job, nice bear. Great to see someone taking a sow, I believe bear numbers are at an all time high most places and ,are so high in some that they are becoming a real problem.
We checked our hunting area last weekend ,May 7 and the snow was still well over knee deep ,we saw no tracks on any of the hills around.
Alex
05-25-2011, 11:47 AM
Spike
Join Date: May 2011
Posts: 1
BEAR GUIDES & OUTFITTERS Manitoba, Canada, Hunting Guides & Outfitters MACCARTHY GUI
---
Nice bear!! I just came back from a black bear hunt in Manitoba with Maccarthy Guiding & Outfitting
www.maccarthyoutfitting.com
The beginning of the week was tough hunting with high winds and an unbelievable full moon. As the week went on I saw more and more bears each night. The night I shot this bear, I had 6 come in to the bait. If you are looking for a great hunt at a fair price you should check these guys out.
Posting Rules
You may not post new threads
You may not post replies
You may not post attachments
You may not edit your posts
---
HTML code is Off
---