Nosler Accubond bullets for big game...
12-26-2009, 10:54 AM
Nosler Accubond bullets for big game...
---
I have been thinking changing from 168 Barnes Triple Shock X bullets to some 180 grain Nosler Accubond bullets for my .308. I was just wanting some input on their performance when trying to smash through heavy shoulders of elk and larger animals than deer. The Accubond is a much more streamlined bullet and will carry more energy down range than the X bullet but I want to make sure they hold together well enough for those shoulder shots. Information on any caliber is fine.
12-26-2009, 01:46 PM
---
I shoot them out of my .338 and have taken 3 elk in 4 years and none have gone more than 20 yards beofre falling over dead. I even shot one at 355 yards and went thru the shoulder and out the other side...she took 2 steps and was dead.

The Accubond is the only bullet I use.....I use it for all my guns .257 roberts, .270, 300 Savage and of course my .338WM.
12-26-2009, 05:15 PM
Typical Buck
Join Date: Jun 2005
Posts: 604
---
I have taken deer with the 180 accubond and it always passes thru with nice sized exits from my 06. I would not worry about penetration or bullet failure at 308 velocities.

It sounds like you are happy with the TSXs terminal performance but want better energy downrange. I would take a look at the new 168 grain Nosler E-Tip. It has a .503BC which is about the same as the 180 grain Accubond so it will carry energy downrange like the 180 accubond but can be lauched approx 100 fps faster. With its 95% weight retention I would guess the E-tip would outpenetrate the accubond even though its starting weight is less.
12-29-2009, 06:24 PM
---
I shot my elk last year with a 160gr accubond out of my 7mm Rem Mag and was happy with the results. Didn't have perfect shot placement, but it still got the job done.
Another bullet you might check out is the E-tip. It has 95%+ weight retention and almost the same ballistics.
Here's the E-Tip I recovered out of my mule deer buck this year. I shot him dead on in the chest with him facing me at 50 yards out of the 7mm Mag.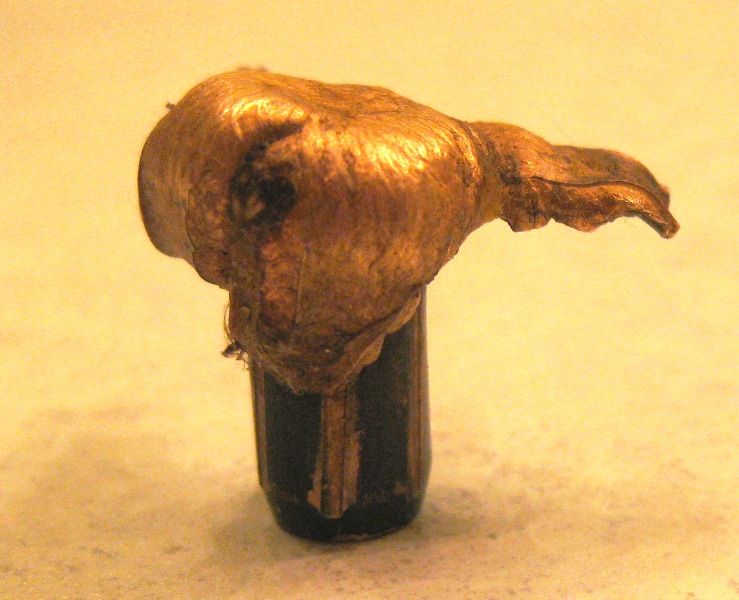 It was a 150gr bullet.
12-30-2009, 06:58 PM
Nontypical Buck
Join Date: Jan 2008
Location:
Posts: 1,408
---
I've shot whitetails, muleys, antelope, and elk at ranges from 200 to 683 yds with the .30cal 200gr Accubond out of a 300WM. Every bullet has exited, and every bullet has done a ton of damage. I am left with zero complaints on this bullet except that I cannot get enough tags to fill with them.