2009 spring bear hunt
04-10-2009, 07:24 AM
2009 spring bear hunt
---
Well I'mgeeting ready asI type here. Bait is almost all gathered..... just looking for some more grease. You can never have enuf grease. I'll be posting puicks after I set up on sunday


04-13-2009, 06:56 PM
RE: 2009 spring bear hunt
---
What a day it was. Glad the frost was still in the roads for the most part or else we had been stuck more than we were out baiting. We set up 5 spots and used well over a ton of corn and oats..... about 500-800lbs of pigskin and pails of stink bait...... not to mention the grease. I am heading back out on thursday to add more grease to all the barrels. Pics weren't possible b/c of the weather....... takin the camera on thursday. Also setting up some game camera's to see whats out there.
04-24-2009, 07:32 AM
RE: 2009 spring bear hunt
---
South eastern Manitoba public land known as Sandilands provincial forrest.
I haven't been able to get back out yet due to work. My hunting partners went out and put more grease out nd set up cams on som of the spots. We have strike indicators set at the others to tell if they have been hit.
Here's a few pics of my set up from last yr. I moved this bait to another location about 500yds away. hopefully it was a good move.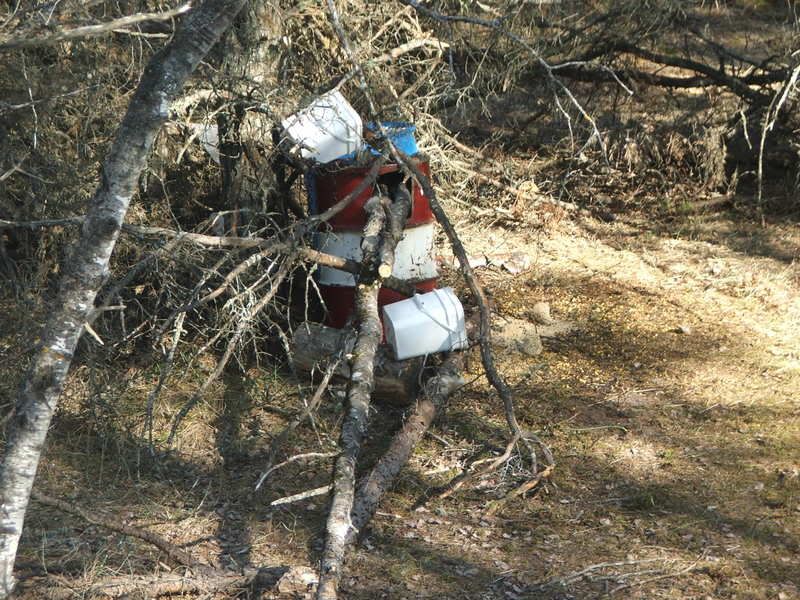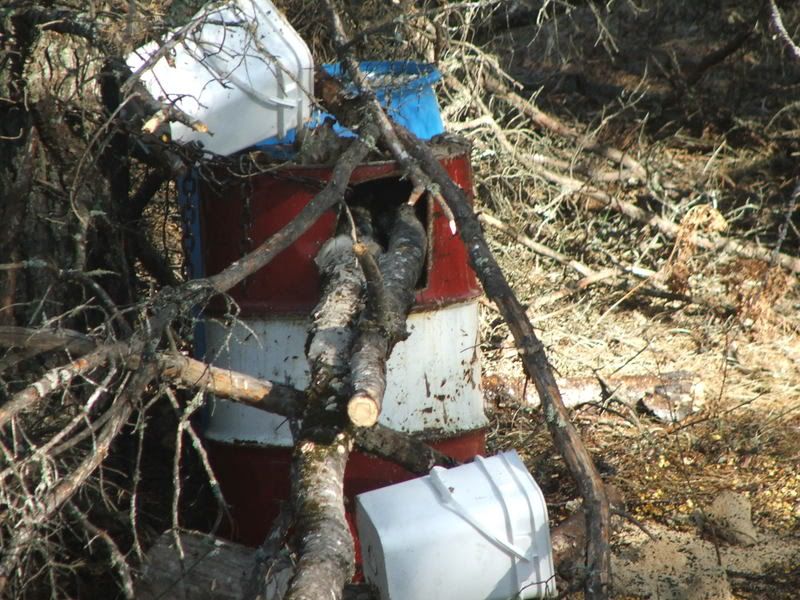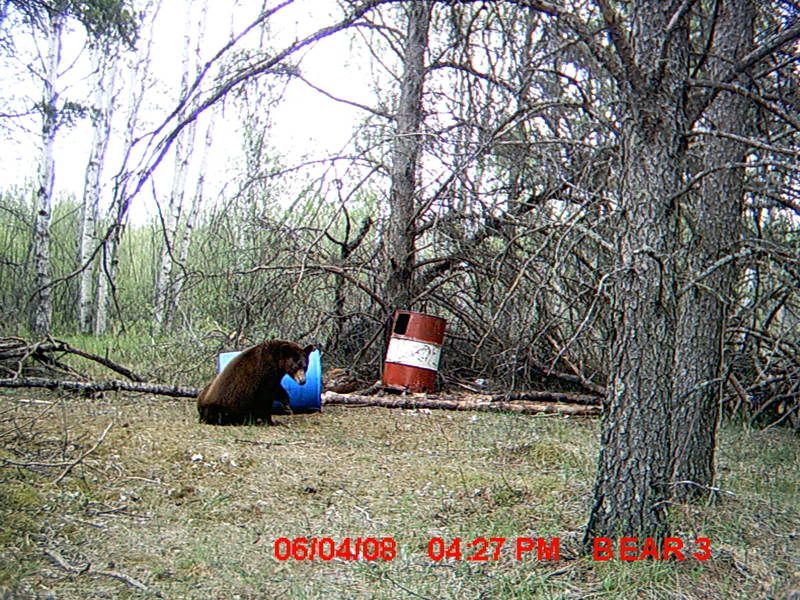 04-24-2009, 07:37 AM
RE: 2009 spring bear hunt
---
you can see the strike indicators in the first 2 pics...... large logs placed in the holes of the barrel. Nothing but a bear or a man would be able to pull those out. Also note the location of the blue barrel. It wasn't attached to anything, so they could play with it a bit. The other barrel was attached to a tree via a chain. I had at least 6 different bears on this bait in its first yr and that is only the ones we got pics of. This was the only colour phase coming in on cam........asmall cinnamon. I ended up taking an 18" boar off this set on the last day of the season.
Hopefully this season will be a better one.

04-24-2009, 08:18 AM
RE: 2009 spring bear hunt
---
Funny thing is I hunted that day...... got to my bait 2hrs aftewr these pics were taken. [&o]
I would let it go a few more yrs anyways I think....... if it was 6' or so I would take it just for the rug.
Don't worry Schultzy...... there's more to come in the next month and a half.
There's a few more guys hunting with me this yr so we should get some good pics of bears on the bait as well as down.
04-24-2009, 08:38 AM
RE: 2009 spring bear hunt
---
Depends on weather. Round here it looks like its gonna be a late start again. Still no fresh greens coming up yet. Makes it hard for the bears to 'blow their plugs'. Alberta may be a different story tho. I'm fairly new to bear hunting and have been working on the knowledge of other locals mainly. Bears are up and moving but the question is when they are gonna start feeding hard. Your outfitter should know and probabley wouldn't sell hunts this early if they couldn't get you on bears.
Nice thing about an early hunt like that is the bugs shouldn't be that bad and the hides should be in great shape.