Team 7 ~ Roost Raiders
04-09-2013, 02:43 PM
---
Well I just lost my hunting property that I had been hunting for 7 years. The owner leased it to a cattle farmer and he does not feel comfortable with people hunting the property around his cattle. IT really sucks because now I am stuck fighting the crowds on public land unless I pull something out of my ass and manage to find some new property by Monday (opening day). So if I am not much help this year I am sorry but I will give her hell trying any how.
04-10-2013, 06:43 PM
---
Went out after work today to scout as I only had Saturday Morning to hunt after tonights hunt. We pulled up to the farm and there was a tom in the field as it was raining only 100 yards from where we wanted to move the blind to. We bumped the tom on the way in and he was gone so we moved the blind. Hiked through the swamped woods....like 6 in deep everywhere. Walk to the other side of the woods and there was the flock...25 of them. Was we approach the edge of the woods two geese start honking and blow our cover. The turkeys run into the woods over 200 yards away.
We go running and get set up where they were headed. My brother went to cut them off around back but busted them. That was ok as we would try to gather the flock with some calling....only we did not need to. One they came right to me instead of to him! Birds everywhere. Only one with a red head and beard in range was a Jake. I am not picky and only one hunt left.....Bang. 35 yard shot he goes down! Mile walk back to the truck.
4.5 in beard 1/4 in spurrs 16 lbs I will try the score sheet in while.

I have another chance in the middle of May. Hope to get one of the gobblers I have seen out there!

Your score is 16 + 2.5 + 2.5 + 9 = 30

Pines
---
Last edited by TheinesPines; 04-10-2013 at

06:47 PM

.
04-12-2013, 08:53 AM
---
BOOM!
My "hunting buddy" slept in AGAIN, so I went without him. (he was to get the first shot, so I am kinda glad he did).
I made it to my lucky spot a little later than I would have liked too but I made it before sunrise. Almost as soon as I sat down on the FROZEN ground (26 degrees) nestled between the only two cedars for miles around, I heard an owl, then a gobble, and 2 more gobbles all a few hundred yards to my right but significantly behind me. I was worried that they were on the other side of a really large creek, and may fly down over there so I needed to get, and keep their attention.
As the sun was creeping up I beat my gloved hands together (flapping) and started my fly down cackle and was cut off by TOM! I knew they heard me, so I waited.....
5 minutes pass and I do a little yelping.... GOBBLE! wait...... 15 min...........
do some soft yelps, purrs and scratching..... nothing.
wait 15 min.............. yelp, purrrrrr, cluck..... nothing.
wait 15 min, and hear a tiny hen softly yelping behind me, they NEVER come in from behind me!!!
I am pretty exposed, but fully cammo'd so I VERY s l o w l y crane my head around and see her at 60 yards behind me in a field. Then I see another hen, and another. I see three hens marching North away from me, but I just KNOW there has to be a big ole tom with them! I turned back around to softly call to the hens since the unseen toms weren't responding. The hen was talking to me like crazy!! I just kept mimicking her and she would respond and started turning my way. Once again I slowly turned my head, and that's when I saw him! EASILY the most mature tom that I have ever seen in person! 100 yards to my rear, and headed NE and on a course to start walking AWAYfrom me at 80+ yards. PATIENCE forced me to be silent. My mouth got dry, my heart was racing and I was having that moment when we say to ourselves… "
This one is mine to LOSE
"! I needed him to come another 30-40 yards East before I would try and get his attn. and draw him south 50 yards to within range!
Just as he was perpendicular to me position I started purring on my slate call. He stopped in his tracks as his three girls kept heading East. He strutted for them, and they kept walkin. He turned and strutted for me and I purred a little, then shut up. He dropped his fan and started inching my way….60 yards away but FULLY behind my left cedar tree. He would need to come within 20 yards to clear the tree and for me to get a shot. I could tell that he had decided to come on in and he was in FULL strut! Then out of the blue, hard right turn into the tree line!! If he was going to walk the tree line he will literally bump into me! I lost a bird 2 years ago when that happened because I wasn't patient and I rushed the shot! Right then and there I said he could stand in my lap and I would not blink!! Then … I LOST HIM! Couldn't see him through the cedar tree…. Then SNAP…. DRUMMMMM….. SNAP………DRUMMMMMM! He was 6 FEET to my left and spittin and drummin like a BOSS! The most breathtaking natural sight I have ever witnessed!! BRILLIANT red, white, and blue head, and FULL strut! He then made a sharp turn to face my little hen decoy and strutted straight to her… then ATTACKED HER! LOL! I yelped once, head up, BANG, flop!
WHOOP & HOLLAR!!
My most exciting hunt ever, and I hope you all get to experience that rush!!!
I have never shot a REALLY mature bird in my life. Seems like every bird that I have ever harvested has been just a year or two and NEVER a "limb hanger"!
Eastern bird from KS
Each spur a solid 1.25"
Beard 10.75"
Weight 26.25 (fatso)
score is 26.25 + 12.5 + 12.5 + 21.5 = 72.75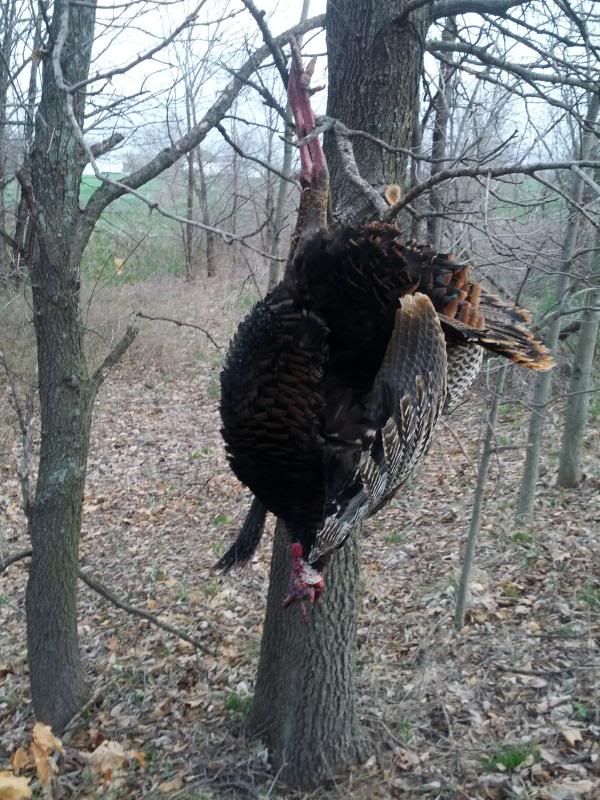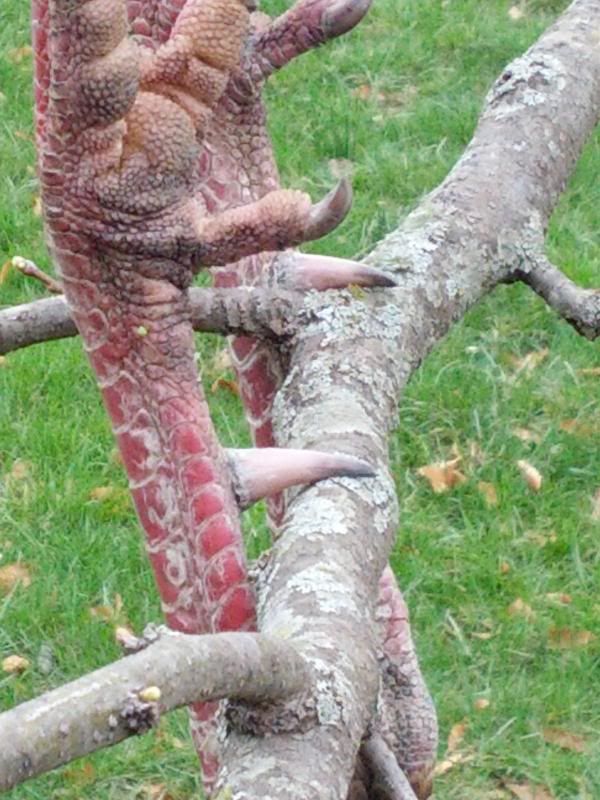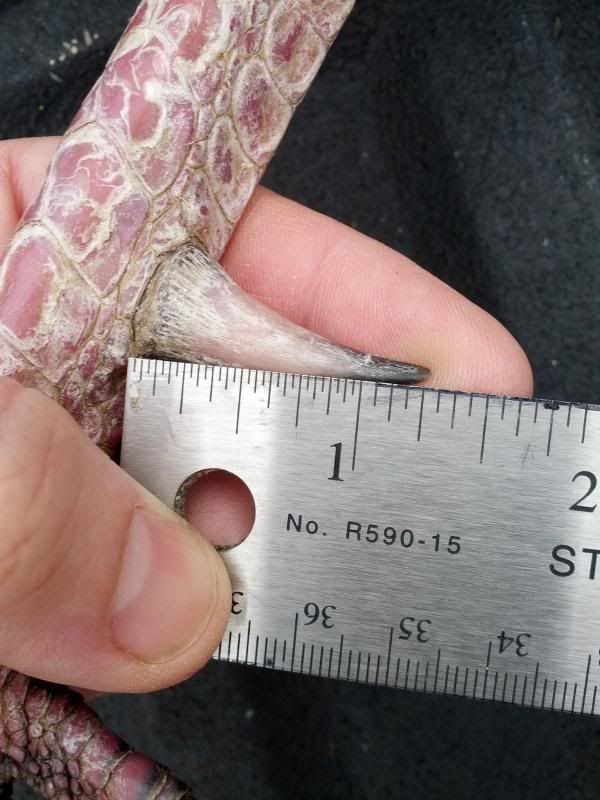 ---
Last edited by BIG DONNIE BRASCO; 04-15-2013 at

09:01 AM

. Reason: Added score
04-12-2013, 10:38 AM
---
Originally Posted by BIG DONNIE BRASCO
BOOM!
My "hunting buddy" slept in AGAIN, so I went without him. (he was to get the first shot, so I am kinda glad he did).
I made it to my lucky spot a little later than I would have liked too but I made it before sunrise. Almost as soon as I sat down on the FROZEN ground (26 degrees) nestled between the only two cedars for miles around, I heard an owl, then a gobble, and 2 more gobbles all a few hundred yards to my right but significantly behind me. I was worried that they were on the other side of a really large creek, and may fly down over there so I needed to get, and keep their attention.
As the sun was creeping up I beat my gloved hands together (flapping) and started my fly down cackle and was cut off by TOM! I knew they heard me, so I waited.....
5 minutes pass and I do a little yelping.... GOBBLE! wait...... 15 min...........
do some soft yelps, purrs and scratching..... nothing.
wait 15 min.............. yelp, purrrrrr, cluck..... nothing.
wait 15 min, and hear a tiny hen softly yelping behind me, they NEVER come in from behind me!!!
I am pretty exposed, but fully cammo'd so I VERY s l o w l y crane my head around and see her at 60 yards behind me in a field. Then I see another hen, and another. I see three hens marching North away from me, but I just KNOW there has to be a big ole tom with them! I turned back around to softly call to the hens since the unseen toms weren't responding. The hen was talking to me like crazy!! I just kept mimicking her and she would respond and started turning my way. Once again I slowly turned my head, and that's when I saw him! EASILY the most mature tom that I have ever seen in person! 100 yards to my rear, and headed NE and on a course to start walking AWAYfrom me at 80+ yards. PATIENCE forced me to be silent. My mouth got dry, my heart was racing and I was having that moment when we say to ourselves… " This one is mine to LOSE"! I needed him to come another 30-40 yards East before I would try and get his attn. and draw him south 50 yards to within range!
Just as he was perpendicular to me position I started purring on my slate call. He stopped in his tracks as his three girls kept heading East. He strutted for them, and they kept walkin. He turned and strutted for me and I purred a little, then shut up. He dropped his fan and started inching my way….60 yards away but FULLY behind my left cedar tree. He would need to come within 20 yards to clear the tree and for me to get a shot. I could tell that he had decided to come on in and he was in FULL strut! Then out of the blue, hard right turn into the tree line!! If he was going to walk the tree line he will literally bump into me! I lost a bird 2 years ago when that happened because I wasn't patient and I rushed the shot! Right then and there I said he could stand in my lap and I would not blink!! Then … I LOST HIM! Couldn't see him through the cedar tree…. Then SNAP…. DRUMMMMM….. SNAP………DRUMMMMMM! He was 6 FEET to my left and spittin and drummin like a BOSS! The most breathtaking natural sight I have ever witnessed!! BRILLIANT red, white, and blue head, and FULL strut! He then made a sharp turn to face my little hen decoy and strutted straight to her… then ATTACKED HER! LOL! I yelped once, head up, BANG, flop!

WHOOP & HOLLAR!!

My most exciting hunt ever, and I hope you all get to experience that rush!!!
I have never shot a REALLY mature bird in my life. Seems like every bird that I have ever harvested has been just a year or two and NEVER a "limb hanger"!
Eastern bird from KS
Each spur a solid 1.25"
Beard 10.75"
Weight 26.25 (fatso)


IMAGE#1


IMAGE#2


IMAGE#3


IMAGE#4

IMAGE#5
nice turkey Donnie!! can't beleive how heavy that one was! Good job
Posted from Huntingnet.com App for Android