Rats
06-23-2021, 04:13 PM
Super Moderator
Join Date: Dec 2017
Location: texas
Posts: 1,190
---
Amazon
Amazon
have you considered blow gun and darts
the rats can't run into a hole if transfixed with a 6" dart shaft
razor bladed darts do kill rats quickly with proper hits
but even marginal hits tend to anchor them quickly
and its not a gun, so they can,t say your endangering anything but vermin
yeah it takes a bit of practice but its really not all that difficult to master
you can even cheat with glue trap pads
https://www.walmart.com/ip/Catchmast...E&gclsrc=aw.ds
---
Last edited by hardcastonly; 06-23-2021 at

04:25 PM

.
06-23-2021, 06:25 PM
---
https://www.amazon.com/Cold-Steel-Ma...4493371&sr=8-4
https://www.amazon.com/Cold-Steel-Br...3Q8ECAD944S7NG
have you considered blow gun and darts
the rats can't run into a hole if transfixed with a 6" dart shaft
razor bladed darts do kill rats quickly with proper hits
but even marginal hits tend to anchor them quickly
and its not a gun, so they can,t say your endangering anything but vermin
yeah it takes a bit of practice but its really not all that difficult to master
you can even cheat with glue trap pads
https://www.walmart.com/ip/Catchmaster-Heavy-Duty-Baited-Rat-Glue-Traps-2-ct/15723807?wmlspartner=wlpa&selectedSellerId=0&wl13= 1541&&adid=22222222227000000000&wl0=&wl1=g&wl2=c&w l3=42423897272&wl4=aud-393207457166
la-51320962143&wl5=9012039&wl6=&wl7=&wl8=&wl9=pla&wl1 0=8175035&wl11=local&wl12=15723807&veh=sem&gclid=E AIaIQobChMIvOWGzICv8QIVZAaICR3d2Ay9EAQYASABEgIFKPD _BwE&gclsrc=aw.ds
I just picked up six more clamp traps, but they are getting trap-wise, watched one the other day really leary of one of my live traps. It was even a young one. I did pick up some hollow-point pellets with a recessed cross moulded in the tip, looks lethal, haven't tried them yet. I did some research, I have two types of Rats, one type are climbers and the other sewer and burrowing Rats. I can picture trying to get my dog off a glue board.
I have figured out the larger (older) Rats are leery of going into a Rat sized live trap and prefer a larger trap the size for a Raccoon or Fox. But I have caught my dog, the neighbors Cat and Blackbirds in the larger style live trap. The clamp traps I can put in places that are relatively safe from unintended catches. My guess is the poison baits the city hangs in manhole covers isn't working well anymore, the Rats are becoming immune to it. They seem to be proliferating worse than normal. Last year they had to replace fifty yards of city sewer the Rats had undermined and destroyed with their digging. About as close as I can get is 25 or 30 feet and even then I have to have good cover. Rats aren't stupid when the birds spook they head for the hills, it is like they have their own little watchdogs.
---
Last edited by MudderChuck; 06-23-2021 at

06:33 PM

.
06-28-2021, 10:54 PM
---
My count is now up to 14, a combination of traps and air rifle. Got to say it is good practice with the air rifle, pretty much the same as Hog or Deer hunting, just on a smaller scale.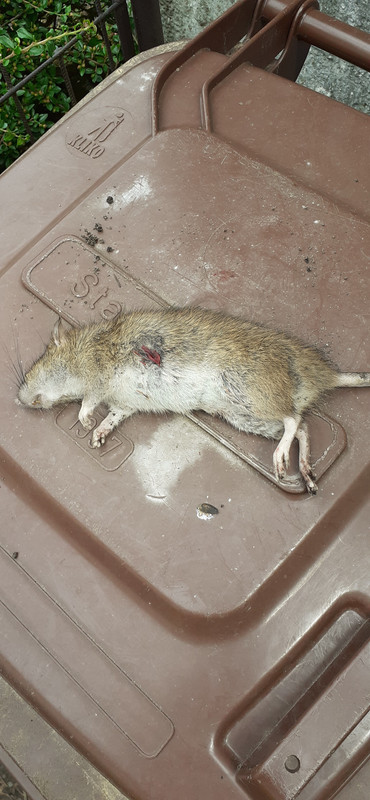 Gamo Expander .177 pellet. Advertised to expand with an air pistol as low as 3 joules. Seems to work well with my 7.5 joule air rifle.
I still have seven pellet types to test. I'm looking for the most reliable Rat killer.
06-29-2021, 03:44 AM
---
We get overrun with different critters every couple of years. A few years back it was Hedgehogs. They are pretty harmless, but loaded with Fleas and Ticks. I relocated a dozen of them. Year before last it was Mice. My son made a tetter totter trap over a bucket half filled with water and a little dish soap. The record was twenty one Mice in that bucket. This year it is Rats I've gotten 14 so far in few weeks, which tells me there is likely to be a bunch more that I haven't seen yet. I've borrowed a thermal monocular I'm eager to try out.
Anybody worried about animal rights can PM and I'll be happy to mail them all the Mice, Rats, Hedgehogs and Raccoons they want.
---
Last edited by MudderChuck; 06-29-2021 at

03:47 AM

.
07-08-2021, 01:09 PM
---
Off-topic but I think it interesting when the ground-feeding birds disappeared I started looking for Rats. Sure there were other causes, but this proved true 60-70% of the time. The Mice disappeared while the Rats were around. The neighbors' Cat also disappeared. I haven't seen, caught in a trap, or shot a Rat in days. The Mice and the Cat are back.
10-07-2022, 08:58 AM
rat hater
---
A small footnote here, to help in the propaganda war against the anti's: nature has a fixed carrying capacity. It cannot
maximize everything.
ut a bird feeder, and even label it "Birds Only", but rats and squirrels either can't read, or just ignore it.
sounds like you are too impatient to wait til the rat is still. put out food or water . when they stop to eat or drink take your head shot . drt for sure. iv killed many rats with my $20 chinese [pawn shop] under lever .have to fish them out of the bird water thats on the ground.






i hav a bird water on the ground
You can put o
So you can have lots of birds and few or none of rats and squirrels, or few or none of birds, and lots of rats and squirrels.

If you want the former, you have to shoot the latter. So if someone asks what you use your air-rifle for, say you're
increasing the number of birds.
sounds like you are impatient to take the shot
Posting Rules
You may not post new threads
You may not post replies
You may not post attachments
You may not edit your posts
---
HTML code is Off
---