Team 11 Check in
11-04-2012, 06:44 PM
11-05-2012, 10:18 AM
11-05-2012, 06:24 PM
Fork Horn
Join Date: Feb 2003
Location: Noble,OK
Posts: 132
---
Hunting on Lexington WMA the WMA I manage. Went to Atoka WMA this weekend on a controlled gun hunt but did not get a shot. Saw one buck chasing a doe and could not get them to stop. Had one long thick spike on one side and a split thick fork on the other. Will have to wait for regular gun for another shot. Will boil the skull up and get measurements this weekend. Going to try and post pics tonight.
11-05-2012, 06:40 PM
Fork Horn
Join Date: Feb 2003
Location: Noble,OK
Posts: 132
---
Not much on top but the tenderloins sure tasted good while camping out at Atoka WMA for my controlled hunt this past weekend. Halloween Buck from Lexington WMA.
Score = 70 6/8
Inside spread= 9 2/8
R Main = 13 4/8
L Main = 14
R G1 = 1 L G1 = 1 3/8
R G2 = 4 4/8 L G2 = 4 2/8
R G3 = 3 5/8 L G3 = 3 1/8
R C1 = 3 2/8 L C1 = 3 3/8
R C2 = 3 L C2 = 3 1/8
R C3 = 2 5/8 L C3 = 2 5/8
---
Last edited by JCNinOKC; 11-14-2012 at

07:49 AM

.
11-13-2012, 04:25 AM
Trail Cam Update
---
I finally got out to my trail cam last weekend. The 4GB card was full so I missed some prime time buck movement pre-rut. I did get some nice deer on it. Here is decent 8-point in velvet: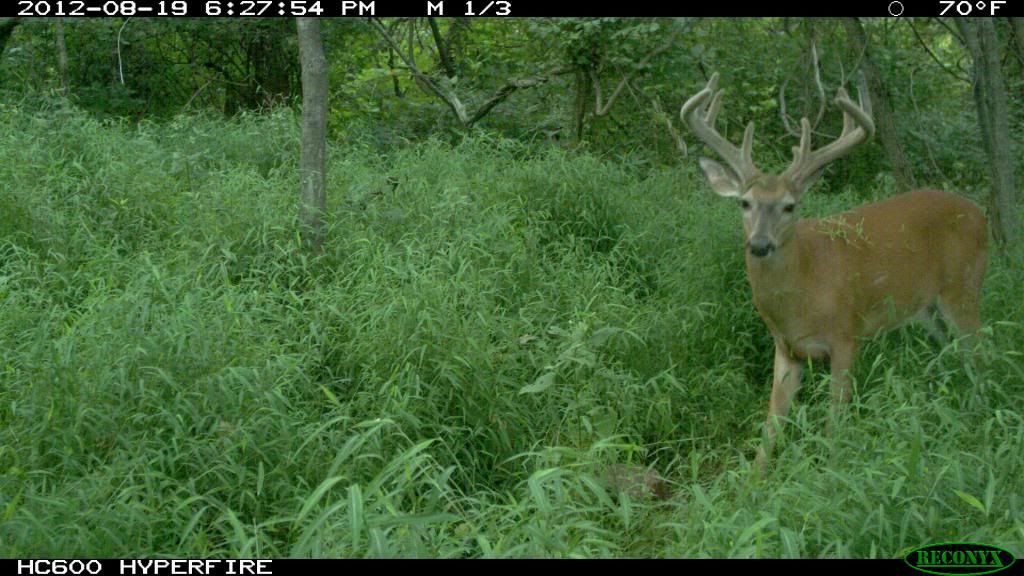 Same Buck with his bachelor group (5 buck in there):
Same 8-Point hard horn:
Have to wait till the Monday after Turkey Day to chase them with the gun. Good luck everyone!!
11-14-2012, 07:56 AM
---
Congratulations guys!! I think he who has posted the most should step up and be team captain. Any other time I would do it, but have way to much going on at this time. I still am hunting with my bow (when I can find the time to go), but will probably grab my gun before to long. Good luck everyone!! and be safe!