View Poll Results: Team name
Red Mist Brothers
5
55.56%
Buck Busters
2
22.22%
Dominant Bucks
2
22.22%
Multiple Choice Poll. Voters: 9. You may not vote on this poll
Team 9 Red Mist Brothers
11-19-2012, 06:14 AM
---
I got skunked opening weekend. Had a shot at a small 4pt that keeps coming by me but let him walk yet again. Missed a doe the second day. Wanted to go out today but a migrane kept me home. Will be back at it Wed and Thurs.
11-20-2012, 06:35 AM
---
Hey all,

I saw a shooter saturday morning, but just caught a glimpse of him through the brush and he ran off after a doe away from my stand. saw a few other small bucks and passed a decent 8 point sunday. my two brothers each shot a buck sunday morning, but nothing for me yet.

i'll be out wed-saturday, good luck everyone!
11-21-2012, 11:47 AM
---
Well I'm on the board with small doe (dressed at 57lbs). Sorry no smile in the picture I'm beyond exhausted from the past few days. Now for the short summary.
Was invited again to hunt a farm of a friend of mine. The three of us got to the woods about 6:45 and got to our stands, myself sitting in the same stand I got my spike out of last year looking up a ridge line. It was super foggy and couldn't see much. 8:30 rolls around and starting to think we aren't going to see much for the day since the farmer next to the woods starts working his field. Then 20 mins later I catch movement on top of the hill and this doe comes walking into the woods. She starts heading to my friends in their stand and she stops. They bleat at her which spooked her and she comes trotting right to me. Let out a little noise and stop her at 20 yards quartering to. One shot and down. Took out both lungs and the liver. Turned out to be a very good day!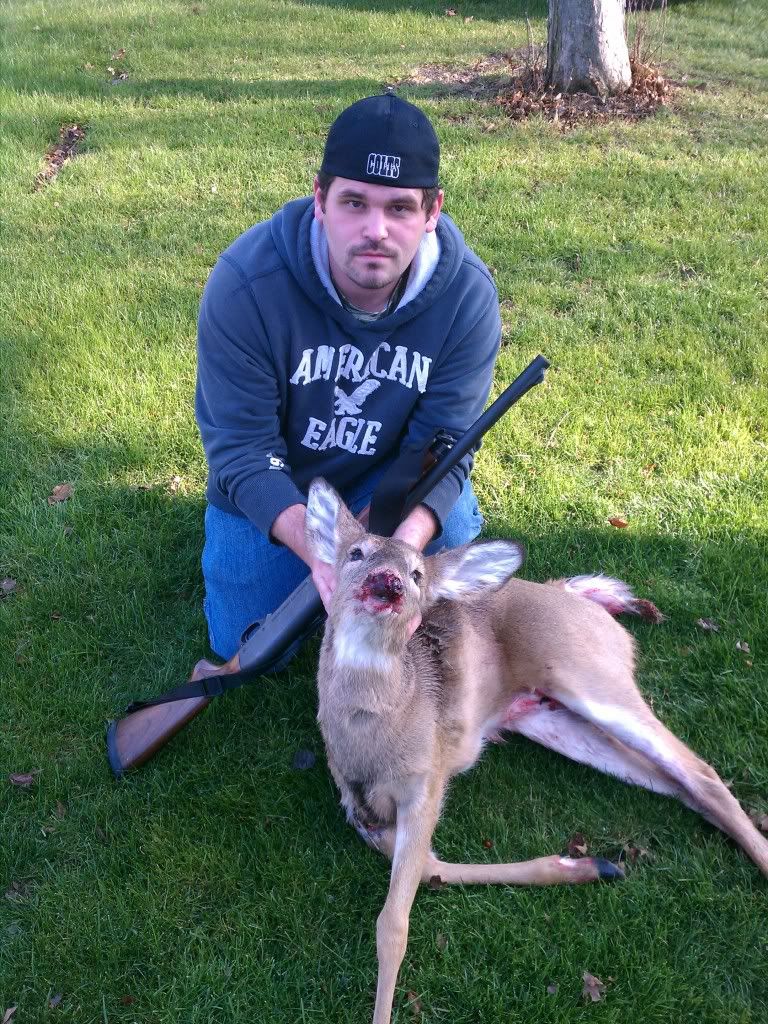 11-21-2012, 04:36 PM
---
Hell I try to get one that size every year!
That's the best meat in the woods! Good
Shooten elm!! I might have to come up there
For a steak if I don't get one!
Last time I checked we don't get points for air
There backwoods! You on the board yet?