Team 12-Racks & Straps Check In
09-07-2012, 08:12 AM
---
Kreagerm- Can't wait to hear about the hunt and see the pictures.

Ryan- Hope you see some good signs and get pictures to share.

Andrew- If you go to you User CP, you can scroll down and it gives you the option to edit avatar on the side of the page
---
Last edited by iayotehunter; 09-07-2012 at

09:20 AM

.
09-07-2012, 10:53 AM
---
I don't think they have a score card thread yet, do they?
I'll put it here to make it all compliant with the rules:
The Story:
From first light I was watching a bunch of doe bedding on the hill side. Then around 7am I see movement to my right, Not the side I wanted them to be on. I could only see 3 deer at first 2 doe and 1 little scrub buck. As they get closer about 20 yards, I could tell the big doe was very antsy and she even looked up at me a couple time. Then about 20 yards in front of her this 8 point steps out from behind some trees about 20 yards to my right. As he walked towards me the doe took off running with the other 2 in toe and the 8 stayed behind. As he approached a small hickory tree his vision was blocked from where I was, so I get my bow in hand and get ready. He walks to about 5 yards from my tree and I only had one little window to make a shot in (and I hate straight down shots, I like to double lung my deer) The window was the size of a pie plate right behind his shoulder blades, so i figured the angle of the bolt and let it fly. A nice single lung pass through right though his sternum. He trotted about 30 yards were he leaned against a tree to hold himself up. He went another 30 yards were he dropped right over. I had a nice 50 yard drag to the my brother in laws driveway and off we went home.
Now I need to shoot 2 doe before another buck, so these next deer will all be donated to feeding the hungry program from this point on.
Right MB 16 1/4
G1 5 1/2
G2 7
G3 5 1/4
C1 4
C2 3 4/8
C3 3 4/8
C4 3 1/4
Inside Spread 14 1/4
Left MB 16
G1 4 1/4
G2 7
G3 5 1/2
C1 4 1/4
C2 3 4/8
C3 3 6/8
C4 3 1/2
Gross Score 110 1/4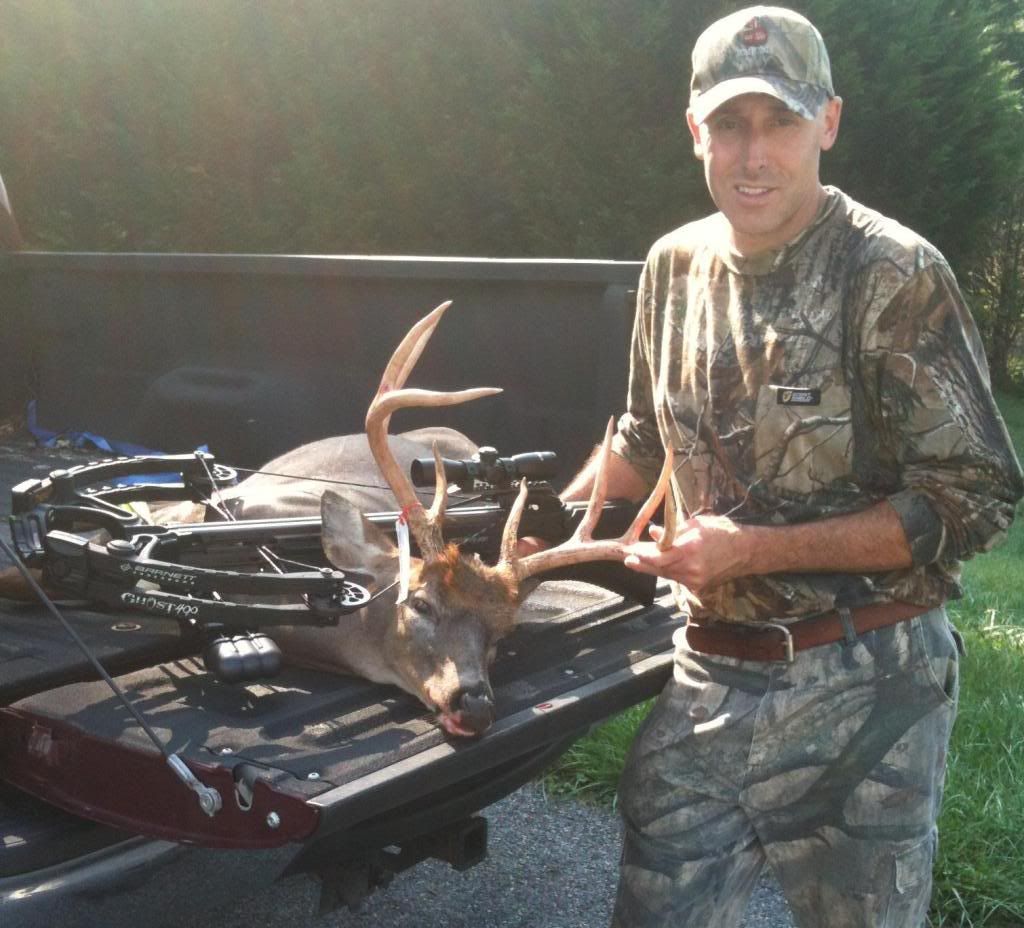 09-07-2012, 12:45 PM
---
Hey Thanks guys, now I can't wait to hear all your stories as the season goes on. It was an awesome morning, but what's funny is that the deer changed direction from last year so they kept coming at me from the direction I wasn't expecting them too. I saw a total of 12 doe and 3 bucks in the first hour. This place is littered with deer and my brother in law wants me to come back out tomorrow to kill more, lol

The best part is this isn't the big one I'm after, so with my extra buck stamp it's trophy hunting time.
09-07-2012, 07:14 PM
---
Hey guys, thought I'd post some more about me and where I will be hunting. As I said I live in Nevada, Iowa. Currently living in Iowa City for college. I am majoring in Biology currently for pre-physical therapy. May be changing my major because my passion for the outdoors has became overwhelming. I own two dogs a black lab and a chesapeake. Both great waterfowl dogs. I have an amazing girlfriend that I plan on proposing to in a year, she is going hunting for her first time ever with me this year hopefully I get her addicted. I got her addicted to fishing. Obvious to me that she is a keeper. This will be my second year bowhunting wish I would have done it sooner, I have waterfowl hunted since before I could walk.

I hunt 4 properties regularly, this year I have a few more but with the time restraints of college I will only be focusing on four. I have great bucks at all the places. Last year I learned alot about bowhunting so hopefully this year works out better.
Two of my stands are within 300 yards of my house. This is where most of my hunting will be done and also where I see the bigger bucks and more deer. These two stands are on a funnel between two large timbers with oats on one side and beans on the other. I have a treestand up here and also a ground blind for when the wind isn't in my favor. Many deer scoring over 200 have been around this property and neighboring properties for years. Last year I missed out on one because he took the wrong trail(moved my stand after that day)..Last year I also counted around 20 deer that would score 150 or more in a 2 mile radius around this property.
Another property I hunt, My blind sits over an alfalfa field and a corn field this year. Two years ago we saw plenty of deer but never had much time to actually hunt with football and high school. This year I believe this property will have great potential.
Third property is a small creek bottom that has corn, beans and crp last year saw a great 10, and has had a history of big deer being spotted but none being shot so there should be some giants if I'm there at the right time.
The forth property is where moose and hulk are from. This property doesn't have much but it seems like the bucks like to hang out here through out the summer and october. Hopefully they stick around for awhile this year. The property is a small piece of land that contains a few trees surrounded by CRP and Corn around the CRP. Hopefully one of these places will give me a chance.
The other properties I haven't hunted yet and never scouted really. My best friend from high school put a stand up this week though and a trailcam so I should be hearing from him this weekend. Hope for some good news he said he saw a lot of good signs. Unfortunately his little brother will be hunting youth so he will be having first choice the previous two and this property. Then it will be me and brandyn's turn he early muzzleloads while I bow hunt. So I can start about a week before he can so maybe I'll get an oppurtunity first.