GR8 VIII's Official Team Thread
10-29-2011, 05:07 PM
---
Mottz, good that the action is picking up.
I had the misfortune of missing a doe @10yds when my string snagged the safety harness belt that comes over my shoulder,
, missed her by 2 feet! I spent some time shooting at steep angles in a stand and hopefully have fixed the problem.
I've got another doe tied to a tree in a small oak flat where the red oaks are dropping, I'll be looking for her tomorrow...
-fsh
10-29-2011, 07:41 PM
---
missed an 8 on Thursday evening.... sorry dudes....believe me, no on is more upset about than me. I saw 8 bucks, 3 fawns, and 6 does.... Two of the bucks were HUGE 8's but never came closer than 70 yards. I was a guest at a friend's club...I don't think I will be invited back!
10-30-2011, 01:59 PM
---
Tough luck Arj - get back on that horse...
My partner saw 4 bucks headed to the choke point I was in, one a shooter. I had a dink 5 and a modest 8 pass right by, just got a brief glimpse of the shooter before he turned away.
Well, the "tied-up" doe was there - she didn't make it 30 yds.
-fsh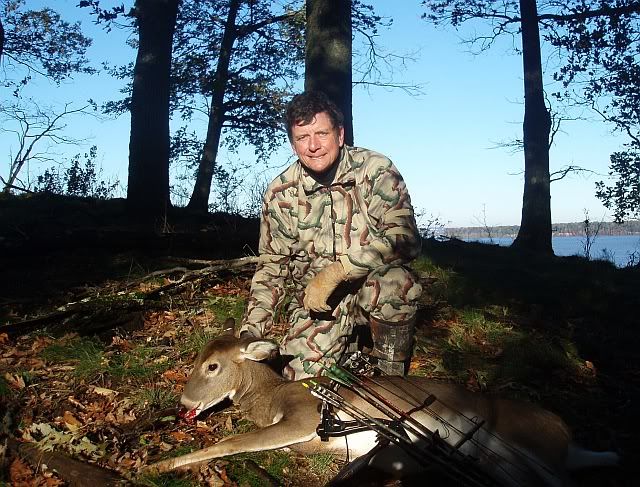 ---
Last edited by fshafly2; 10-30-2011 at

02:43 PM

.
10-31-2011, 06:09 AM
It's Monday
---
10-31-2011, 10:08 AM
Nontypical Buck
Join Date: Feb 2003
Location: Isle, MN
Posts: 1,469
---
So, ripley was a big bust. i saw: 2 does, 13 hunters (from my stand), and at least 50 scrapes. I've hunted there for over 10 years and this is least the deer have moved. The previous hunt, the week before, had a great hunt. Only 91 deer were shot the first day (out of 2500 hunters). Leaving for wisconsin in the morning.

nice doe fsh, even better picture!

robow - i can't watch the video at work, looks like a beautiful buck though. hopefully you'll get another crack at him.
10-31-2011, 06:38 PM
---
Robow - ouch, thanks for sharing your misfortune.
Too bad about Ripley, RL, good luck in Wisc.

I watched an awesome buck make 5 scrapes tonight, but he was never closer than 40 yds and he all but ignored my grunts. No telling if I'll ever see him again, but I'm going to spend most of the day in the woods tomorrow on pins and needles... (and the rest of the week, lol).

-fsh