Team 11 Roost Raiders
04-05-2011, 02:59 PM
---
What's going on with Team 11, come on folks, lets' get some chatter going. Get fired up, heck I've been for 11 days and only one bird, 4 close calls and bad weather, but that ain't stoping me. So come on, don't let the other teams rub it in, your time will come, but pump it up now.
Good Luck,
dog1
04-09-2011, 08:53 AM
---
Got one!!!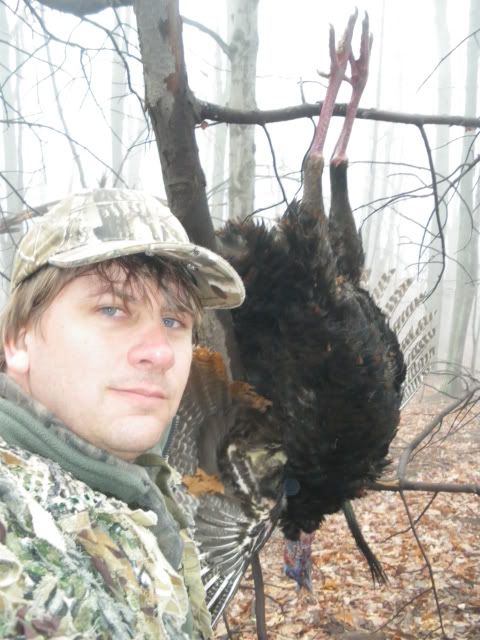 NWTF Wild Turkey Score Sheet, please
click here
.
Turkey's weight: 20 lbs. 0 oz.
Spur length Right: 1.125 in. Left:1.125 in.
Beard length 10.375 in.
Your score is 20 + 11.25 + 11.25 + 20.75 = 63.25
---
Last edited by Talondale; 04-09-2011 at

08:55 AM

.
04-09-2011, 12:50 PM
---
Ok, birds in the oven. Fresh turkey for dinner.
Here's the story;
Last night we had thunderstorms. This morning it was not raining but damp and fog socked in thick. I was hunting a spot without any scouting this year but it's a bench on National Forest land that's held roosting toms for years. So far they've skunked me every year, for one reason or another. So I had a pretty good idea something would be there and knew how to approach it (and how not to). The fog seemed to make everything glow as I hiked in pre-dawn. Off in the distance I heard a gobble, coming from down hill and about 300 yards away or more on the other side of the forest road. I had overshot the bench and was about 80 yards uphill from it. When it was light enough I gave a few soft tree yelps. I thought with the heavy fog the birds would stay on the roost a little longer but I heard a shot from down the mountain at 7:10. So some birds were down on the ground. I still hadn't heard anything from the bench area and figured I'd missed my guess. I did a little calling every 20 minutes but played it easy because there was a lot of traffic on the forest road and people calling trying to locate birds so I figured I'd play it coy. The advantage I had was I was about a 1/3 of the way from the peak and not on the road so I figured I'd seem more authentic. Heard lots of gobbling, even some triple gobbles, but all far away and all downhill. Fog was still thick and I told myself I'd stay in this spot until 9. At about 8:25 I heard a gobble real close. It was on the bench and sounded like a big one. He would gobble and drum. Then I heard a hen cutting and I imitated her repeating her calls trying to get her to come uphill. He'd gobble every 5 minutes. After awhile all went quiet. I figured the hen had led him away. I got out some thick gloves and repositioned myself. At 9:14 I heard him gobble again. This time real close and above the bench to my right. They were coming my way. I gave a few soft purrs and positioned for a shot to my right. another 4 minutes and he gobbled again, sounded about 50 yards but couldn't see anything. Then I saw his head against the white fog coming over the rise. I waited until he was 35 yards away and coming and shot him in the head. He rolled downhill a few yards and flapped. I saw the hen run off uphill.
Here's my setup. You can see my pack against the tree. That's where I was.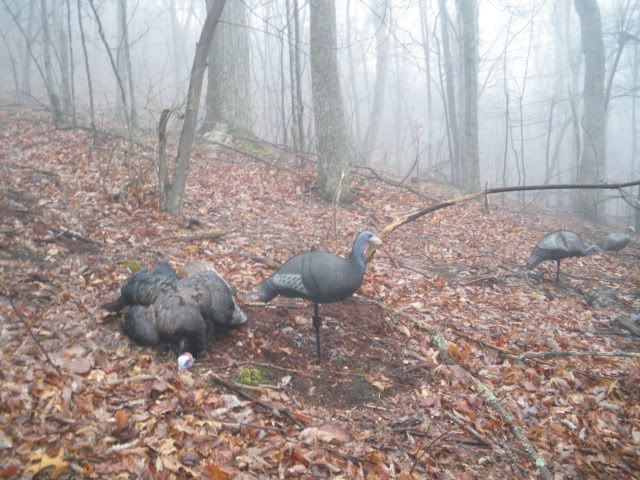 I've got one more tag and I'm going to try to get one with my recurve with my kids in a popup blind.
---
Last edited by Talondale; 04-09-2011 at

01:20 PM

.