Offical Team Rack Attack # 3 Checkin Thread.
09-03-2010, 11:44 AM
Offical Team Rack Attack # 3 Checkin Thread.
---
Team 3
1. Father Forkhorn – Kansas
2. npaden - Texas and New Mexico
3. jrbsr – North Carlonia
4. Alt - StealthHtr22 - IN
5. crokit - NY
6. mbmrang – Missouri
7. wnyhunter - new york
8. Fastetti - Michigan and Hopefully Illinois
9. WIbuckchaser - Wisconsin
10. hunt4life23 - PA, NY, NJ
jrbsr checking in.
My Name is Johnny Ray Beane Sr, hunting in Seagrove NC.
---
Last edited by jrbsr; 11-01-2010 at

05:59 PM

.
09-03-2010, 04:37 PM
Checking in.
---
Mike from central MO checking in. I should have more to post later, but here are two of my favorites. I am also trying to bowhunt the same deer, but I should be able to post a few points for the team come November.
Good luck all.
Mike
---
Last edited by mbmrang; 09-03-2010 at

04:44 PM

.
09-06-2010, 07:55 PM
---
I'm around. I'll be hunting whitetails in Texas and mule deer in New Mexico.
Got some decent bucks on camera this year. This one is the best.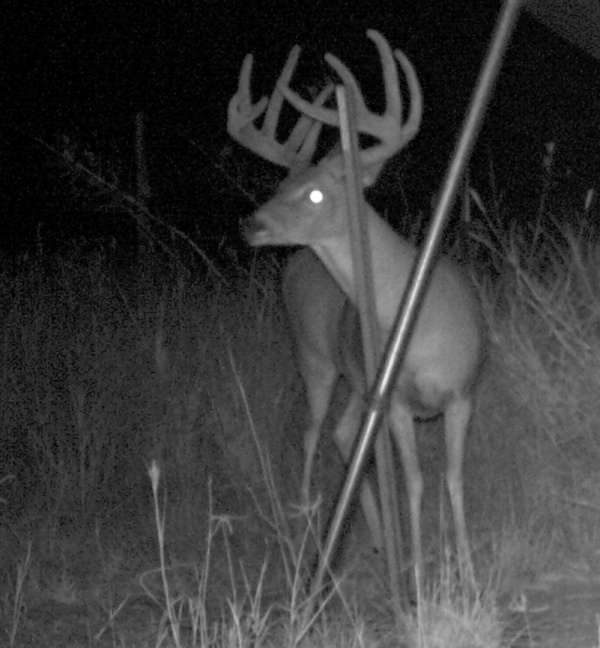 I'll be hunting the same place as last year in New Mexico where I killed a 181" mule deer and they said they saw 4 bucks that big or bigger that made it through the year and this year should have been a great year for antler growth.
Hopefully I'll be able to contribute this year.
Good luck everyone!
09-08-2010, 06:01 AM
---
There are for sure some good opportunities with the team. I will be checking cams today sometime. We moved them to some trails over the last week or so and I am hoping to catch some better travel patterns. Hopefully my clover plot we planted a week ago is coming up as well. I have high hopes for the imperial clover. We will see if it lives up to them.

Depending on if the rain holds off today, I may plant some more wheat and little clover in another patch we round-uped a couple of weeks ago. The weather here as been a little wierd. Dry and hot for several weeks and the last 1 1/2 weeks have been cool and about 5 inches of rain. Great for plots if the seed is in the ground though.

We also need to elect a team captain and come up with a name. Any suggestions?
09-08-2010, 09:42 PM
---
Hey guys, just checking in as well. I hunt private land in Michigan and Either public land, or if I can get permission this year again, private land in Southern Illinois. The spot I hunt in Michigan isn't known for its big bucks but you never know. Southern Illinois though is always up in the air, I never know what I'm going to see down there, both public and Private.
09-09-2010, 12:29 PM
---
Just a few more to go on getting the team checked in. I've been on a team with Crokit before, he's a good guy.

No preferences here on team name or team captain. I'll be out a lot this fall otherwise I would volunteer to pull some duties.

Pretty much impossible to come up with a team name that hasn't been used before. Trying to think of off the wall names all I could come up with was "Antlers Anonymous". Not sure if it has been used before or not.