Team 12 Thread
11-15-2010, 03:36 PM
---
Well it was a pretty trying year in Kansas. First was a little property boundary issue. The neighboring property has a hunting lease and the hunter was about 100 yards from the boundary line. I hung my stand in the same tree as last season. The first afternoon brought in 10 deer of which 2 were bucks and 1 was a shooter but his left main beam was broken off about 4" from his head. The next morning I was in my tree and set to hunt about 45 minutes before legal shooting light. But when you have a 9800 acre lease for the week and you actually can see another hunter walk in late and loud it tends to put a sour note on the hunting! To make things as smooth as possible I walked out with my stand on my back after the first morning hunt.
The next two days brought more frustration as i couldn't find a place as good as I had. I finally decided after a few hunts that I would set up a "brand new" ground blind in a neighboring strip of woods to where i was the first morning but plenty far enough from any other hunter. Did I emphasize "brand new" enough, meaning new to me and never hunted from it before?
Well Wednesday morning brought my first shooter in range, a decent 8 pointer @ 16 yards in fact. I let go of a nice smooth shot and to my horror I heard a strange strange noise!!!! I missed the deer completely? OMG who misses a deer completely @16 yards? Did my bow fail me? did I hit a piece of clothing or something. It almost sounded like my bow made a hiss or ripping sound. The deer ran 10 yards and look around for the weird goings on. I grunted at him but no go. He had no blood or wounded look to him. 2 minutes later I retrieved my arrow and nothing---no blood at all. When I got back to my blind and sat back down about as shocked and confused as ever I saw the problem. The arrow had clipped the blind thru the velcro area. I had checked that the arrow would clear but after seeing a deer jump from the creek on my right I adjusted my seat just a bit to compensate but never rechecked the flight of a front shot. I should have my head checked for buying a blind and hunting from it the first time I ever sit in it. The good part is that I clean missed a beautiful deer. There would be nothing worse than wounding him with a gut shot or similar.
About an hour later I was surrounded by 9 does and i knew that 9 ladies would surely draw in a fella. It did and this buck walked in at 21 yards to try to be a playa. Bad move, as I was still steaming at myself for a dumb mistake and I was looking to end that embarrassment asap. Plus a big heavy rain was coming in on Thursday and was going to linger into Friday and I was to be on a plane Saturday morning.
Well, i would like to think i made the best of a rough week and it was certainly better than being at work. This deer, like many others I saw has broken tines. Both brow tines are broken off. score to follow
(PS this is my first buck with archery equipment I only picked up a bow a few years ago)
right-----left
mb--- 16 2/8-----16
g1 ---0------------0
g2---6 2/8--------6
g3---6------------6 2/8
h1---3 3/8--------3 3/8
h2---2 7/8--------3
h3---3------------3
h4---2 3/8--------2 2/8
inside spread 14 4/8
total: 94 2/8
i'll post this on the official score thread too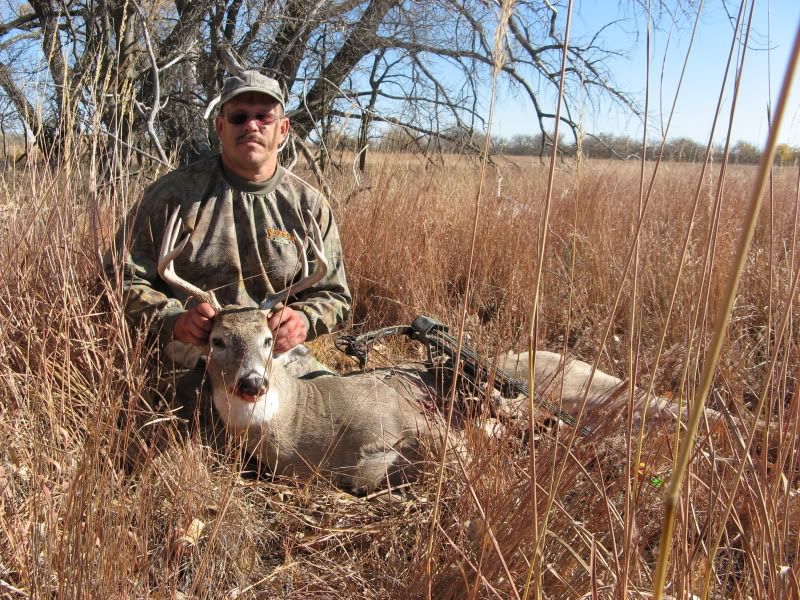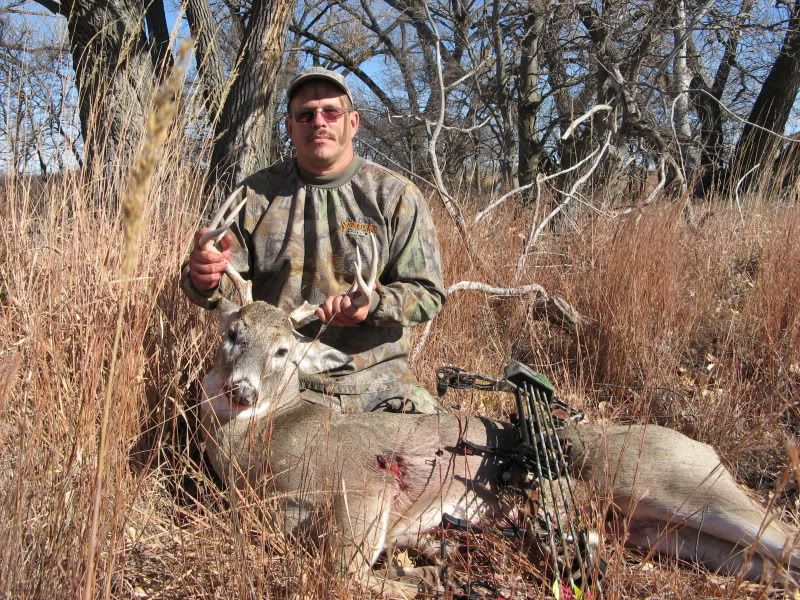 ---
Last edited by luckyshot; 11-15-2010 at

03:45 PM

.
11-16-2010, 02:30 AM
---
congrats luckyshot,fine buck
11-17-2010, 08:21 AM
Nontypical Buck
Join Date: Jan 2005
Posts: 1,210
---
Guys - sorry I haven't been on here. Home computer has a fatal virus and will not function!!!!! Literally! I am on work comp. right now. Have had a few close calls but no contact. Keep up the good work everyone and I am working on getting the comp straight.
11-18-2010, 03:55 AM
11-19-2010, 04:42 AM
---
Congrats on a fine season.Have we been on a team together before? You just look familiar.After so many years it gets hard to remember everyone.
12-18-2010, 01:38 PM
---
HELLO is anybody out there? it's been a month since our last post. Anybody get lucky? does- coyotes -anything? I've only hunted 3 times since my return from Kansas. Just too busy running my own business. In those 3 hunts I've seen a total of 0 deer. Pretty hard to get motivated when it's in the single digits in the mornings and you haven't been seeing anything.
12-20-2010, 08:22 AM
Nontypical Buck
Join Date: Jan 2005
Posts: 1,210
---
I haven't been seeing squat!! What started with a season full of anticipation has turned into a season that I wish would end! Have not had a shot opp since opening weekend, not even does! Going to keep giving it heck until season ends but man is it hard to stay motivated.
12-22-2010, 08:52 AM
---
Well guys I am still on the mend. I did take a ride with my dad on his side by side to check some stands. We got to the one where I busted my lip and there were two nice bucks bed down 25 yards from my tree I hope to be in that tree New years day. Congrats to all who have killed and good luck to all.




Mark
12-22-2010, 01:03 PM
---
I'm still around.I still holding one doe tag.I just have been too busy with Doctors and lawyers or kids to get out for some late season action.Maybe tomorrow night.Keep at it guys.Hunt food.
01-03-2011, 08:26 AM
Nontypical Buck
Join Date: Jan 2005
Posts: 1,210
---
Season is officially over. Very disappointing season. The only shot opps all year were at deer below my limit, although I did have 2 shooter bucks almost within range Saturday. One needed 5 more yards, the other needed 20 more. But that's hunting. The bright points of the season, my buddy killed his first deer with a bow and another buddy killed the biggest deer of his life.
So we concentrate on next year. We have decided against foodplots next year (too much work without payoff) and have some stand moves on the agenda.