Team 7..... Team IDK!
03-30-2009, 06:40 PM
RE: Team 7
---
Well i got a tag but i am only going to get 3 days to hunt myself. I do some guiding fo the disabled vets. I just so happen to have to call the week of 20 april,but i should be able to lay one down.
04-24-2009, 05:49 AM
Fork Horn
Join Date: Dec 2006
Location: Central Wisconsin
Posts: 494
RE: Team 7..... Team IDK!
---
Well, the second day I got it done! This is my very first turkey, and I did it with the bow.
Here's the story. Opening day got my BIL and myself in the blind at his farm at 4:45AM. About 5AM the gobbles started, we could hear about 3 toms, one close and the other two a good couple hundred yards away. At light we saw the Tom come down from roost and land, it seemed like 45yards, but later after being outside the blind it was more like 30 yards, very deceiving in the early morning inside ethe blind. Anyway, this was not a good direction because the birds were not supposed to come from that direction so I only had a peek window, not a shooting window open. I had hoped he would come out and around about 90 degrees to a shooting window, but he never did. Nine hens took him out past the other blind and into the field,(note to self, let's go in the blind tomorrow!) We tried a couple different areas for the rest of the day, saw some henned up toms and a couple lone hens came within range, but no shots. On to the next day, Thursday.
WE set up in the other blind, that we cleared and opened a couple windows in for the bow. Normally my BIL and nephew only hunt with shotgun, so they only open the windows a crack. Same thing, we sneak into the blind in the dark and get set. We busted out a deer that crashed through the woods on the way in, not good, lots of noise. Thursday AM, no gobbles, an hour goes by with NO turkey sound. Finally, we get a gobble, not real close, but good. He gobbles 3 times and shut up. It's plenty light and I look out the back of the blind and see TOm on the ground with a couple hens. Never heard them come off roost. I see and hear a couple more hens come down and he is strutting his stuff. My BIL sees them so i just stay at the ready out in front(the only way I planned to shoot because of the underbrush). It took the birds about 45 minutes and then BIL announces that a hen is in the field. Sure enough, she comes walking the field edge(15 yards) towards us, then another, and another, and another. 5 hens are now in front when BIL says here he comes, get ready. I drew back and peek around the corner of the window at full draw. There he comes all fanned out. Basically doing circles and never stopping at all. I take the shot at 15 yards and he flops around about 3-4 feet in the air a few times and feathers are everywhere. My BIL gets out and runs him down. Pretty comical actually, he catches up with the tom and kicks it flipping and steps on it, out of breath. I get over to him and we do the handshake, out of breath coughing(he just quit smoking). He lets the toms head up and taps it when, all of a sudden, the bird gets up and runs, fast! Back into the woods, under the fence, BIL catches up to it, grabs a big stick, goes to hit it, gone again, the chase is on!! Through 50 yards of woods under another fence, across the road, through the ditch, tries to go under another fence, hits the barbs, turns and tries to hide under a pine tree. Now we are both out of breath, but can easily get the bird. This time it does not get up. LAter on I look where I hit it and he must have turned towards me right at the shot and it went in at the shoulder and came out the offside wing. THe arrow never wenet into the chest at all. He probably would have made it if we did not run it down. It sure makes for a good story on my first turkey ever!
Hope the picture works.
Dandbuck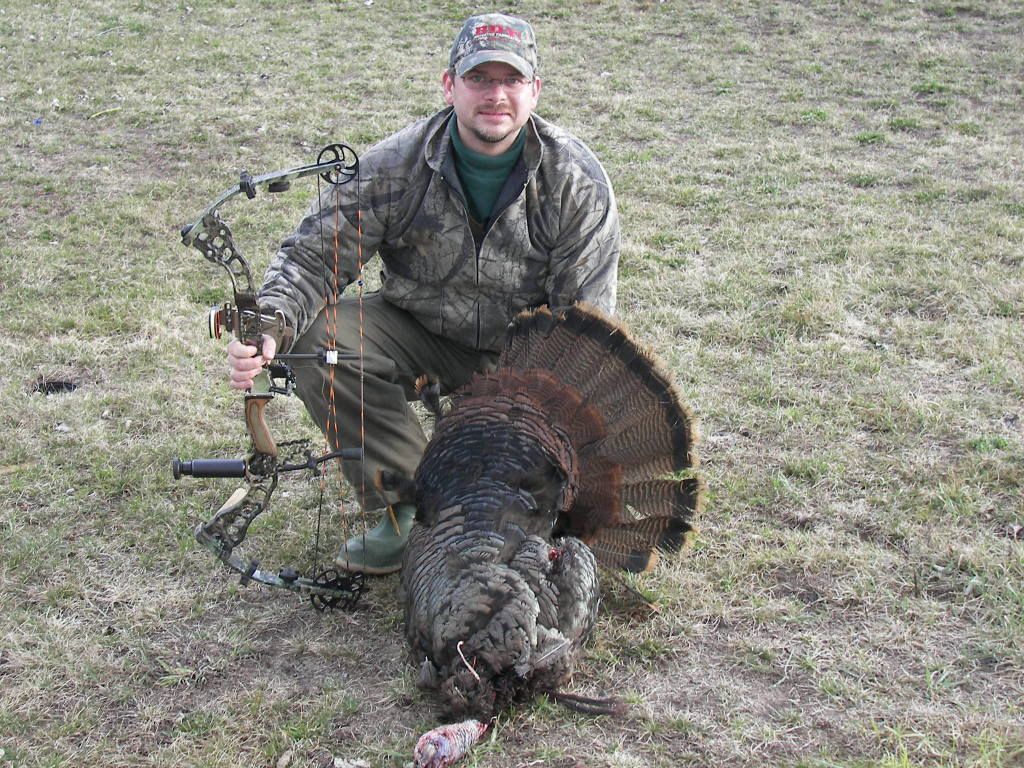 21 1/2 pound bird, spurs were really rounded off, only 5/8 and 11/16 long. Single beard was 9 1/8. I think the score ends up at 52.875. Not a monster turkey, but he works.
05-22-2009, 05:49 AM
Fork Horn
Join Date: Dec 2006
Location: Central Wisconsin
Posts: 494
RE: Team 7..... Team IDK!
---
I've been out twice this week including this AM. I had either a caller or a pair of actual owls about 75 yards away this AM. About 4:30 they start hooting and must have hooted about 50 times in 15-20 minutes. No gobbles to that sound at all. I got out the glass pot call (note, complete rookie caller, it showed up Tuesday,lol) i hit the call softly about 5 times, bingo, gobble response right away. i put the call down. then there were what seemed like two gobblers for about 20 minutes maybe 75-100 yards through the woods. i responded once in that time. Then it seemed like the gobbles were going away, again, no more calling. Then I heard a bunch of calling from a hen, not sure what you call the sounds, I would say mostly clucks and cackles with a couple raspy yelps. These sounded closer and then a gobble that was fairly close. My first visual was at about 50 yards coiming from the woods into the corner of a field, white head, could not see the body because of a slight hump between us. Maybe 5 seconds and he(assumed a tom) was over the hump. Then a hen came in and walked past at 30 yards. i kept hearing gobbles but nothing close. I only had maybe 20 minutes left to hunt before work, so I called a bit (sounded like crap, lol). Low and behold that hen started clucking and came back to within 10 yards for about 15 minutes before she walked off. That was it, no more sounds or sights, and i hiked out and went to work. Fun morning, hope I can get out again this year, but a bunch of work to do, best chance to hunt will be tomorrow AM.
Later
Dandbuck

Thread
Thread Starter
Forum
Replies
Last Post
2008 - 2009 Firearm Deer Contest
2008 Turkey Bowhunting Contest
Official IBO.Net Forum - 3-D Shooting
Posting Rules
You may not post new threads
You may not post replies
You may not post attachments
You may not edit your posts
---
HTML code is Off
---