#20 Team Area Codes
11-08-2009, 08:05 PM
---
Well, the cape is at the taxidermist!
Hunted hard on opening day in New Mexico, ended up putting 9 miles on my boots according to my gps. Passed on a pretty good buck right at end of shooting light, wide as his ears (generally considered 24" for a mulie) and pretty tall, but not very heavy and I could only count 3 tines on one side so I ended up passing on him.
After 2 hours the next morning without seeing a thing I was second guessing myself pretty bad on passing that buck the night before. I had been sitting on an hill that had a good view all around and nothing.
I decided to start walking instead of just sitting there and about 300 yards to the west I bumped 3 does out of their beds. The predominate wind is from the southwest and pretty much all the deer I had bumped from their beds were on hillsides facing north. I checked out a spot that I had seen from my hill that looked good, but didn't see much sign there. Went over the ridge and saw a spot on a north facing hillside that looked pretty deery. Some good brush at just about the right spot. Started walking toward it and about 100 yards away from the brush, HE popped up out of some grass.
He was only about 50 yards away and it was pretty easy to tell right away he was a shooter. He was looking straight at me, but I didn't want to wait for a better angle, because once an older buck like this one starts moving, they generally don't stop until they are long gone. I just dropped to a knee, pulled up and shot. He just stood there. I automatically chamber another round everytime I fire so I shot again and hit him solid. He struggled for a few seconds and then went down. I was suprised that I missed from 50 yards, but chalked it up to nerves.
I called my wife and told her I had a big buck down, but I didn't know how big. 5 minutes later I walked over to him and he was BIG! 6x6. Tailgate tape job has him at 181 7/8! Biggest deer I've ever killed by far. (My 2007 Muley was 145")
I caped him out and quartered him and his quarters, backstraps and some other misc meat didn't fit in one cooler! He was easily over 250lbs on the hoof. He's at the taxidermist now, but he said he would let me have the antlers back and his jawbones until he gets the cape back from the tannery. I'll score him again when I get the antlers back and then I'll post it for the team. Netting out for the mule deer at 86% he should score a little over 156" for the team.
The only negative was that since I was hunting by myself I was using my backpack for a tripod and my camera on a timer. On the viewfinder the pictures looked okay, but turns out the camera was focusing on some blades of grass right in front of the camera and not on me and the deer. I think the pictures are good enough for the contest, but I sure wish they turned out better. The ones I took of the deer by itself turned out good though.
Okay, enough for the novel, here are the pictures!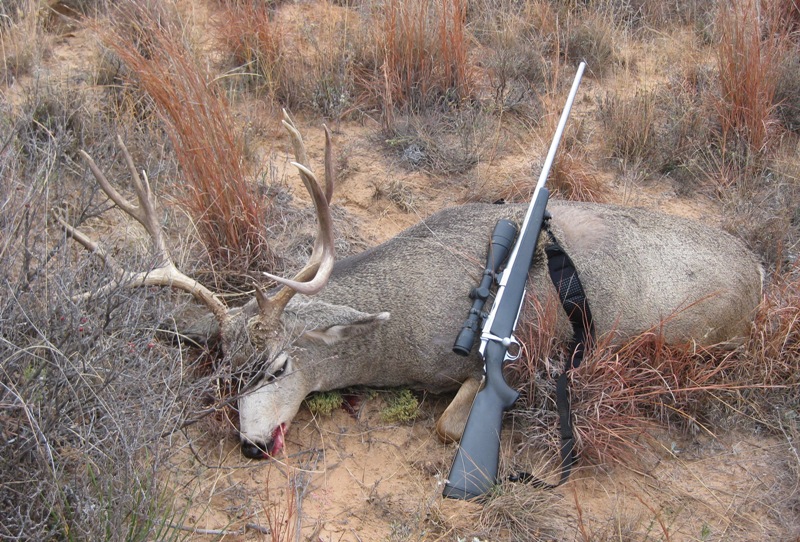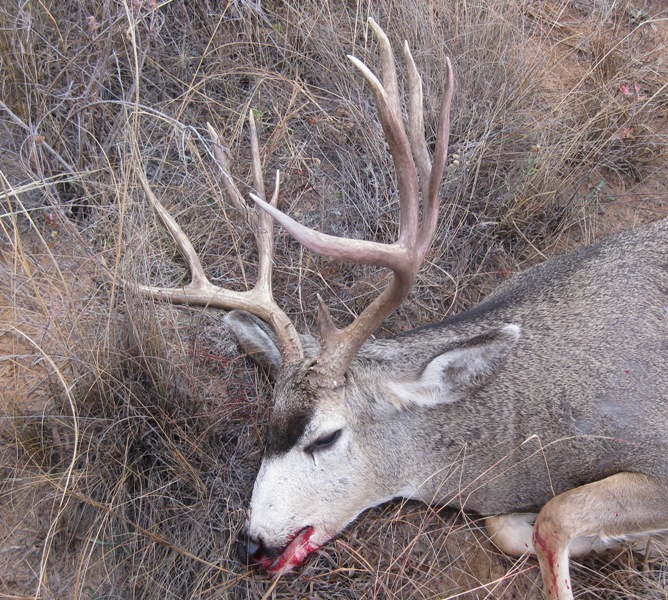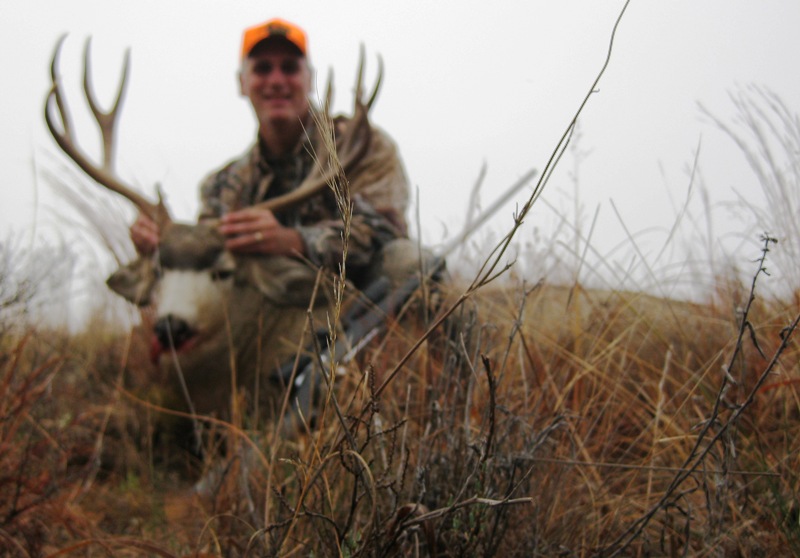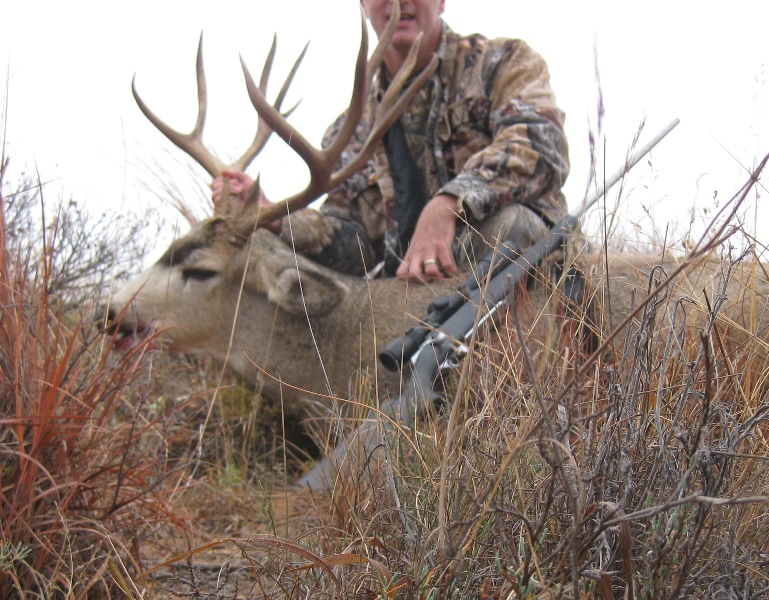 Here he is back at the house before heading to the taxidermist.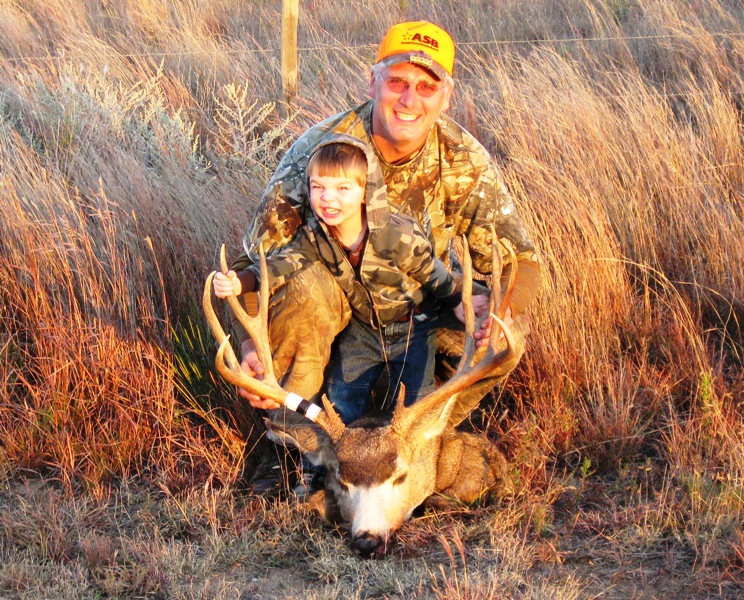 Oh well, I'm still pretty excited. I'll be hunting my own property for whitetails later this week, but I don't think there are any deer bigger than 156" on my place, so this one will probably be my entry into the contest.
11-12-2009, 02:38 PM
---
Nice job on the bucks guys. My season starts in three weeks. Gun season is usually much easier for shooting/seeing bucks running around. When the orange army comes into PA the deer run around all day.
11-19-2009, 09:51 PM
---
It was a very unique buck. A genuine trophy by any standards. It is not often that we get female hunters in camp. If you mean having a female in camp that is good looking,, lol The lodge has more than one bunk room, lmao And we'd set the dogs on anyone who got out of line..lol
BTW- That is an awesome mulie ya got there. Great job!
11-21-2009, 07:07 AM
---
Well it looks like my mule deer buck is going to be my entry into the contest. I shot an older deer this weekend but it isn't going to score very much at all.
I'm pretty sure I have 3 years worth of trail camera picture of this guy and am guessing his age at 7 1/2 years old based on his jawbone. I did a crappy job of getting good pictures of him as it was after dark by the time I was able to get out of my stand and go get him and I was by myself.
Here he is hanging.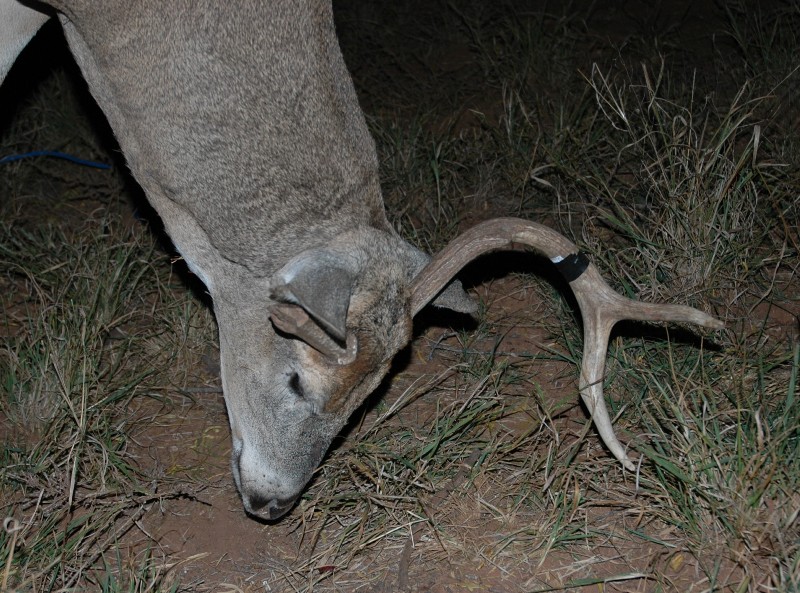 The first odd thing about this buck was that the broken right antler was completely dettached from his skull plate. I'm pretty sure that it was broken 3 years ago and since it was dettached from his skull plate he never was able to drop that antler and grow another. It never turned white, but it does look like it has been hanging on there for several years.
Here is a picture after I skinned his head -
http://padens.com/v-web/gallery/albu...ck_skinned.jpg
I'm just going to link it since it might be considered a little graphic. Kind of hard to tell, but when I skinned it, the antler was completely dettached and meat had grown all around where it had broken. It wasn't much of a jigsaw puzzle because enough bone was missing that it didn't fit back on the skull plate anywhere.
Here's his jawbone.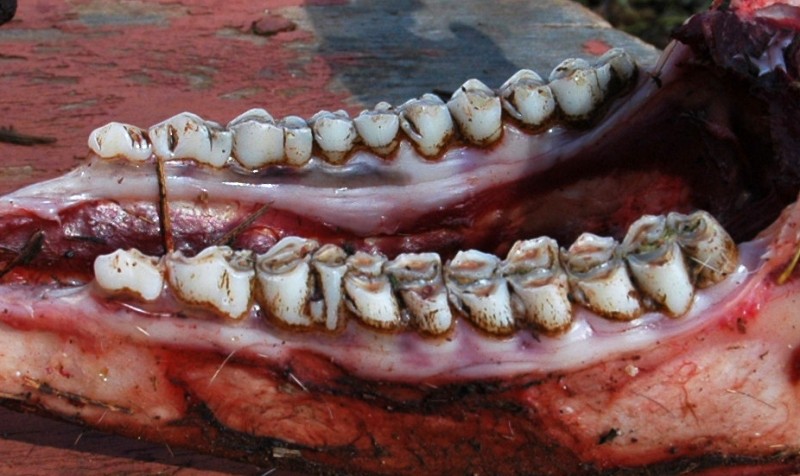 I have the jawbone of the buck I shot last year that was aged by the lab with cementum annuli at 8 1/2 and based on that jawbone and the trail camera pictures I'm fairly confident this buck was 7 1/2. I'm going to go ahead and send the lower incisors off to get aged anyway. I'm starting to collect some pretty impressive jawbones though!
The buck weighed in at 162lbs on the hoof which was 10lbs lighter than the 8 1/2 year old I shot last year. This guy had some heavy tarsal staining and looked like he was about to get going with the rut right around the corner here. I did get some good video footage of him before I decided to go ahead and take him, if I figure out how to get that uploaded I'll do that. My Sony video camera has a wierd codec and it is a pain to resize and upload.
The last thing that was interesting was that his right shoulder was fused to his vertebrae with some VERY thick cartilidge that was almost as hard as a bone. I had to hack at it pretty hard to get the shoulder off. I should have taken some pictures of it but didn't. When I butchered him, his shoulder muscles were developed a little differently than you would think. I didn't spend a whole lot of time analyzing it, just enough to know that it wasn't exactly normal and I assumed it was related to the shoulder being fused to the vertebrae.
Putting it all together I'm wondering if this guy got hit by a car on his right side or something. I just don't think his antler could have been broken off inside his head like that from fighting and that would explain the shoulder too.
Not a trophy that is going to end up on my wall, but a very unique buck that I was proud to harvest. I don't even know how you would begin to actually score something like him.
I'll get the mule deer entered into the contest shortly. I rescored him and he shrunk a tiny bit or I was overly optimistic the first time I measured him on the tailgate but he is 180 2/8 now. The main difference was that I didn't realize that your spread credit is limited to the length of the longest main beam. His inside spread is 24" but his longest main beam is only 22 3/8" so he only gets credit for 22 3/8" for his spread. Adjusting it down by 14% for the whitetail comparison and he will score 155" for the contest.
Nathan
---
Last edited by npaden; 11-21-2009 at

07:13 AM

.
12-01-2009, 08:22 PM
---
Well the first day of PA rifle I saw about ten deer, all of which before noon. I did get to see three bucks, a 6 point, a small 8, and a spike. The six point was the nicest of the three, but I didnt raise my gun for any of them.

My brother got back out today and took a nice 8 point about 150-200 yards from my stand, and my dad was in my stand today and saw a real nice 8 or 10. Too bad I wasnt in it today, I would have smoked it. I wont be able to get back out until the last Saturday of the season with all of my schooling stuff. Good luck to the rest of you.
12-15-2009, 01:30 PM
---
Well, I saw one buck and he bolted. Apparently he saw me before I saw him, and he was only 30 yards away, but thats the way it goes in the fog. Wound up taking a button buck thinking it was a smaller doe, his buttons hadnt even broke skin. No antlers for me this year, but some darn good meat. Sorry Guys
01-25-2010, 07:31 PM
---
Was a terrible year for me. I did put some clients on good bucks, but didn't get out near as much as I had hoped to. Sorry guys n Gals. Congrats to all of you who did harvest and for the valient efforts put forth.
Posting Rules
You may not post new threads
You may not post replies
You may not post attachments
You may not edit your posts
---
HTML code is Off
---