Official Team Bloodtrail Brothers Thread (6)
10-03-2009, 06:35 AM
---
Good luck guys, go get'em!! I'm already having hunting withdrawals. I'm bumbed that my archery season only lasted three hours. I've hunted for over 30 solid days in our SD three month archery season before for deer like that. I do have a Custer State Park elk tag starting the end of November so I will wait for that.
Get some big ones guys!
Randy - I feel bad that your season is over so quickly... just looked at your deer again and do not feel too bad
! You will have to go out with a video camera just to stay on top of your game.
I will most likely not be out till the end of the month, so will be looking forward to some hunt recaps as well.
You set the bar up high for the rest of us for the season, we will try to do our parts!
Good luck to all! - Mike
10-04-2009, 01:56 PM
---
I didn't have any luck yesterday. Only saw a doe right a daybreak. Might be able to get out a few evenings this week. We are headed back to Ohio on Friday. I can't wait.
Scott
10-04-2009, 03:37 PM
---
I saw 9 does last night while hunting. No bucks. The morning hunt was frutiless, it was rainy and foggy, didn't see one deer.

Shane
10-04-2009, 09:32 PM
---
Only got out in the AM on saturday. Saw nottttta. I'll be back out this weekend.. see what happens..
10-04-2009, 11:21 PM
---
Hey guys - sorry to hear of the less than stellar deer activity this weekend - will keep my fingers crossed for this week and weekend!

Best of luck.

M
10-05-2009, 11:49 AM
---
I am headed out in about an hour this afternoon. Wish me luck!

Shane
10-06-2009, 07:56 PM
---
Whats happening out there? Enyone getting close to them?
10-06-2009, 08:07 PM
---
Went out with 2 buddies tonight and it was a great night. They both scored on a 7pt. and an 8 pt. I ended up with 2 bucks and 5 does out in front of me. One was a decent 8 that never got closer than 42 yds. The other was a much bigger 8 that never came closer than 100 yds. Very cool night to be in the woods.

Shane
10-06-2009, 08:30 PM
---
Sounds like a fun hunt anyway.
10-06-2009, 09:04 PM
---
I used up my second doe tag tonight, hadn't sat more than 10 min and she came along by herself at 5:30 so that was nice! I decided to use up my slick tricks, had some problems with them in the past, but this one blew right on through her shoulder broadside and burried in the dirt.
She was hit had, even knocked her off her feet but she still made it about 175 yds with pretty much nothing of a blood trail. I mean she was hit perfect and the only blood I really saw was where I hit her and were I found her.
Where she went down there was a crazy amount of the red stuff thou and her lungs were toast.
oh almost forgot! Big reminder..Please be careful when butchering your deer! I damn near slit my wrist tonight, real close "like I drew blood all the way across it" Was cutting the last hind quarter off that was hanging by one leg when my
gable fliped as the weight shifted and I tried catching the quarter before it hit the floor forgetting the knife in my hand.
CLOSE CALL!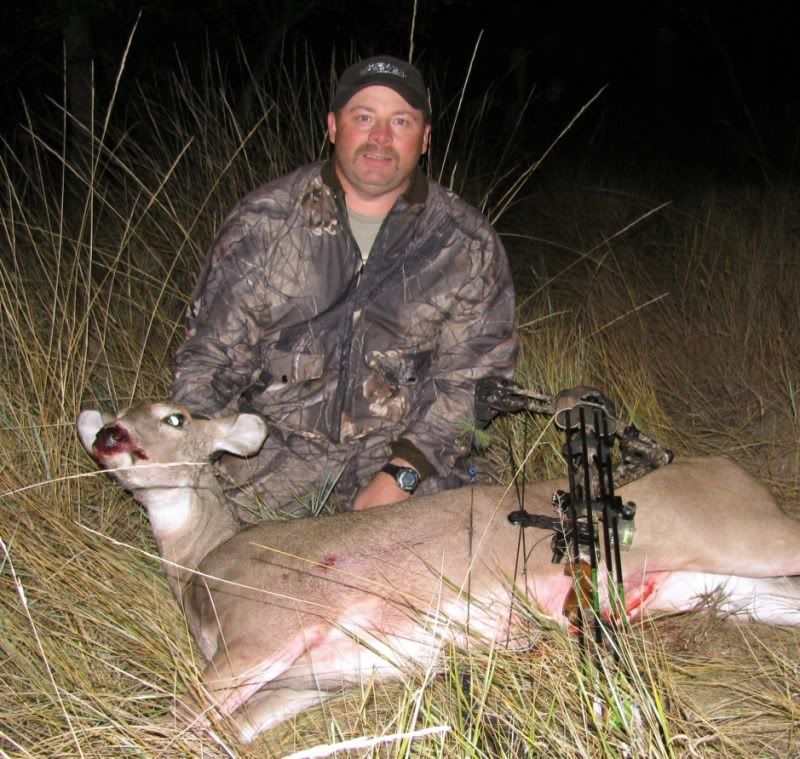 ---
Last edited by 5575gb; 10-06-2009 at

09:15 PM

.