Official Team BowBums Thread (2)
10-21-2009, 12:59 PM
---
Like I said on the other site Steve it's bound to happen if you hunt long enough. It's a testiment to you hunting skills that you've hunted this long without it happening. I too know how sickening it feels to have this happen, but maybe you'll find him yet. Good luck and keep your head up.

Chris
10-23-2009, 03:53 AM
---
Down weekend for me have to cover things at home. Be back at it hard the following weekend thru to xmas. Good luck to all!
10-24-2009, 09:58 AM
---
Sorry to hear Schultzy..... that there is a nice buck. I hope you get another chance at him this yr. My season is the slowest ever. It seems the only chance I have is to call them out of the corn when the rut is in swing. Might even try a decoy this yr to entice them even more.
10-24-2009, 06:51 PM
---
Sorry to hear about your bad luck steve!. The good news is thyat it sounds like he will recover and you can still get another crack at him. He is a truly beautiful animal. Good luck with him.

I'll be off the air for a while guys. I leave for the land of Lincoln tomorrow and will be without net access for 4 weeks. My good friend Arnie (LLBUX) will be close by and has been kind enough in the past to keep me in the loop with my team and even posts messages for me. If I score out there, he'll probably be kind enough to get it up on here.

The wide 8 pointer I posted from a July trailcam was seen again on our place two nights ago and he has grown a bit since the trailcam pic was taken. There is also a 180 +/- buck that frequents the place. Hopefully, I can help the team with an Illinois bruiser soon! Best of luck to all my teammates and be safe out there! Be back soon!
Bob
10-25-2009, 05:42 AM
---
Has anyone had to deal with corn b4. I'm hunting a river bottom property and it has soy beans on it. It has the potential to hold alot of deer every year. This yr it is dead. I mean dead..... I have seen very few deer at all. Now the next proprty over is a square mile of corn. The corn is a flat field with a few drainages and a ditch that goes all around it thats it. There is no treeline. It has a dirt rd on 3 sides and a fairly busy gravel rd on the other. The trails leading into or out of the corn are amazing.
My thoughts are this. The deer are bedding right in the corn. If they are coming out it is dark or very close too. The corn is dry and would be difficult to stalk through. It is also going to stay up until well after the season is over.
What would you guys do? Getting permission to hunt the corn is not out of the question. One of the guys that hunts the property that I do thought of pushing the corn..... I would think that would take alot of people to do a controlled push. ersonally I am waiting for the rut to come when I am going to set up fairly close to the corn and try to call the bucks out.
Once again what would you guys do? I ahve never had this problem before.
10-26-2009, 12:41 PM
---
I'd set up a ground blind somewhere near the edge Robert. Try to find the most heavily used trail that leads to water. If you can find where they are primarily getting water you might catch them coming in/out on that trail.
10-27-2009, 09:51 AM
---
been kind of slow for me
up in AL I have been seeing small bucks and does
From the AL property
rut up there is in late JAN - plenty of time
I leave NOV 5 for Ohio rut
then NOV 17th for Kansas rut
Couple new rubs in KS
then some private land in Texas
From the TX property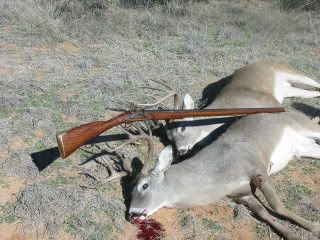 I will put some points up for us - it will just be a while yet
How many points do we have ?
Leo
---
Last edited by cptleo1; 10-27-2009 at

01:35 PM

.
10-27-2009, 10:23 AM
---
79 and 2/8. Things should start heating up soon.
10-28-2009, 05:34 PM
Typical Buck
Join Date: Dec 2005
Location: Southwest PA
Posts: 816
---
Hey guys, sorry I havn't checked in lately. Its been kind of a crazy week with midterms and all kinds of stuff goin on.
I ill get around to posting a story sooner or later
Bob, your son wouldn't happen to be in troop 589 would he? I stayed with that troop for my first year at summer camp. I believe that was six years ago.
10-31-2009, 03:10 PM
---
Well, I am officially on vacation! I got off work today and drove straight to my hunting property. Thing is we got so much rain in the last week I couldn't get anywhere near the land. There's not alot of standing water but its the gumbo. You take one step and your boots gain 10lbs. I am heading out tomorrow to go in the back way and sit for a the day. I am going to call all day..... hoping to bring in a big boy.
Good luck everyone...... these next 2-3 weeks are the go time for up here.