Week 5 Scores Talk
02-06-2008, 08:40 AM
RE: Week 5 Scores Talk
---
ORIGINAL: Gundeck

Matt, I want to thank you for giving me this motivation to really work on my shooting skills.
Thank you, for realizing what this contest is really about.........
. It really doesn't matter who wins or where anyone places. It's about getting better, and having fun.
02-06-2008, 09:45 AM
RE: Week 5 Scores Talk
---
Exactly..now how about that tip (or practice drill)of the week segment??
The 10 yard practice did make me more comfortable. Even after only doing so twice.
If I could keep those few out of the tomato patch I'd be alright! Still improving though and feeling more confident.
02-07-2008, 01:49 AM
Typical Buck
Join Date: Feb 2003
Location: Grand Forks BC Canada
Posts: 760
RE: Week 5 Scores Talk
---
Managed to squeak it up a couple points this week, although for awhile I thought I had it by the tail. Fatigue really got me during the last half - I lost 6 points with my first 23 arrows but 13 more on my last 22.[:@] Oh well, tomorrow is another day.
And, as has been mentioned already, this 'contest' is a great motivator for working at personal improvement. I appreciate the effort that Matt puts into this for us; thanks a bunch.
02-08-2008, 08:28 PM
RE: Week 5 Scores Talk
---
Got my round in tonight. It was the last chance for me this week I think. I have been better but not too bad. Had a couple of 8 flyers tonight. I should have let down. But I just kept aiming and as I squeezed the trigger I felt myself creeping. The shots went off as I was starting toinch forward. That DON"T WORK.[:@]I blame the flu I had last weekend, still not totally back to 100% yet.
02-08-2008, 11:56 PM
RE: Week 5 Scores Talk
---
Man, I am so happy I could piss myself!!! I shot my best score ever tonight and I am proud!!! I switched releases and just started banging 10's and x's. Really had A hard time with a touch of target panic and i think I have finally got it licked. I have been using a older stan that I have thrown to the ground a few times[:'(]. It was real sloppy and I knew it was hamppering my shooting. My dad has always told me I would get to a point where I would know if it was a good arrow or not. I am finally to that point and knew I could be doing better. My friend let me borrow one of his tru-ball tru tensions and I can't say good enough things about it. It was so much smoother than the older stan four finger I have been using. It really helped me out. here's a pic of my target this week. I am very proud of it and had to show it off.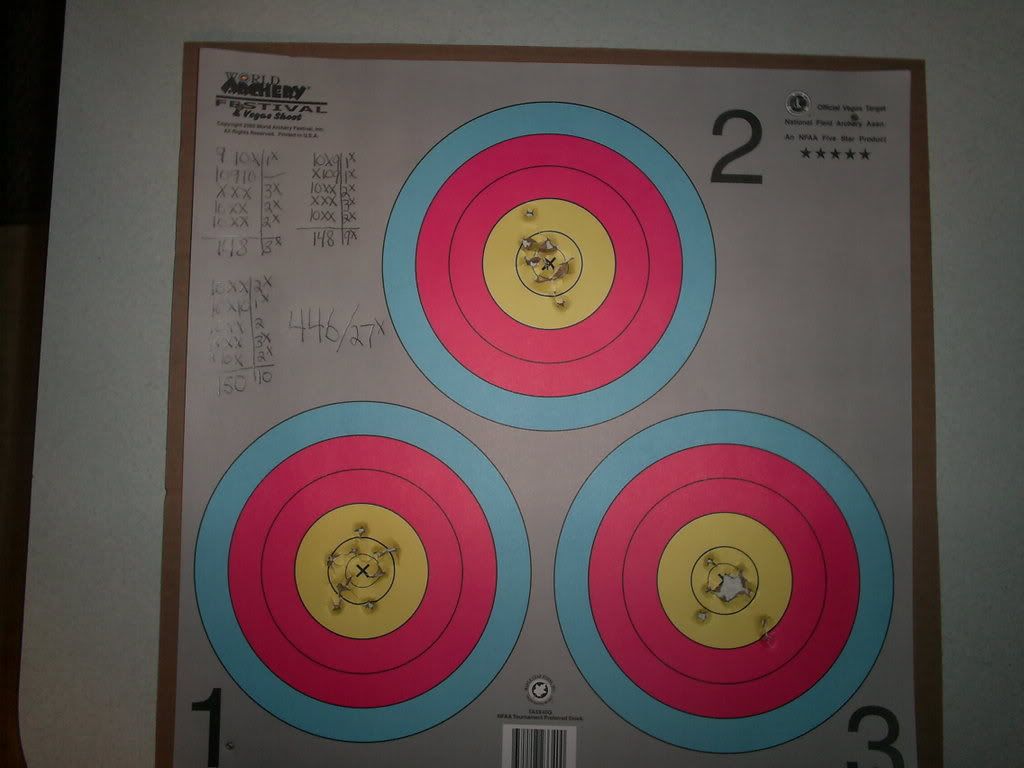 02-10-2008, 11:13 PM
RE: Week 5 Scores Talk
---
Good shooting ruttnutt!

Is that a hunter face in your avatar? I didn't know we had any other field archers on here.........[8D]

I'll be joining a league this year for the first time. I've shot quite a few field and hunter facegames on local courses, but never in a league and I'm looking forward to that this summer.