Official Team Treestand Assassins Thread (6)
08-22-2008, 01:12 PM
RE: Official Team 6 Thread
---
ORIGINAL: pwrsrtk350

Wow Chatham...not to far from my old stompin grounds. I grew up in the Spencer/Sullivan area.Now I am in Canton.
NIce to see someone from around my area on here. The only other person that i have seen yet besides my brother(siman08/oh).
08-22-2008, 09:59 PM
RE: Official Team 6 Thread
---
ORIGINAL: Woodline Bucks

Deer movement is really slow. I am trying to get one patterned for my daughters first hunt. I will be filming her hunt. Hopefully luck is on our side
Thats great getting your kid involved. I took my 6 year old (5 then) out on opening day lastyear.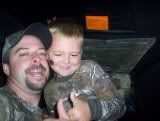 08-23-2008, 11:37 AM
RE: Official Team 6 Thread
---
ORIGINAL: Hick442

So guys when do all your seasons start. Mine is going to start i the end of September.
Same time (end of sept lol).
I went down to our lease lastnight and tried to look for new sign but I could only handle about an hour of walking because of all the bugs. I come home looking like I had the chicken pox from all the bites. But what I did see still looked promising.
Also....
Team Full Draw
Team Ruttin Magic
Team Horn Porn (would that be allowed?)
or any others listed above or more suggestion with a name and captain.