Official Team 11 checkstop!
11-19-2008, 03:29 PM
RE: Official Team 11 checkstop!
---
Great looking Buck. I'm heading off this weekend for mine. We will see what happens.
11-20-2008, 02:16 PM
RE: Official Team 11 checkstop!
---
Headed out for the pumpkin parade here in Wi. I leave tomm and will hunt this weekend and come back, and then it is back up after turkey day. there are a couple of nice 6 and 8 pointers i am after. Will let you guys know how it goes!!!!

Good luck team
Pines

11-24-2008, 09:15 AM
RE: Official Team 11 checkstop!
---
I killed a nice 8pt (for down here) on Friday while running dogs. I got plenty of pics and i would guess he would score in the 90s, but i haven't scored him yet. Will post pic when i score him soon.
11-24-2008, 08:24 PM
RE: Official Team 11 checkstop!
---
Congrats Bryant

Can't wait for the pics and that should put us in first!

I was bow hunting this weekend. Alot of activity and Sunday morning I seen HIM, as inthe buck I missed last year. He is a absolute monster. I think he will score in the 170" he has put on some mass since last year. I had him at 45 yards but I didn't see the doe at about 15yds and I spoked her. I will be hunting that stand in two weeks and next time I will have the old smoke pole. I am not saying I will hit him because I am a pretty poor shot but I know I will be firing a round.

12-02-2008, 04:23 PM
RE: Official Team 11 checkstop!
---
I took two days off this week to hunt Ohios gun season. I took a big doe this AM and sick little ones kept me out of the woods this evening. This was the same doe my daughter shot at with a crossbow a month ago. She had hit a limb and knicked her back. I didn't know it was her until I field dressed her. Good size doe too.
I'll be out this weekend as well. Maybe I'll get lucky and get a buck too.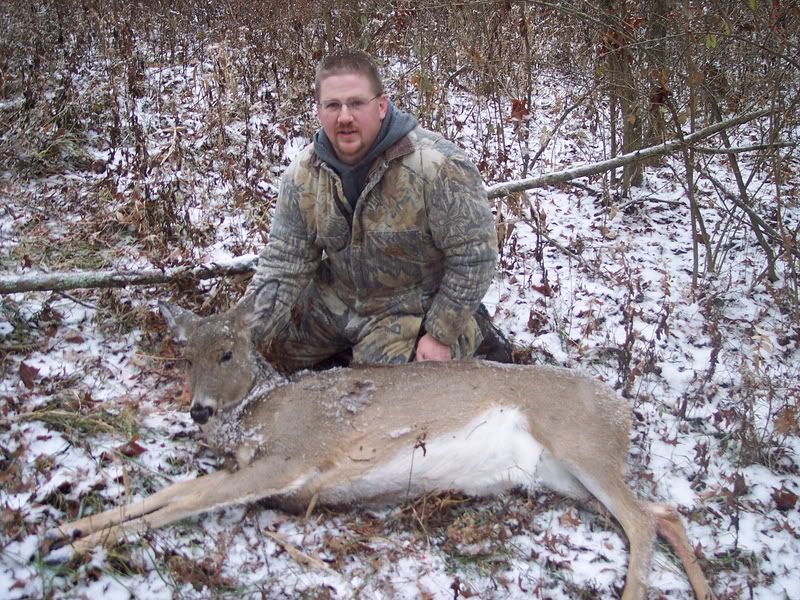 12-02-2008, 05:13 PM
RE: Official Team 11 checkstop!
---
Congrats on the doe it looks to be pretty good size.

Have you been seeing any bucks? How long is your gun season? I am heading out this weekend for a doe but if a 155" or better comes out I will be shotting at him.

Pete

12-08-2008, 11:51 AM
RE: Official Team 11 checkstop!
---
Can't believe its been so long since I checked in, but I've been pretty much hunting solid for the last 6 weeks. So far it's been a fairly miserable hunting season. I have yet to see a shooter while bow hunting. I was seeing plenty of nice bucks on camera, but that wasn't translating into actual daytime sightings. The rut didn't seem to be that intense in my area, so I don't know if that had anything to do with it or not.
I struck out during West Virginia's gun season - a small 8 pointer being the biggest buck I saw. I hunted the first part of Ohio's firearms season (Mon-Wed) and saw only 4 deer the entire 3 days. One of the 4 was a nice buck and I outright missed him at 40 yards. I found out later that I had somehow knocked my sights off - way off. I had picked up a Tasco Pronghorn on clearance a couple of years back and threw that on my new shotgun. Big mistake. It ended up costing me a nice buck. I've learned my lesson there.
Fortunately I was able to go back up to Ohio this past weekend and it was a completely different story. Due to the weather I was unable to get into the woods on Sat until about 4:30pm, but saw 4 deer in that time including 2 nice bucks (neither which I had a shot at). But yesterday I was in the right place at the right time. I saw 23 deer all day (2 bucks) including the deer I took below with about an hour of shooting light left. If fact the deer were active all day and kept me in the stand instead of coming out at lunchtime. With the temperature hovering in the high teens, I froze my butt off, but it was well worth it. I haven't scored him yet - I'll be doing that this evening.