Official Team 9 Thread
11-23-2008, 11:47 AM
RE: Official Team 9 Thread
---
I got abouta week left to. Im going to hit the stand all day tomorow im hopeing Id like to get one in the morning so i dont have to sit all day but ill take anything. I saw 7 this morning on the way to the storeI should have been out. They were all on posted land but it was nice to see them. Well good luck to all Im going to be on stand all day so if you all get bored tomorow my numbers 802-236-9279 feel free to txt me. My names ryan by the way.
11-24-2008, 05:53 PM
RE: Official Team 9 Thread
---
The story is i was sitting in the treestand just had stood up to stretch then sat back down and i heard somthing walking. I thought it was a squirl didnt pay much attention to it. Then i looked over and saw him just wondering threw the woods at about 80 yards. I waitied for a good shot and took it. He went 60 Yards and crashed. My biggest deer to date that makes 3 for the year. Thats a hard task for being in vermont. Im not sure exactly how to score him might need some help with that boys. good luck to everybody.
11-24-2008, 08:17 PM
RE: Official Team 9 Thread
---
11-25-2008, 10:33 AM
RE: Official Team 9 Thread
---
Well its nice to see some deer getting taken, even if they cant be entered. Congrats =]

Congrats on that 4 pointer too! If I see a 4 pointer, Im taking him because I only have 6 days left including today.

11-25-2008, 11:56 AM
RE: Official Team 9 Thread
---
Congratz on the fine bucks you two.
I also got a buck. A buttonbuck that I mistook for a doe.
It might be a bit hard to score him lol. We are able to put doe tags on buttonbucks so no worries. I also shot this with my bow.I still have a couple tags left.
Im going to arkansas tomorrow for some deer and bear hunting. Ill be using a shotgun for that so if I geta buck its going on the scoreboard.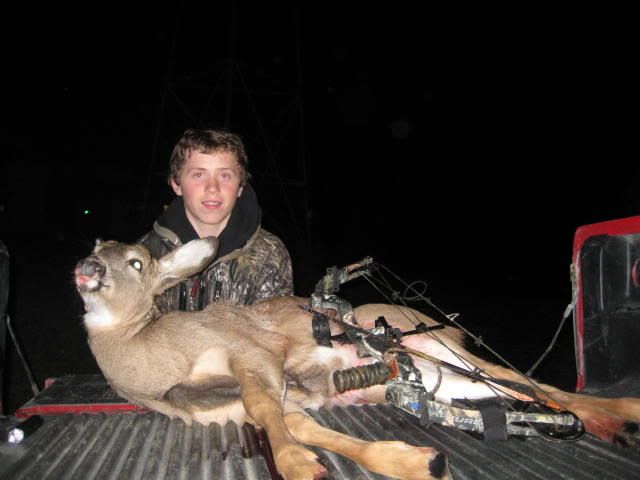 Thread
Thread Starter
Forum
Replies
Last Post
2008 - 2009 Firearm Deer Contest
2008 Turkey Bowhunting Contest
Posting Rules
You may not post new threads
You may not post replies
You may not post attachments
You may not edit your posts
---
HTML code is Off
---