TEAM #23 -"Full Strut"
05-14-2009, 10:25 AM
RE: TEAM #23 - New - need 2 more tho
---
Well, not sure if anyone on the team is still hunting or not but looks like things are winding to a close for us. This has been a lot of fun and I have really enjoyed getting to know all of you at least a little bit. Congrats to everyone, whether you got one or not, Team 23 put up a hard fought battle. It was a tough season here, and it sounds like it was in a lot of other places too. Hope to stay in touch with you all on here and hope to see all of you in the contest again next yr! Thanks to all for helping make one of my favorite pastimes eaven better!!
05-17-2009, 07:29 AM
RE: TEAM #23 - New - need 2 more tho
---
So far this is where we stand for the team stats.
18thplace Team 23 Full Strut5birds entered
246.2500
mudchicken1012-0.00 have address
[8D][:-]
MDManic -0 have address
tca126 -0 have address
nwm10 -0
FF/emt +57.50
kybowhunter08+ 33.00
Huntinlady+ 53.50
j76 + 49.25 have address
greenmachine -0
Il-cornfed -0have address
turkeygirl2 + 53.00 have address
Teame #23 Total score =246.25
Please post up if u scored or not so i can fill in the sheet, and for those of u still out GL.
Also if u want a contest sticker im me and i will send out as soon as i get them (the next few days).
name and address
05-18-2009, 07:54 AM
RE: TEAM #23 - New - need 2 more tho
---
FF/emt - Great bird!!! Great pics!! Way to put-em down!! Congrats to ya!! Sorry it took so long to congratulate you, I have been real buzzy around here and have not been on the sight for awhile.

My boys got me a tag for Mothers Day so ventured out to try to tag me a turkey, I had alot of action with the birds heard lots of gobbles and they were around me but just they would not close the deal when it gets to 4th season around here it gets to be pretty hard to hunt they get call shy and decoy shy and so you have to play every trick in the book, I went and I came up short that day, but I had a great time it was a great day in the woods, but I did take another bird the other day he was a jake hes not a big bird but I could not be more proud of him I hunted pretty hard to tag out with that Mothers day tag. What a hunt I got a little video and a great stories but I have not got it all put together yet. The seasons around here as of last night now closed!! Now it will be another long 11 months until next year. Wow-I love them turkeys. And I thank God for all of the wonderful gifts and sights I got to see this season!!! I will get a pic of the bird on here as I figure out what is going on with my camera.

Mudchicken-Thanks for stepping up and being are caption and for all you did to keep us in line- Thanks!! I wish everyone who is still out the best of luck to ya and to keep after them!! And to all that their seasons are over - I know how you feel and in 11 months we will give it another shot!!! It was nice to get to know you all a little better and it has been fun reading all of the stories. Thanks for being a part of my hunting season it was fun.
05-18-2009, 05:31 PM
RE: TEAM #23 - New - need 2 more tho
---
05-19-2009, 09:02 AM
RE: TEAM #23 - New - need 2 more tho
---
Team Full Strut,

Have been hunting periodicallyduring the PA season. I have had a couple close calls but haven't sealed the deal yet. On 5/11 a buddy of mine that I was hunting withscored on nice gobbler, 10 inch beard 1 inch spurs. It has been a tough season thus far, not much gobbling and a lot of hens in the area. I still have a few more days so I will keep you posted. Congrats to all that have taken birs thus far.

05-19-2009, 11:21 AM
Fork Horn
Join Date: Apr 2004
Location: middle of western NY farm land
Posts: 371
RE: TEAM #23 -"Full Strut"
---
Alright team, here's my entry: 20 lbs, both spurs 3/4" and a 9" beard. The NWTF calculator scored him at 53.
I filmed this guy on my digital camera on May 8...I chased him basically all week except for 1 day, so I was after him for a good 7 days. Well at 11:21am on May 15, this past Friday, after maneuvering on him for a couple hours, his hen leaving, then him leaving, I set back up and he basically did a loop around this small patch of woods and came down a hill in the field, saw my decoy, heard my little yelps...and at 30 yards the Mossberg 500 20ga Super Bantam with Federal Mag Shok #5s put him flat on his back.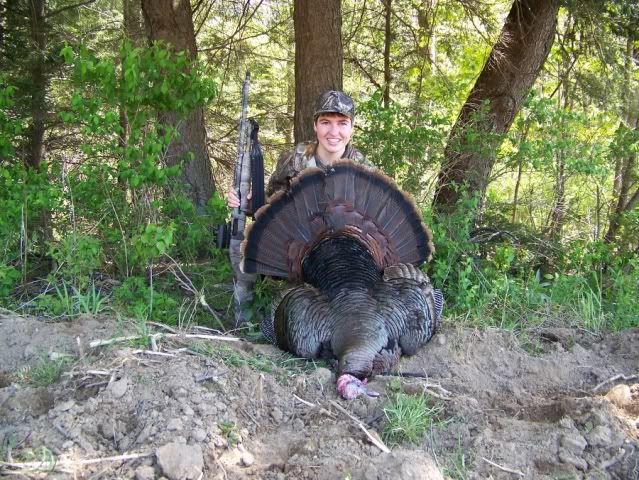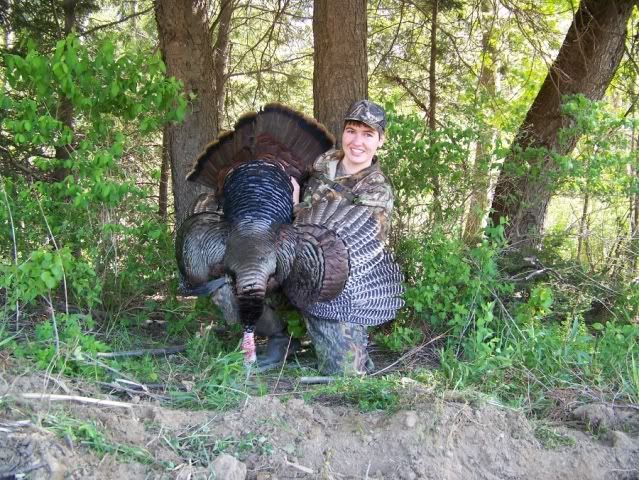 I already had posted the photos and longer story in the main turkey room, but hre's for my team! Still have another tag, will try to get back out again...working on planting theg arden and studying for nursing state boards.
TG - use small case for the img thing and at the very end hit return - don't ask me why I just know it works - JW
05-19-2009, 05:19 PM
RE: TEAM #23 -"Full Strut"
---