Team 8 "Beard Busters" Thread
04-17-2009, 02:10 PM
RE: Team 8 "Beard Busters" Thread
---
im heading out this weekend with my dads buddy. i might go out and pick up an leftover tag for this season just for the hell of it. i'll post some pictures if he gets one and ifi get one
04-17-2009, 03:48 PM
RE: Team 8 "Beard Busters" Thread
---
I burned yesterday so I couldn't roost my bird...
I got there, I was #5 Drove down to my parking area,I see another truck coming my way, my heart dropped, then he pulled in, we talked and he said he would go elsewhere, I was alone woohoooooo, let the hunt begin...
I hunted the powerline until 7:30...if they weren't there by then , they weren't coming...I heard no gobbling , at least nothing I was 100%sure of.I snuck into my honeyhole, while on the way in , I heard a squirrel barking",Thinking that he was barking at my gobbler, I said"come to mommy bigboy", just kidding around.I knew I had to be where I call the mouth, it's a small funnel, so
I got set up and I did 2 series of soft yelps and then a minute later I did 2 more but a lil louder this time...I saw green and black walking...Oh no, there he was but he was sticking to the outside edge of where I needed him to be, so I did a couple of purrs...I tried 2 times to get a shot while he was skirting me, but couldn't egt a good/clean shot, then he disapeared, then I saw him,he was heading right to me, so I had to scoot over to get a shot, He got within 30 yards and I took it....he dropped, I run over there, stepped on his neck, though there was no need, but I was making sure after he got by me twice previous, lol.....
I had my safety off twice prior to today, I just asked God not to let there be a third time without a shot.Thank God he finally gave me that bird.....He's the same bird I almost shot on accident when I shot my first bird , then to have my sights on him again and not shoot because i wouldn't take a crappy shot, I'm sure glad to have sealed the deal today.
His stats are 14.2 lbs.
1 1/16 and 1 1/8 in spurs
9 1/4 inch beard
I was pretty sure that he was the less dominant bird when I got my first one but I still had that , what if thing going on,bugging me lol.....but he had a 1/2'' shorter beard than the other one...both were 2 year birds.
I'm leaving fo Virginia in the a.m., 4:00.Hunting up there was a few days.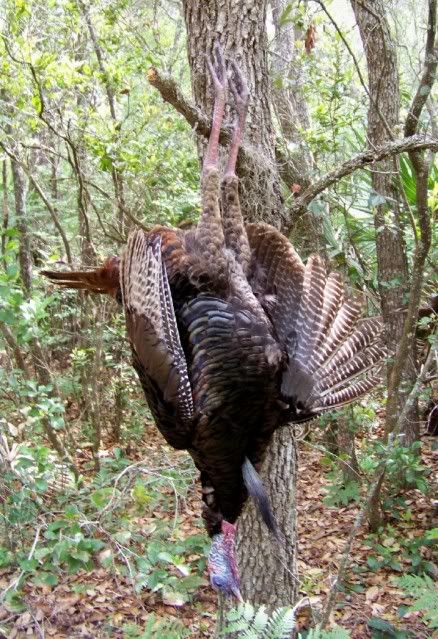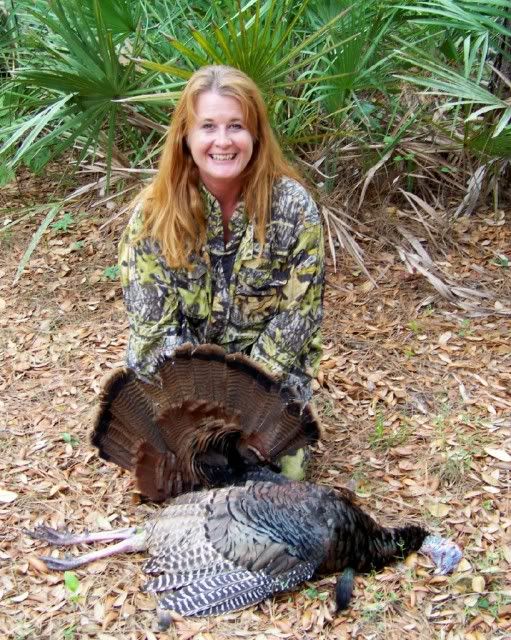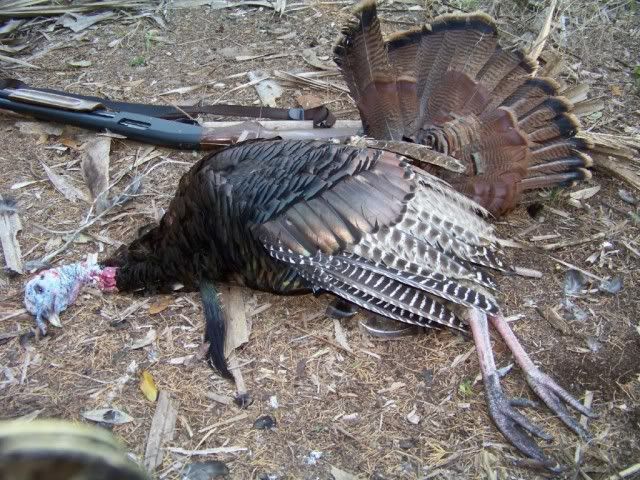 04-19-2009, 04:01 PM
RE: Team 8 "Beard Busters" Thread
---
Way to go huntnma, sounds like a great hunt, once again.
Well, as luck would have it, luck smiled upon me. I was suppose to be taking a "newbie" turkey hunter with me this weekend, but as it turns out, he was unable to get a replacement pilot to take his flight on Thursday, so he said he could fly into Salina, KS. if I could come and pick him up on Friday afternoon. We were suppose to leave Wed. night after I got off from work, so I stuck with that plan and agreed to pick him up Friday afternoon. Well, a big 'ol snow storm blew in to Denver area Friday and he was unable to get out on Friday, so he cancelled his first turkey trip altogether, hoping to maybe get a chance to go next weekend, which put me in the shooters seat. SO I called my buddy back in KS. to see if I could hook up with him, or another friend for some turkey hunting, and indeed, went ahead and drove right on past my familys farm to my buddys house with plans to hunt with him.
SO Thursday morning, went headed out to a farm that my buddy has permission on, where he's hunted for many years, and knows their habits well. Long story short, we did see very many turkeys, but it only takes one. We first called in a hen, and she hung out for thirty minutes before moving on. Then we watched two turkeys cross our field, but they wouldn't come to a call, and we couldn't tell if they were hens or toms. Then we got our eyes on a strutter, but he was clear at the far end of the field, about 600 yards, and wouldn't give us the time of day. At about 11 am, we had decided to throw in the towel for the morning and head to town for breakfast. About the time that we had our gear packed away and were ready to exit the doublebull, I took one last peek out to make sure the coast was clear, and what do I see, but two turkeys about 300 yards across the field from us. One was chasing the other, but no strutting going on. SO I pulled out a box call, and gave some yelps to see if we could get a reaction. Sure enough, one turkey heads in the direction of the strutting tom and one turkey heads our way, and on a string. This turkey never stopped once, and we had just enough time to get the video camera set back up, get our face masks back on, get an arrow knocked, and get my release attached. At about 50 yards, I could see the beard, and declared, I'm shootin' if givin the chance. Well, at about 10 yards, my buddy says, "It'sa bearded hen". Well, she came in with an attitude and although she didn't hold still at all, at about 5 yards, I took the slame dunk shot and put my bullhead broadhead into her at the base of her neck, and simply flipped her on her back, and that was that. Broke her neck. Turns out that she has a 7" beard and will be a the taxidermist probably tomorrow. SO, we're on cloud nine. Get things hauled back to the truck, into to town for lunch, and back to my buddys house for a quick nap, before heading back out for an evening hunt. We decided to go to my property that my wife and I own because a neighbor reported to us that there were indeed a bunch of turkeys staying there. We got back in the blind at about 3:30 pm, and didn't expect any turkeys to show for probably a few hours, since we were set up just a couple hundred yards from the historical roosting area. Well, at about 4:30, the first turkey arrived. It was a tom, but dispite our best calling and two hen dcoys, this turkey would have none of us, like he had some where to be, and went right on by us at about 100 yards. Well, once again, long story short, by the time it was all said and done, we count about 35 turkeys that showed up and went to roost. 19 of those had visible beards, with 9 of themhaving full fans. AND, as luck would flow my way again, one of the big toms just couldn't resist my buddys sweet nothin' from his box calls, and he made the fatal mistake of cominginto our decoys that were just 6 yards from the blind, and this time, the Magnus bullhead did a complete and total decapitation, and my bird was down. This tom has a 10.25" beard, both spurs were 1.25", and he weighed in at 19.5#'s. The cool thing about this hunt, is we didn't spook any of the other birds, and they went to roost, and we snuck out under darkness, and will be back to hunt them again next weekend, with my pilot "newbie" friend. I thinkhe'll have a good chance at getting his first turkey. Here's the hen.
http://img.photobucket.com/albums/v156/songdog/IMG_1666.jpg" />
04-19-2009, 04:04 PM
RE: Team 8 "Beard Busters" Thread
---
And here's my tom. Like to mention that in KS., the law states that "any bearded" turkey is legal in the spring, and we're allowed to kill both turkeys on the same calender day.
HIS SCORE IS 65. He is either a Rio or a hybrid Rio/Eastern as where I was hunting, is a known hybrid area.
04-19-2009, 04:06 PM
RE: Team 8 "Beard Busters" Thread
---
Here's a picture of what we were looking at from the blind, just a short time after I had killed my tom. Just a few turkeys piled up on my property.
The tom was between the two decoys when I shot him, and he tipped the front decoy over when I shot him, and he's laying just out of the picture to the right.
04-20-2009, 05:13 PM
RE: Team 8 "Beard Busters" Thread
---
Thanks guys. Hope you guys have as much action as I did. I truely am blessed to get to hunt some of the places that I do. Between the land that my family owns, the land that my wife and I own, and my buddys familys land that we get to hunt, it don't get much better for turkeys. Good luck and hope a strutter finds his way into your sights.