Hunting Stories
07-31-2010, 06:11 PM
08-01-2010, 08:35 AM
---
my story from last bow season
I was in my stand it was 45 degree's I hear something I look up their a small 8 point I'm about to shoot when another buck steps out he was only about 355 inch buck so I passed him up.. 5 minutes later a big doe comes out and I smoke her.. The end
I woulda shot the 8 but he ran off with the little 355 inch buck
08-01-2010, 11:21 AM
---
my story from last bow season
I was in my stand it was 45 degree's I hear something I look up their a small 8 point I'm about to shoot when another buck steps out he was only about 355 inch buck so I passed him up.. 5 minutes later a big doe comes out and I smoke her.. The end
I woulda shot the 8 but he ran off with the little 355 inch buck
I believe you! I was thinkin about shootin that 405 inch buck with a unicorn horn that walked by but I dont believe in shootin youngsters. All mature deer where I hunt! Lol.
08-01-2010, 11:34 AM
---
I got up one early rut morning and snuck my way into my tree stand and sat there watching the early sun rise. Its pretty dark out still and the sun is just about peaking over this hill when I saw the outline of a black figure. I got the binos up and I could barely see it but there was a doe out there. Then that doe took off straight to me followed by a couple more does.. and then behind them all I saw was a set of horns! I got all excited and got my bow in hand. Those does led that buck straight to me. They all jumped the fence into the bean field in front of me and then that buck jumped over about 50 yards behind those does. He got within 43 yards and I took a poke at him. Perfect heart shot. He ran about 65-70 yards and dropped dead in the bean field. All those does took off onto the top of the hill and just stood there wondering what happend.. Well one of the does got daring and decided to come check it out. She walked all the way back and was slightly quarting away so I flung a arrow at her at 35 yards and she ran probably 35-40 yards and dropped dead in the same bean field! Both deer were proabably within 100 yards of eachother and in the field! That was the easiest tracking job ever! All of this happend proabbly within 20 minutes. The sun wasn't even all the way up yet.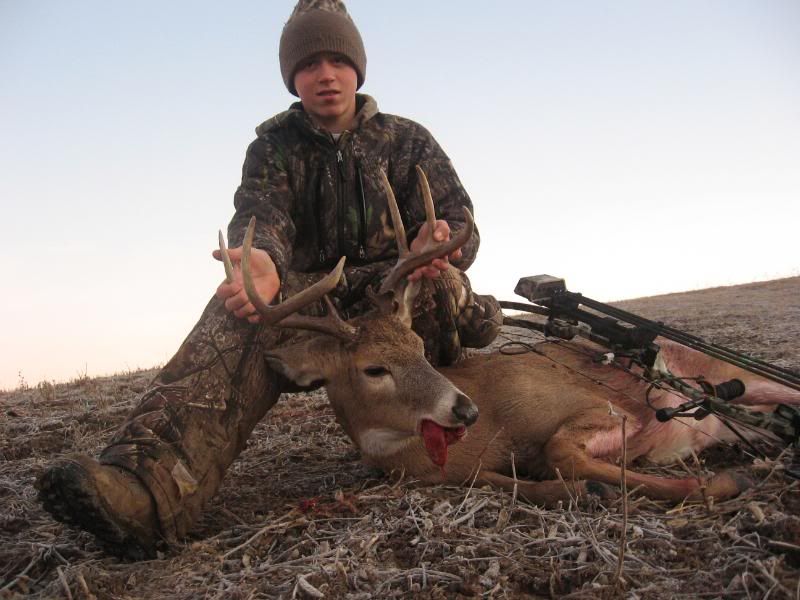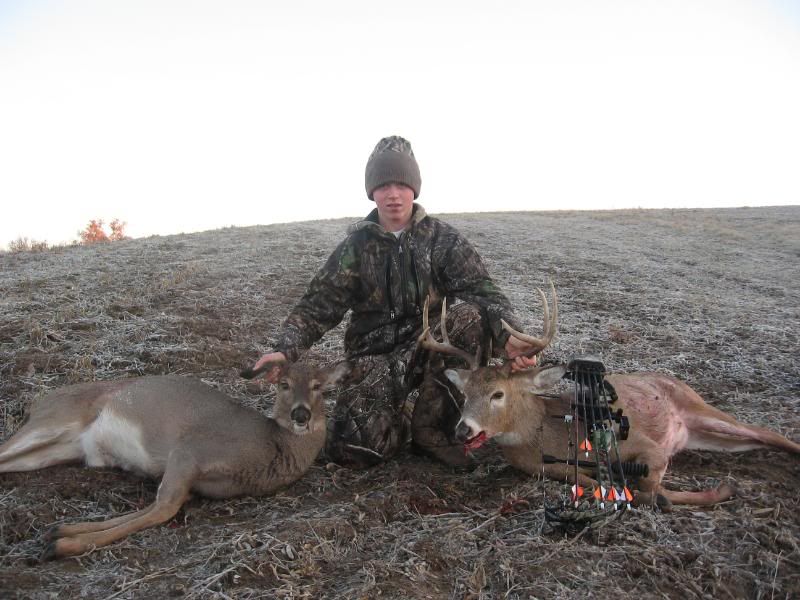 Heres the mount. Hes my biggest buck so far.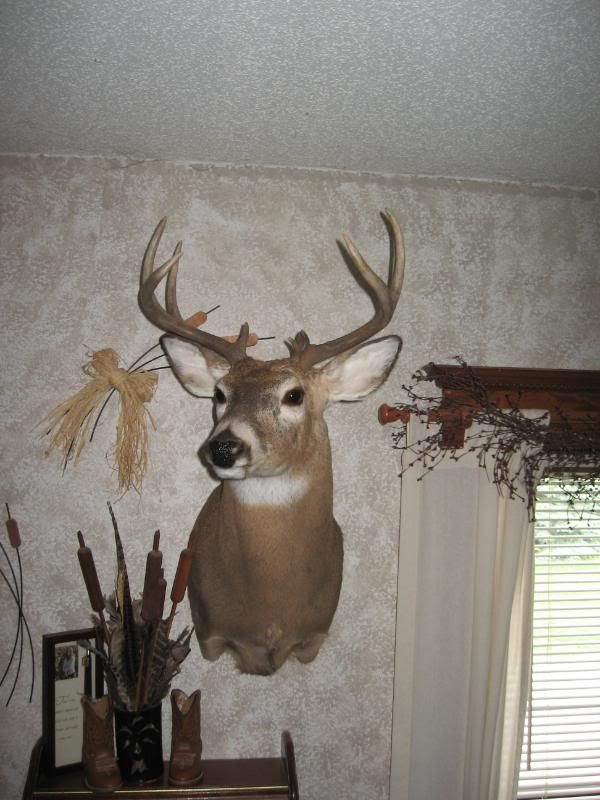 08-02-2010, 01:34 PM
---
Here's the story of my first deer. I was 16 and my husband taught me to shoot and to hunt. (He wasn't my husband then, but he is now, so I'll say my husband.) We don't hunt from a treestand, my husband sort of stalks them. He spends about 20-30 times as much time scouting as he does hunting. He considers scouting to BE hunting.

So we headed down from a bluff to a marshy area by the river. Nobody, but us, goes down there because it's all muddy and mucky. But he had found that the deer were using some of the higher, dry spots, as bedding areas. We crawled down there, through the mud and the brush until we got close to where he was sure there was a deer bedded down. We got really close and you could sort of see there was a deer lying in the weeds. We were downwind of the deer and very quiet. It took us about two hours to crawl about 100 yards.

We have a set of hand signals and he motioned me to stay while he crawled over to a position about 3 o'clock to my 6 o'clock. He motioned me to sit up and come to a draw. I'm about 10 yards from the deer so I'm moving very slowly and quietly. He uses these turkey mouth calls and he clucked. The deer, a doe, raised her head. He waited a minute or so and clucked again and the doe, maybe curious or what, stood up. I triggered the release and hit the doe. She turned all the way around and then walked off about 10-12 feet and dropped.

My husband motioned me to sit still and we did for about a half hour when he motioned me to nock an arrow and we approached her. There was no question she was dead. We knelt down and thanked her spirit for allowing us to take her life and then we dragged the body up onto the bluff and gutted it. My arrow had cut through her heart and stopped. I'm really small, so I use a 30 pound pull bow we bought used. There's no way the arrow could go all the way through. (Luckily for me, there's no minimum draw weight in Michigan.)

So when I got home the really fun part started. Remember crawling through the brush? Well, my hair came loose and was full of little briars. This was a real problem because my hair has never been cut and goes below my knees. At first my mom said it would have to be cut, but when I started bawling, she said she was only kidding. Anyway, she went out and bought a couple bottles of salad oil and one of those wire brushes with the little balls on the end that you use for dogs.

Then I had to stand in the bathtub while my mom soaked my hair with the oil and brushed out the little burrs. Then it took a couple bottles of shampoo to wash the oil out of my hair. So there I was, the mighty hunter having killed her first deer getting a bath from mom like a little kid.

I now make sure my hair is tied up and covered. That was in December and we got married in April.
08-02-2010, 01:54 PM
---
Same here I cant stand when my neighbor's shoot these small 350 inch 2.5 year olds buck's! lmao I prefer to wait for a nice mature doe comes out lol
also nice buck what'd he score? I got one about that wide but my bucks G2's are smaller than your bucks
08-02-2010, 04:22 PM
---
regarldess nice buck lol, heres another, last year on october 27th, i was sitting in my favorite spot where id shot a doe about 3 weeks ago. we got in late and my dads phone rang as soon as we got into the set. i thought we were screwed and we wouldnt see anything, but whadda i know? about an hour and i look up and a little basket rack wed seen almost every trip came through the thicket and i wanted to pass because my dads buddy had seen a couple biggins in a field north of our property. so that buck is in there then we hear footsteps and the buck looks up and bolts! i grabbed my bow because i thought it was a coyote because we have tons of those. but its not!!! its a 140 inch 9. he comes into the corn and stops, 2 more inches and i coulda shot him perfect. but there is a little hole in the leaves about 8 inches wide and im like no problem. i shoot dead center of the hole, which woulda been a perfect double lung but he jumped the string. so he runs off and circles back around and comes head on with the stand, he puts his head down and i draw. he looks straight up at me for about 30 seconds then takes a few steps back and turnes right around and walks away... so my dad thinks its smart to snort weeze and scare him off. im sure that wasnt what he was thinkin but if it was.... it sure worked... just got a pic of him yesterday. i put it in the bucks thread. needless to say i was kicking my self...