tractor
04-29-2011, 05:32 AM
Boone & Crockett
Join Date: Feb 2003
Location: Ponce de Leon Florida USA
Posts: 10,079
---
It depends on how big your implements are, how hard the dirt is and how big of area you have in food plots. It should work fine as long as you don't over load it. If I were buying I think I would want one a little larger tho.
05-08-2011, 07:20 AM
Typical Buck
Join Date: Apr 2011
Location: Northern WI
Posts: 853
---
Should work fine. But, you probably should hire out for the initial plowing and prep - this is tough work that will take its toll on a smaller machine. Once you have the plot established, a smaller tractor or even a 4wheeler can be used to maintain it.
05-12-2011, 01:10 PM
Typical Buck
Join Date: Feb 2003
Location: Coffeyville KS USA
Posts: 931
---
I used a 35 horse diesel to get my food plots started. Used a 2 bottom plow and a disk mostly. If you are using a 22 horse tractor, I would would stick to a single disk plow and maybe a 4 or 5 foot max disk. As far as planters go, you should have plenty of ponies to pull a 2 row. Bush hogging might be a problem. In thick stuff (weeds about chest high or taller) my 35 horse can bog down in any gear except 1st.
05-12-2011, 05:14 PM
---
I bought a Kubota 2100 (21hp) in 2001. I used it for mowing the lawn, plowing snow with the bucket loader and a 5' blade, brush hogging with a 4' mower, and food plots with a 4' tiller. It did ok, but I always wished I had more power.

In 2003 I traded it for a B2710 (27hp). It worked much easier, although mowing the lawn was harder as I had a rear mount mower instead of a belly mount mower. If you can swing it, I would go bigger.
05-13-2011, 02:05 PM
---
You don't need a big tractor to plant game plots in most toil. This is the smallest of our tractors. It's a Mitsubishi D1600 rated at 18 horsepower bought in 2003. It came with a new 4' brushhog: For $3,000. For 10 years it was the only tractor used at that place. We cleaned up 20 acres of hayfield that was overgrown with sumac and wild plum and kept two miles of roads mowed. Twice every year we planted 3-5 acres of game plots.
That little tractor pulls a 5' tandem disc. Sometimes the wheels spin and the disk has to be raised for a few seconds but it gets the job done. That tractor runs at 2,500 rpm for 8 hours on less than 4 gallons of diesel.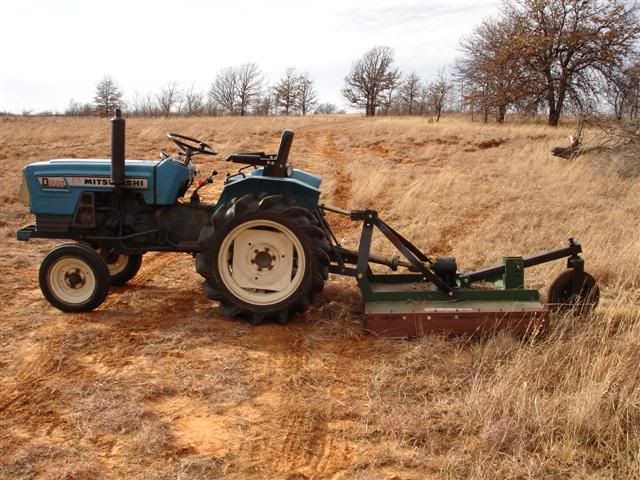 Posting Rules
You may not post new threads
You may not post replies
You may not post attachments
You may not edit your posts
---
HTML code is Off
---