Good news, bad news on plot
08-10-2010, 08:51 AM
Typical Buck
Join Date: Oct 2006
Location: Western New York
Posts: 639
Good news, bad news on plot
---
The good news is i got my plot 3/8 acre half bio-logic maxium the othe half forage oats and peas planted just b4 a real nice shower that basically got the ground wet enough to just sink seeds in to make good contact. The bad is I know I overseeded the maxium according to rates on bag. Is this a bad thing? Also how can you figure proper seeding rate when its impossible to see that small seeds on worked up dirt any helpful hints from the vets out there!!! thanks matt
08-11-2010, 02:40 PM
Fork Horn
Join Date: Jan 2009
Location: MN
Posts: 342
---
With the hand spreader, I have put down some paper and walked past it while spreading seed. I have good scales at work, so I could adjust my walking speed. Without the scales, I would look at the seed distribution to make sure it was reasonable. You could also look online for a seed/ft2 rec for your seeds as well.
08-11-2010, 06:57 PM
---
The best way to prevent over seeding is to figure out how big an area you are seed and measure out the recommended amount of seed (like 2.5 lbs per quarter acre of maximum I believe) then set your seeder on its lowest setting and go back and forth several times over the area. You really want to stick with the recommended seeding rate on brassicas because they need a little room to grow good bulbs. If you over seed you will still get growth but it might be a little stunted
08-11-2010, 07:14 PM
---
I agree with gmil, over seeding brassicas just stunts there growth and if you end up with much growing they will be very short and not produce much forage at all. On the other hand if you dont put enough seed down you will have a very spoty plot with out much forage. Like mentioned before the best is to figure exactly how many pounds of seed you need for a given plot and stick with that. I tend to seed a little on the heavy side when using oats of something along those lines but use caution when using any kind of seed that canopies over when mature cause they do need room to grow.
08-12-2010, 08:22 AM
Typical Buck
Join Date: Oct 2006
Location: Western New York
Posts: 639
---
Well guys planted last fri and the oats are not up yet but maxium is showing green down entire side planted so at least its starting i guess we will see how thick it really is in a week or two thanks for the tips guys will post pics when its up
Any way you could put some sort of white powder on the seeds to get an idea of coverage as you seed ? If so what would ya use
08-12-2010, 07:57 PM
---
I wouldn't put a powder down. I like the idea of while sheets of paper in random spots- but once you plant a few times with your seeder - you get a good idea of how much to put down. I have probably the worst - cheapest spreader out there: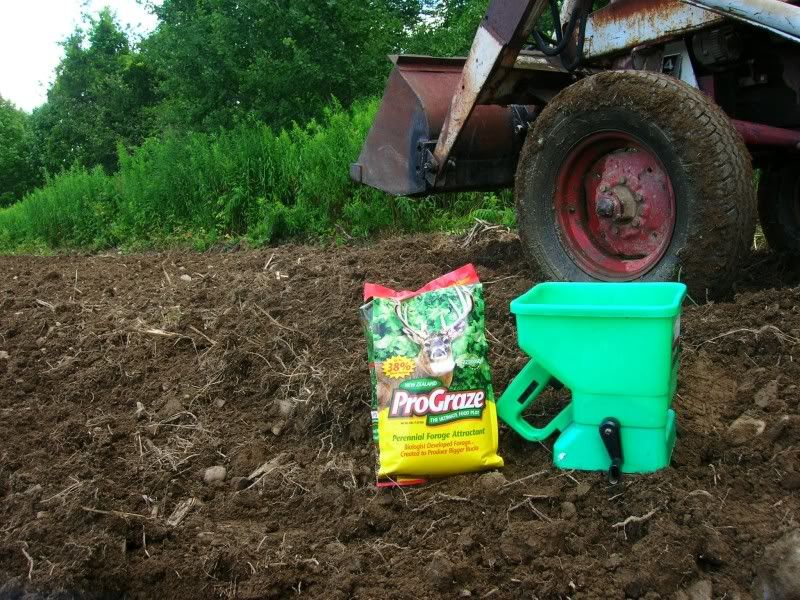 you pull a trigger to open the seed hole more or less - I go by feel - and I've done it a lot. I tend to overseed when I use equipment (like a seeder with no instructions) - because I have no "feel" for what I'm putting down.
If you truly overseed you can mechanically thin the plot by rolling a cultipacker, or I would use disks run almost straight. Better to be to thin - than too thick with brassica.
08-13-2010, 09:32 PM
Typical Buck
Join Date: Oct 2006
Location: Western New York
Posts: 639
---
Well 1 week in and plot is growing unbelievable went back today in the last 3 days oat and peas have shot out of the ground 1-2 inches my biologic is pretty heavily seeded so i guess its live and learn calling for more rain tomorrow w/ warm humid temps should be primo growing weather so far pleased with how fast things are progressing
Posting Rules
You may not post new threads
You may not post replies
You may not post attachments
You may not edit your posts
---
HTML code is Off
---