| | |
| --- | --- |
| dvallilee | 07-23-2009 10:09 AM |
---
Need help,what plants still attract deer after heavy frost and even snow?

I live in upstate NY and would like to put in a small food plot.A plot that I could use for archery season that starts Oct 15 and ends when rifle/shotgun season opens on the 3rd Saturday in November.Rifle season last for 3 weeks,then Muzzleloader season starts.
Last year the deer were eating grass in a large open area during rifle season,there was about 2" of snow on the ground.That is the only open area for miles the rest of the land is heavily wooded.I would like to plant something that would work for archery through muzzleloader season.We usually have snow by the middle of November.With many heavy frosts before that.Would winter peas,oats or wheat be the best?Can clover take a heavy frost?I would appreciate your opinion,Thanks.
| | |
| --- | --- |
| spikeman | 07-23-2009 11:26 AM |
---
I would go with Peas or turnips
| | |
| --- | --- |
| haystack | 07-23-2009 11:32 AM |
---
Cereal Rye

If you can find some cereal rye/winter rye in place of the oats or wheat that will work. Rye is very cold tolerate.
Clover will stop growing after a hard freeze, but will come back next spring. Fall planted clover seems to be the way to go for me. I'm preparing a plot now that is very similar to what you have in mind. Here in the mid-atlantic states oats will usually survive winter and the deer seem to favor that over rye or wheat. Up in your area the oats probably won't survive, but could still be worth trying.
Austrian Winter Peas are cold hardy to a degree also. I'm planning on planting oats, awp, clover and a little alfalfa around Labor Day or a little after. You may need to go a week or two earlier.
I killed the weeds and grass around July 4th with Glyphosate and just applied lime a couple days ago.
| | |
| --- | --- |
| Soilman | 07-23-2009 02:35 PM |
---
Clover will go dormant once the temperatures get near freezing. Winter rye and winter wheat are good choices, especially if you want early greens in the spring for the deer. Oats will probably not survive the winter if you have very cold winters. Turnips would be my choice if you want a pure late fall/winter food source. Deer will dig up the snow to get at turnips, and you are free to plant something else next spring.
| | |
| --- | --- |
| gregrn43 | 07-23-2009 04:12 PM |
---
turnips and rape would be my choice mixed with some type of cereal grain, oats or winter rye. The rye is what I usually plant, very hardy in cold weather and the deer here seem to really love it.
| | |
| --- | --- |
| farm hunter | 07-23-2009 07:06 PM |
---
I'm in CNY - with a variety of plots planted over the last 10 years.
Turnips work for us, but only in Late December and January.
Standing Corn is great for 1ft of snow or more.
Late August planted Rye is great for October and Nov. - but become less attractive in December
Standing Soybeans are used October - January and are our most productive plot during hunting season ( plus the deer really use them in Late July & August).
They get my vote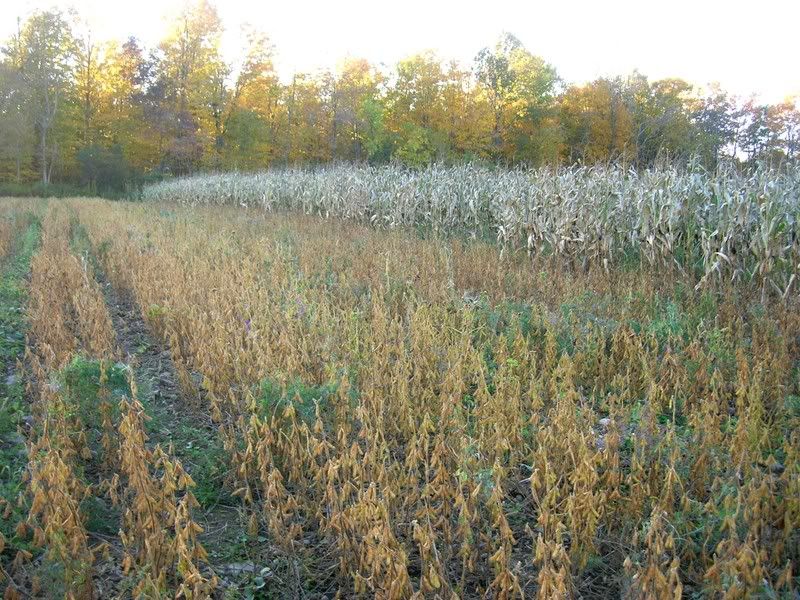 FH
| | |
| --- | --- |
| TRACKER | 07-23-2009 07:26 PM |
---
both

I,m in N N.Y. and plant turnops and buck forage oats in 2 places and clover in another .
Also this year I planted some chicory plots .
If you want something foe late season either snow of frost I ,d plant turnips and buck forage oats ..:biggrin:
| | |
| --- | --- |
| 5.9cummins | 07-24-2009 03:49 PM |
---
I use a brassica blend and a clover chicory mix. The clover chicory is a good eary plot while the brassica doesn't become attractive until after a hard frost (that's when the starch turns to sugar).

Farm hunter where abouts are you in Caz i grew up in Peterboro and used to work for Doughrety masonary through college.
| | |
| --- | --- |
| bowmanaj | 07-25-2009 06:08 AM |
---
I'm trying purple-top turnips and appin forage turnips this year. I was going to plant this sunday but now I'm waiting another week or so. I'm covered in deer during early season but when the late season and deeper snow get here, the deer move off to some sections of standing corn off of my property. That is why I went with turnips. Next year I will have standing field corn too, :barmy::barmy::barmy:.........It won't be a giant corn plot but considering there is a ton of corn in my area and more than 95% of it is cut, I am sure my standing corn will draw deer during late season. The only other corn left standing in my area is a few small pockets here and there, not much at all, and at least a good mile or two away.
| | |
| --- | --- |
| BigRack23 | 08-03-2009 03:12 PM |
---
Brassicas and turnips are a sure-fire food source for late season.
check out the fall blend from
www.bigracktrophyproducts.com
I use it every year.
All times are GMT -8. The time now is

03:05 AM

.

Copyright © 2021 MH Sub I, LLC dba Internet Brands. All rights reserved. Use of this site indicates your consent to the Terms of Use.