How do you call for deer?
07-16-2014, 06:05 AM
Spike
Join Date: Jul 2014
Posts: 1
How do you call for deer?
---
i am fairly new to whitetail hunting and i need help with calling them in. i dont know when to call, when not to call, and how to use my calls when a deer is nearby but too far to shoot with my recurve. i dont know what frequency i should use and how often i should call. if anyone has tips, tricks, or their own technique, please share them. the calls i have are a knight & hale pack rack, a mad buck grunt, and some doe and estrus bleats.
07-16-2014, 07:17 AM
Nontypical Buck
Join Date: Jan 2008
Location:
Posts: 2,186
---
I have been hunted white tails in the southeastern US for over 50 years. Some in Texas as well. I have used the "grunt" call and the "bleat" calls along the way ... including one made by Primos that is essentially a modification of a way back when kid's "cow moo" toy.

I have had very little success with the grunt calling except on a couple of Texas hunts. For whatever reason, the bucks where I hunted in Texas responded well to grunting and came to see what was going on. I would say in the 40+ years I have hunted in Alabama, Arkansas and Missippi, I can count less than 10 times I have had a positive response to grunting ..... but the ones that did come in were all nice, mature bucks. And I have never once, since 1964, heard the so called "snort - wheeze" sequence.

I have had essentially zero results using the bleat "can" other than having a doe or two come looking and on one occasion unintentionally calling in a coyote. I no longer bother carrying that call.

Bottom line for me, I would say that grunting may work to some degree, but only when the does are in heat and bucks are very actively attempting to round up a willing mate.
07-16-2014, 04:26 PM
---
Grunt and estrous calls only work when the deer are in the right mood. Pre-rut and the rut are probably the best times, although I have called in bucks during early bow season with a young buck grunt. I've also called back deer that I had missed with my bow and got a second shot. I think for deer calls to be effective on a regular bases, you need a balanced deer herd where there is competition for the rights to mate the does. Don't really have to worry about that up here in VT. As far as what time of the day to call, I don't think that matters much but if you have a deer close buy and you've already called to it and it's coming in, I wouldn't call again. If it appears to be leaving, then it won't hurt but don't call to loud. I made that mistake as a young hunter and it didn't take the deer long to leave the area.
07-16-2014, 07:10 PM
---
I have those exact same calls. I use them all the time with great success here in Vermont for guiding hunting clients and my own personal hunting trips here in the North East. I carry them with me always when I am in the deer woods.

The buck grunt has worked for me many times to bring bucks in closer. I give you a short story of one of my youth deer hunting clients back in 2010. Very early in the morning hours opening day youth weekend in Vermont, we could see the silhouette of a big body deer out at one hundred yards moving swiftly across the meadow. When the lights came on we saw a few young doe's move through on the other side of the meadow about 250 yards away from us. From intensively scouting this area, I knew there were two good bucks using this area as they were hanging out together in early season. After a few minutes passed we saw a great buck on the same trail that the doe's took earlier, with his nose to the ground. With the buck out at 250 yards, it was just not a shot that the young hunter was confident in taking. I took out the grunt tube and grunted once, no response. I grunted again but a bit louder. He raised his head as though he had heard me and stopped moving. I then grunted again, which sent his ears flat back and his hair all raised up in aggression. He broke into a trot at one point closing the 250 yards to 120 yards very quickly. I told the young hunter, that was a very good shot at one hundred yards, that when he crests the knoll in front of us I was going to grunt again to stop the buck for a shot. I grunted, but the buck kept coming. After many grunts in a very short amount of time with no success, the buck was approaching the 15 yard mark and still moving to us. A moving target shot was just not a good decision as the young hunter had not practiced a moving shot. So I bleated with my mouth, with the buck at 10 yards and he stopped. I whispered "right behind th...." BANG! The buck went 20 yards and landed in a heap. This was the first deer this hunter ever killed, and it would not have happened without that buck grunt tube.

I like to bleat like a fawn or doe with my mouth instead of a store bought call. I have been in the woods some much that I have had the chance to hear these calls many, many times. So I try to recreate those sounds. I find that any call works well after you have heard the deer make that call noise, and you talk back to them. This includes buck grunts.

I do some light rattling in early season about 1 minute sequence every hour or so while on stand. As the season approaches the rut, I bang the rack pack harder to simulate a full fight. Most real buck fights only last a minute or so, so that is what I do. What you see and hear on TV is not real most of the time with the ten minute rattle sequence. I have never heard a fight last that long, doesn't mean it does not happen, but like I said I recreate what sounds I have actually heard in my woods.

I hope this helps a bit, and if you are not sure about something I have talked about, just ask me in PM and I will try to explain. Good luck to you this season!
07-17-2014, 04:00 AM
Typical Buck
Join Date: May 2010
Location: South East Pa.
Posts: 526
---
I am with mojotex. Calls only work on deer if they are not pressured or there are local doe in heat. Doe are only in heat about two days from what I have seen. If you have an area that is reserved for you, they may work. Deer are not stupid. I used calls long ago, but gave them up because they were not worth it. I have actually seen bucks circle around out in the brush to get down wind of whatever was calling. Then they sneak off. I have seen smaller bucks run away. Most older deer have been exposed to calls and will not come running in. Deer adapt quickly. I can remember when the saying "Deer never look up" was true. Not anymore. They get a wiff of human scent, do a quick scan at ground level, and then start looking in the trees. Same with calls. To many people using them. For the amount of times a call works, you would be better off with a little Tink's lure on a rag about 10 feet off the ground.
07-17-2014, 09:53 AM
---
Just yesterday I see two adult does in the back yard so I get a hand full of dog food and step out the door. I call out Hey pretty Mommas here is some food for you. Only one of the two wanted any but the other stood near by waiting for the other one.
Two of our babies in the back yard yesterday.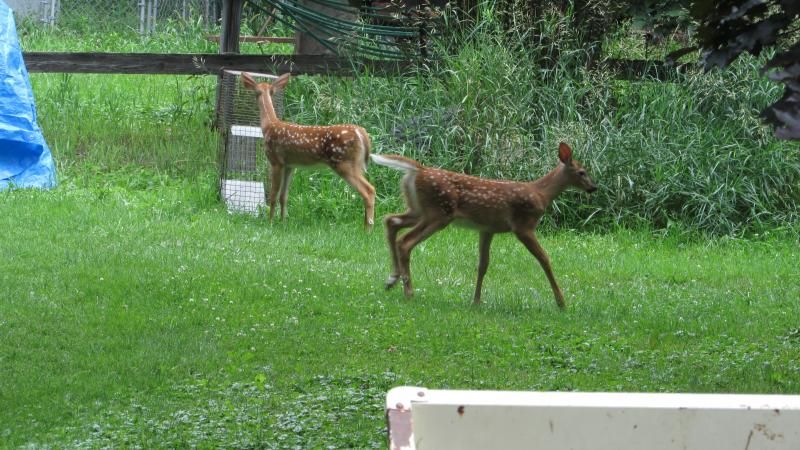 Al
---
Last edited by alleyyooper; 07-17-2014 at

09:56 AM

.
Posting Rules
You may not post new threads
You may not post replies
You may not post attachments
You may not edit your posts
---
HTML code is Off
---