Whats the biggest buck youve ever killed?
03-08-2014, 04:55 AM
Fork Horn
Join Date: Mar 2014
Location: northeast
Posts: 115
---
I took pics off the pc but it was a heavy wide racked 8pt I had to call a neighbor(guys were at camp) To help me. Took nearly an hour to get him home and in the truck...2ft of snow on a sled up hill...Thank God he was in when I called...lol I drove him to camp to surprise the guys. Back then no weight and I do not score...never have mounts done.
The next biggest is the one from 2012. his pics...200# 9pt
03-13-2014, 01:59 PM
---
Biggest weight wise?
Bottomed out our 300 pound scale after field dressing. Got him with a bow.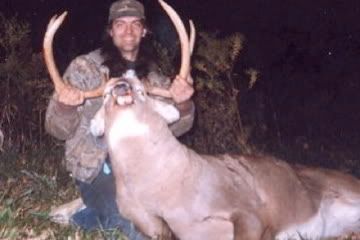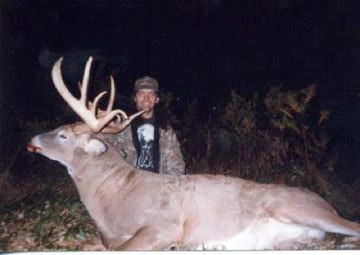 Biggest non-typical?
Belly crawled up to this guys bed and shot him with a shot gun.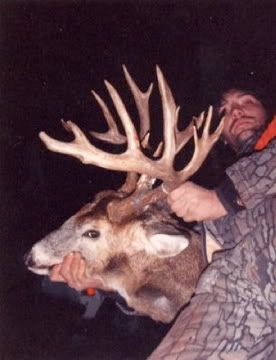 Widest?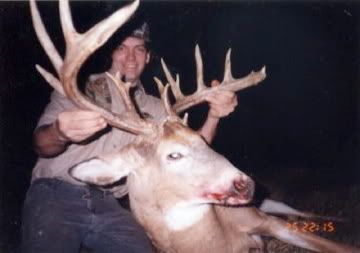 Biggest typical?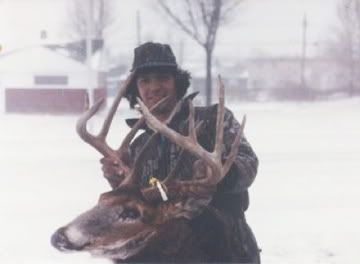 Runner up...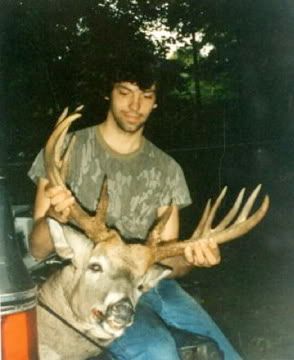 03-22-2014, 01:22 PM
Spike
Join Date: Mar 2014
Posts: 1
---
Wow those are some monster bucks. I would also love to see a pic of that 300+ pounder hope you didn't to drag him far. My biggest is 145" net the gross was 156"
What's the best way to never miss your target?
Shoot first and call that your target.
http://www.thehoosierhunter.com
03-22-2014, 05:44 PM
---
Id love to show him off lol but I can't figure out how to post a pic to here with my phone. Don't have access to a computer right now. He didn't go nowhere. Double lunged him from 115 yards with a 243.
03-22-2014, 06:54 PM
Fork Horn
Join Date: Dec 2012
Posts: 172
---
I never got many big bucks and none of them were weighed. Most of my deer hunting has been in Southern VT where the bucks are small and to get something I took the first legal buck I saw as only 1 in 10 hunters scored.
Thinking about it I hope my next buck is small as they are much easier to handle.
I shot a heavy one on a farm I could hardly turn it on it's back to gut it.
I could not even lift it's head much to put it in the car.
I got the old farmer and the two of us could not lift it into the car!
He had to get the front loader to get it for me.
03-23-2014, 05:47 AM
Giant Nontypical
Join Date: Oct 2013
Posts: 9,225
---
The biggest I've taken was a PA buck. He had 8 pts and was bout 210 lbs. But, I admit I usually don't go for bucks and take a couple of does for meat. If I do take a buck I normally go for a younger deer since I value the quality of the meat more than I do the size of the antlers.

The single biggest buck I've ever seen was a mulie my grandfather shot when I was 10 in my native CO. He had 4 pts on one side and 6 on the other with a 42 inch outside spread. Field dressed and with the lower legs taken off at the hocks he went 302 lbs on a livestock scale. I'm pretty sure he would have been close to 400 live weight. When we hung him in the garage next to an average 3x3 mulie my father shot, if you didn't know better you would swear it was a cow elk. I've never seen another one like it and probably never will.

As to the deer the OP is talking about, I'm having a hard time believing he got a deer that heavy in AL. I've hunted both Al and FL quite a bit and I've only seen 2 or 3 that might have topped 200. Southern deer normally don't have the body mass of northern deer. I may buy off on 250 as a max weight, but I'd have to see a good pic of the buck to even begin to buy over 300 based on my experience.

Mind you, I'm not saying it isn't true mind you but I think anyone taking a buck that big in AL would have a buttload of pictures of such an animal. And there hasn't been a pic posted and he originated the thread.
---
Last edited by flags; 03-23-2014 at

05:50 AM

.