.243 hunters
11-17-2013, 05:08 AM
Fork Horn
Join Date: Sep 2010
Posts: 386
---
.243 SUCCESS -- BANG-FLOP 1 shot, right down, 100 yards. His legs were flailing around, so I took 3 more shots to end it, but I missed with all 3 follow up shots. My heart was pounding too hard on the follow up shots. Hands shaking. Upon inspection, the exit hole was 3". Blood splattered everywhere. 100gr bullets. No partitions, just regular ammo.
11-25-2013, 07:50 PM
Typical Buck
Join Date: Feb 2003
Location: Free Union, VA
Posts: 750
My son's first deer rifle.
---
My youngest son is small. last year at 13 years old and just over 80 lbs, I bought him a Remington Model Seven in .243. Used gun that I got a good deal on. Youth model. Fiits him perfectly and doesn't kick. He has taken two deer. A doe and a spike. First kill was the doe. Impressive wound from a low chest shot. Deer ran about 50 yds at most.i Spike was facing him at 60 yds. He shot it center of chest at bottom of neck. Federal soft point. the cheapest soft point bullet that walmart sold. Made a golfball sized hole on the inside of the chest cavity, traveled all the way thru him from chest to rump. Was in the fur on the deers left hip. DRT. I was impressed. Those cheap rounds also print about a quarter sized hole for 5 rounds at 100 yds. No worries taking deer with that rifle out to 200 yds. a black bear? I'd shoot one with it if it was within 100 yds.
11-26-2013, 06:26 AM
Typical Buck
Join Date: May 2003
Location:
Posts: 920
---
Here's a 105gr Hornady Amax recovered from a cull whitetail the other day taken a 400 yards. My rifle is twisted 1:7.5 for them.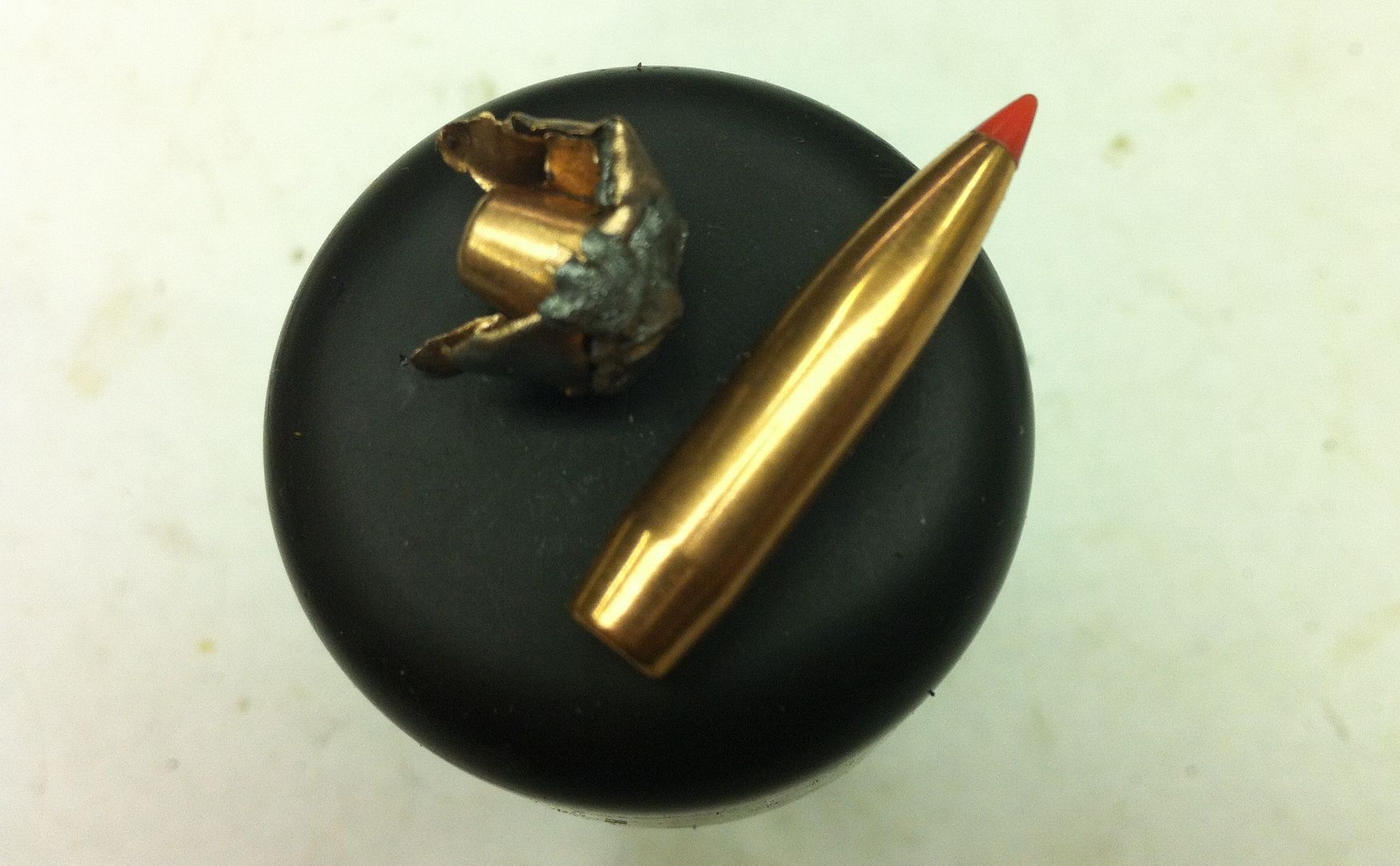 This one was recovered from a hog taken at 370 yards with the same setup 2 weeks ago. Nearly identical results.
I use these for culling critters due to the performance, low recoil and accuracy of my 243 Win.rig.
Posting Rules
You may not post new threads
You may not post replies
You may not post attachments
You may not edit your posts
---
HTML code is Off
---