---
Scored a Double- Long winded.

My son and I have been hunting together the last few weeks and we had planned to sit in a blind again this weekend. IF it was in bow range he would shoot and if it was not I would use the muzzleloader. Friday morning he told me he was tired and didn't want to go hunting. So I went without him. Saturday I was just settling into a tree....still fastening my pack above me, when I heard steps coming up the hill. This is Blue Ridge land so the hills can be rather steep ranging in grade from 10-30 degrees. I heard rustling in the leaves that sounded too loud for squirrel and a few twigs snap down below me...I was still facing the tree and to my right coming up the hill I saw a deer moving my way. I didn't move but was checking him out. At first I judged him to be a 4 pointer and was going to let him walk....but the body size wasn't bad and I have access to this land because the owner needs the deer population thinned down. So I decided to take him if I could and get my first kill of the year. My muzzle loader was laying on the stand between me and the tree so I waited till he was crossing behind a tree and reached down and started taking the bolt safety off. When that was done I waited till he was passing behind another tree and swung the rifle around so I could take aim. He heard the movement and froze...but he had been smelling the ground as he walked up the hill. I had sprayed some doe pee near my tree to cover my scent. He was about 20-25 yds from the tree I was in and just slightly below me in elevation, but uphill from my tree now. He started walking directly toward my tree with his nose to the ground. I pushed the trigger safety off and put the scope on him. He veered to the left and gave me a perfect broadside shot at about 18 yds and I squeezed the trigger. He started running down hill in slow motion keeping about 10 yds from my tree and then did a little uturn when he was directly downhill from me and folded up, halfway over a log with his head leaning against a tree. Eyes wide open staring directly at me. He never made another move that I saw or took another breath. Now I was trying to reload as fast as I could because two years ago I shot a bruiser with that same muzzle loader and didn't reload. After a minute or so he got up and walked off so I wasn't about to have that happen again if I could help it. I made more noise than you would think possible fumbling around trying to put the pellets and the round into the barrel. It was much harder to load now that I had shot it once and I ended up pushing the ramrod against the tree to be sure I had seated it properly. I couldn't get the expended cap off the nipple and had to cut it off with my pocket knife. Once I reloaded and was able to give the deer my full attention I decided he wasn't going anywhere and I checked the time. It was 8:08 am. Since I am allowed 2 deer per day here in Virginia I decided to wait a little while to see what happened. I was planning to wait till 10 am and if I didn't see anything I would get down, field dress him, drop him at the butcher (40 minutes away) and come back for the evening hunt. At about 9 am I heard some footsteps to my upper left in a thicket. I was trying to see what made that noise when I heard more foot steps from almost directly behind me. I turned my head to the right and between my 5 and 6 oclock I saw a doe, 40 yds away, coming right toward me...basically staring directly at me. I snapped my head around toward the front, immediately thinking it was a stupid thing to have moved that fast. I froze up and just listened. after a little while I heard more movement and wasn't sure if it was coming toward me or if it had changed direction. So I slowly turned my head back to the right and saw two doe about 30 and 40 yds behind me just browsing casually. I didn't want to keep turning my head back and forth so I just closed my right eye. Please don't ask me why I decided to do that but it seemed like a good idea at the time . Since I could only see them out of my right eye, I would close my eye for a while and then open it to figure their position. My neck was beginning to ache sitting there like that. I finally had to turn my head back to the front and decided that since there was no way I was going to be able to turn to face them without spooking them I would just have to sit and wait for them to either continue down the hill infront of me or change direction and if their backs were to me I would try to move. Time passed tortuously slow and every few minutes I would move as slowly as possible to turn my head and look at them again. Over and over I was certain that the larger of the two was looking me right in the face, but they never went on alert, always remaining calm and just casually feeding. After about 20 minutes the smaller doe ( I would guess she was a year old and the larger one's offspring) moved down the hill passing my tree about 20 yds out. She stopped and stared directly at the dead buck below me. She looked at it for about 30 seconds, never once seeming concerned. I think it should also be mentioned that when they were both behind me the wind was blowing directly from me to them. By now I am sure I smelled a little of sweat and definately of the sulphery pirodex I had used to shoot the first deer. After looking at the dead deer for a bit the smaller doe continued down the hill until she was about 40-50 yds away down to my 2 oclock. The larger deer had stopped moving and I couldn't hear her at all. The little one looked up the hill and seemed like she became concerned that the other wasn't there (my perception) so I turned again to take a look and now I was absolutely certain that this older doe who was only 15 yds from me looked me directly in the eyes. She turned around and slowly started walking away. She began picking up speed....not running just walking faster and I decided it was gonna have to happen now or not happen. I knew I couldn't swing my body around and move the gun to get the rifle on her so I decided I would shoot left handed. I just switched the rifle quickly when she went past a couple trees. At 30 yds she turned to walk directly downhill and my cross hairs were on her. I squeezed and hit my mark. She started running, with her left leg held off the ground. After 30 yds sh whirled around and flopped ass over teacup and that was that. The little one broke some land speed records getting out of there and I fumbled around again trying to put another load down the barrel. This time I was faster but twice as loud. Time was now 9:31 am. I decided to sit tight for at lest 5 more minutes just in case she tried to get up. She didn't and not 1 full minuted after I finished reloading a dark coated spike walked up the hill and passed 50 yds from my stand. I got down and walked my stand to the truck then came back to start the process of field dressing and dragging two deer out of the woods. I had achieved something that I have many times dreamed of and I had seen more deer in one day than I have seen in some entire seasons. The Buck turned out to be a 6 point, albeit not a record setter. I am quite happy because he is the first deer I have ever taken with Muzzle loader. After getting them loaded into the truck I drove up to see the land owner who thanked me for "thinning them out a little". They have suffered significant crop damage the last few years and I am very lucky that they trust me enough to let me hunt their land. I even got permission to bring a buddy of mine back up there next time I go.
I was out of there by noon. I didn't call it quits, I went back and found an ambush site trying to shoot a turkey but it wasn't meant to be. When darkness came I got up and headed back. I have never had so much luck. I have spent the last 11 years hunting mostly public land where you just don't see many deer and bow hunting some small private patches in urban settings where the deer are skittish and will run away if an acorn falls from a tree.
I may never pull it off again but I'm loving it right now.
BTW post mortem examination showed both lungs taken out on the buck and both lungs and the top two inches of the heart destroyed on the doe. 250 grn polymer tipped hollowpoint .45 cal saboted in .50 cal muzzle loader. 120 grains of Pyrodex pellets.
Each was a thru and thru.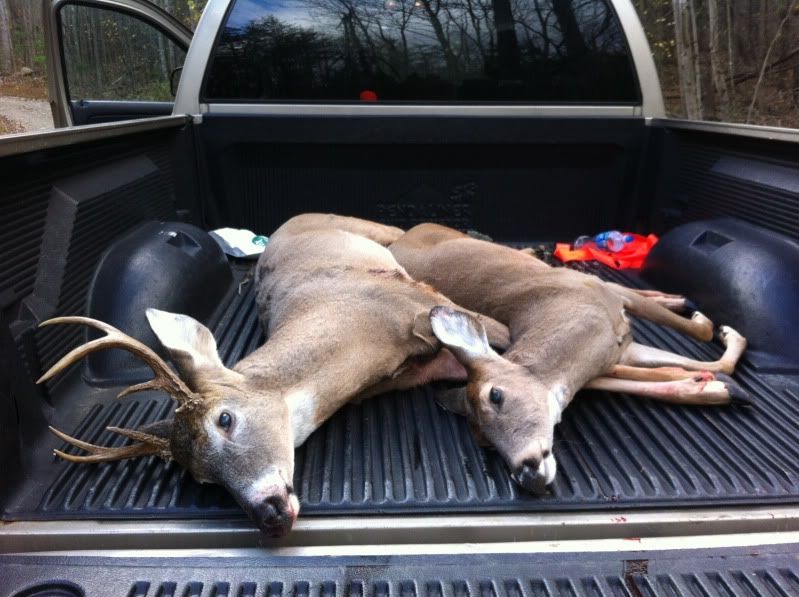 | | |
| --- | --- |
| indiana deer hunter | 11-04-2012 07:33 PM |
---
Lol Nice job and nice deer!
| | |
| --- | --- |
| edgecam | 11-04-2012 07:35 PM |
---
Nice shooting. Looks like you had a morning most hunters dream about.
| | |
| --- | --- |
| gregrn43 | 11-05-2012 12:44 AM |
---
Congrats on your first and second ML kill. Nice job
All times are GMT -8. The time now is

02:35 AM

.

Copyright © 2021 MH Sub I, LLC dba Internet Brands. All rights reserved. Use of this site indicates your consent to the Terms of Use.