Nice 8-point Score? (Pic)
12-14-2011, 06:17 AM
---
I agree. I just got back from an out of state hunt and the camp rules were 120"
or
8 point with 15" spread or better. There was a $500.00 penalty if minimums weren't met so we were all pretty careful. Most of the 8's we saw were right around or below the minimums but it was too close to chance so we didn't shoot. I had in my mind that unless it was a monster 8 I would hold out for a 10 pt or better just to not chance it. Luckily my hunting partner bagged a 14 point 152 1/8" monster on day 2. Letting all those 2 1/2 yr old 8's live creates the mature deer that brought us to that camp. Next year I hope to get one for myself.
12-14-2011, 02:49 PM
Fork Horn
Join Date: Dec 2011
Location: Southeast
Posts: 162
---
I didn't read all the posts but he would have trouble getting of the low-130's if that. I'm looking at a 132 on the wall and I don't think he is that good. probably good enough, though. I have two eights on the wall, a 145 even and a 142 and change and both are quite a bit bigger. This one is just 142 and 4/8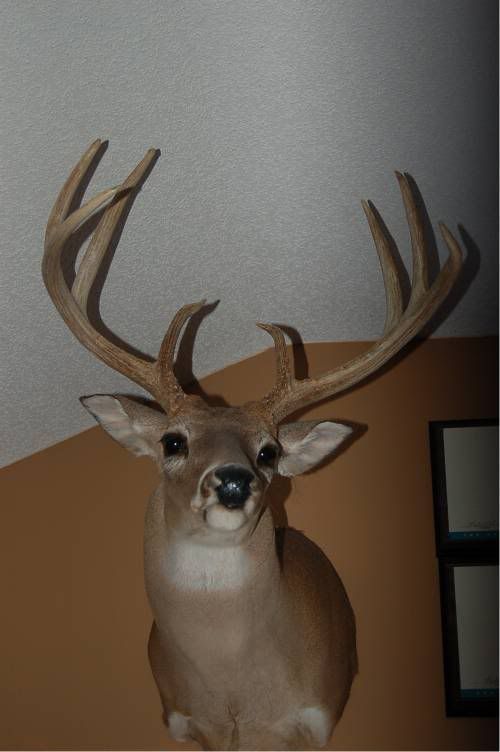 ---
Last edited by scribe; 12-14-2011 at

02:53 PM

.
12-14-2011, 03:16 PM
Fork Horn
Join Date: Dec 2011
Location: Southeast
Posts: 162
12-14-2011, 03:40 PM
---
Nice 8 Scribe but he had it all with good spread and long tines. He had great brows probably close to 6" and mass that added up. Not knowing what part of the country he came from I would have to guess certainly a 4 year old deer or better just looking at the base diameter. Really nice G2's and 3's. It takes a pretty good 8 to get to 140 no matter where you bag them.
12-15-2011, 05:53 AM
Spike
Join Date: Nov 2011
Location: Hampton, VA
Posts: 11
---
12-15-2011, 08:38 AM
Spike
Join Date: Dec 2011
Posts: 83
---
WOW!!!!! you don't see too may 160 class 8 pointers out there.....Thats a nice 8 point BIG AL!!!!! Very nice.