My Northern Wis rifle buck
11-30-2011, 06:35 AM
My Northern Wis rifle buck
---
The season started with a 5 to 6 inch blanket of glorious snow on Sat afternoon. I was perched 15í up in a popple tree overlooking a perennial buck bedding area. Though no deer were spotted I had a smile knowing that I would be tracking the next few days.
Sunday did not go as planned. My first attempt at tracking was ruined by a group of hunters making a deer drive right where my buck headed. I pulled off and decided to look for a different track to follow. My next track didnít turn out any better. This track was a hog and though the track wasnít real fresh I decided to push hard and try to catch up. After pushing long and hard on him I came across another set of human tracks. The hunter had taken the same track so I followed for another ľ mile to see if he was going to stay with it. The way he moved on the track and his footwear indicated that he was indeed a tracker and I pulled off the track. It was getting too late in the day to start another track so I drove back towards camp and just surveyed the deer tracks that crossed the roads. All was not lost because I stopped at the local watering hole and caught the end of the Packer game and got to visit with some old friends.
Monday was another tough day. I had a hard time finding a good track to follow. I did get on a track mid morning and I ended up tracking him back to his bedding area. He wasnít home but I did strike gold in finding a great bedding spot to hunt in the future. Since it was getting a bit late to try a new track I decided to sneak in close to a different buck bed and hope he would move before dark. No luck but thatís hunting I guess.
Tuesday brought warmer temps and the snow got soft making it a bit easier to sort out old tracks from new ones. This was both good news and bad news. The melting snow made it easier to follow a fresh track but this might be my last day to track until the next snowfall. I found a nice track and decided to run him for a while and see what happened. This track was big but not really the kind of track that gets me excited. He took me East into a huge block of timber with few access roads. He started to make a big circle and that kind of baffled me. I started noticing a few more deer tracks including a real dandy but since that track was made earlier in the day before the snow got soft I decided to stick with the fresher track. Eventually he led me into an area where there were many tracks and lots of running tracks. I figured that there must be a doe in heat and a bunch of bucks were after her. I lost my buck track in that mess of tracks and tried to sort things out. I found a few tracks coming out of there and grabbed the best one and continued on. The track was a nice one but after following it for about a ľ mile I decided that there must be a better buck in the mix and he would most likely still be with the doe so I went back to the mess of tracks and tried to sort things out a bit more.
I untangled the mess of tracks and got on the buck and doe. He had a real nice track and I was getting excited. They headed NW into country that Iím a bit more familiar with. Eventually they led me right back to the road that I drove in on. The buck actually walked right down the 2-track road for a ways. He didnít cross but instead went back in on the same side. As I headed back in again the doe busted out and ran across the road. A few seconds later the buck followed. He swung wide and ran flat out. I shouldered my gun and followed him and at the last possible second I touched off a shot and they were gone. I didnít hold much hope of connecting but I grabbed his track and continued the chase.
To my surprise I found some short hairs lying on the snow and then the blood followed. His track indicated that I had broken his left front leg below the knee. The blood was minimal but kept drizzling out. I figured that the best way to get him would be to keep him moving and hope that he would keep bleeding. I pushed as hard as my body would let me for the rest of the day. He wanted to lie down and he did on several occasions but I stayed close enough to not allow him much rest. I ate my snacks on the move to keep my energy up and grabbed snow off the trees for something to drink. Towards the end of the day I was beginning to wear him down. He continued to bleed slowly and the blood loss was adding up. He crawled into a small feeder stream twice probably to cool the pain or maybe to throw me off his scent trail. He was bedding much more often now and didnít want to run any more than he had to. He made his way to a bigger river and ran up stream and actually hid in the water. It took me a while to sort it out and when I jumped him out of the river I took a shot but missed. I continued on and pushed as hard as I could. I could hear him in front of me but couldnít see him to get a shot. As darkness fell I lost him where he entered the river for the second time.
I headed home hoping that I might get a chance at him in the morning. As I crossed the river in the dark I stepped on an ice covered rock and fell backwards into the ice cold river. The 3 mile walk back to the truck was a frosty one.
I ran into a fellow hunter (Mark) at the local tavern that night and he agreed to tag along with me the next morning. I told him that the buck would most likely be very close to where I lost him so we should be quiet and be alert. We found where he crossed the river and I stayed on track while Mark flanked at about 40 yards. The river doubled back and the buck didnít cross so I knew he was close. I told mark to backtrack to where we crossed to cut him off. I could see 3 bloody beds from where I was standing so I figured he was within 50 yards. As Mark was getting into position, the buck jumped up and ran past me. I got a shot off as he crossed the river but I didnít think I connected. My gun jammed as I tried to pump another round in. Mark walked up and I told him what happened as I cleared my gun. He looked towards the river where the deer crossed and he told me the buck was just standing there. I frantically said ďshoot himĒ! He shouldered his gun and touched off a shot and the hunt was over. The deer was so wore down that he didnít want to climb the steep river bank.
We found a place to cross the river and claimed my buck. When we got there I was surprised to discover that not only did I break his leg with the first shot but I hit him in the jaw as well. It took us until 4 pm to get the deer out of the woods.
Drinks and a steak dinner were on me that night. Special thanks to Mark who put out a huge effort helping me drag my deer. He was in pain because of a leg injury from 2 years earlier that left him with a plate and 21 screws in his leg. He never complained about the pain but I could tell he was hurting.
The buck is a main frame 10 pointer with 2 sticker points near his bases. I put a tape on him and came up with a gross score of 149 1/8. He weighed 180 pounds at the local check in station.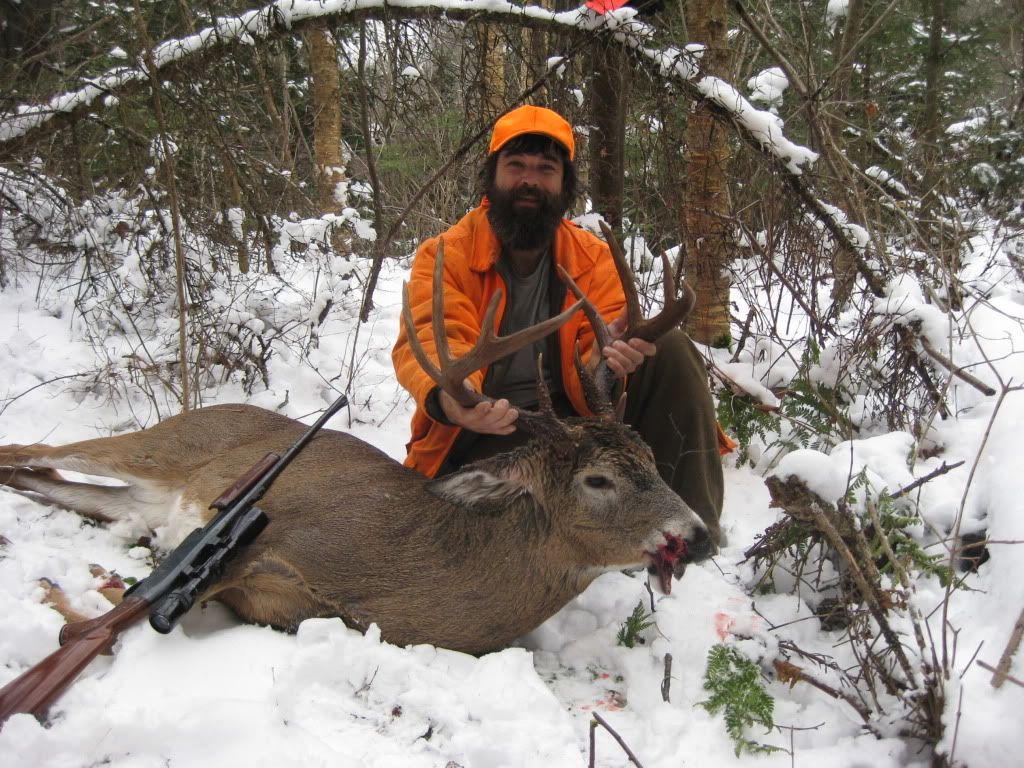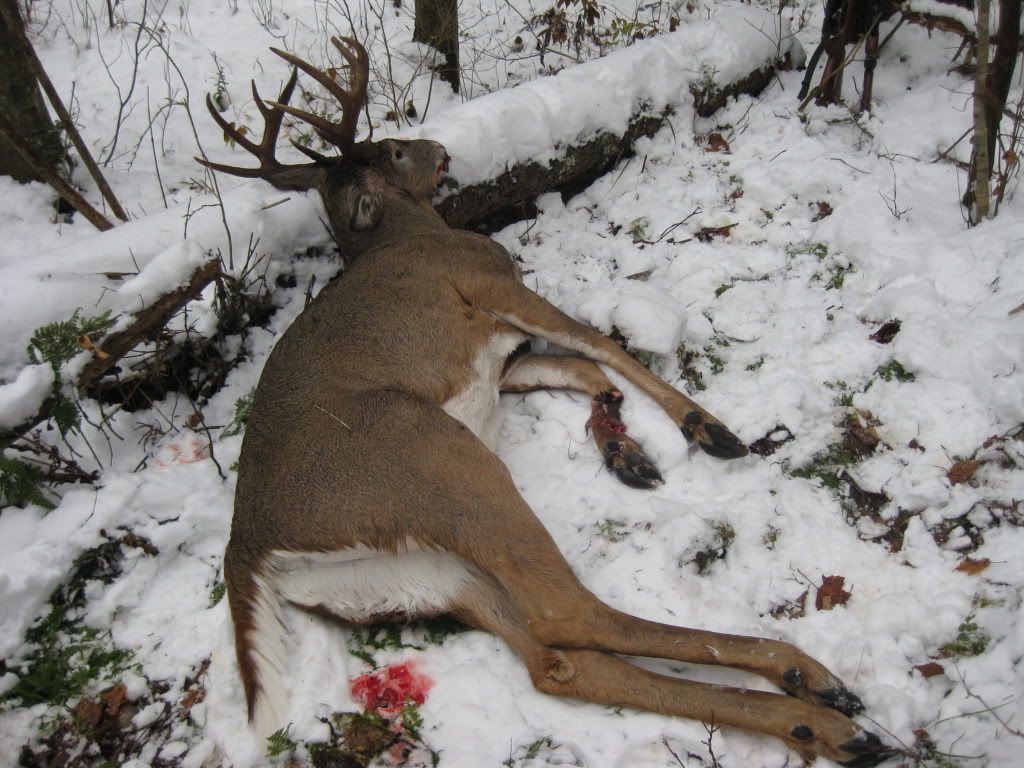 11-30-2011, 08:47 AM