Missouri youth season
11-01-2009, 07:32 AM
Typical Buck
Join Date: Feb 2003
Location: Southeast Missouri
Posts: 968
---
I guess I'll be the first....
Took my girls yesterday morning. My dad came down and took my oldest daughter, Morgan, who already at 10 has two deer under her belt, and I took my youngest Raegan who at 8 has yet to kill her first.
It was a slow day...Rae and I saw 2 but she's still "motion challenged" and they picked us off before she could get her gun around on them. Morgan saw zero deer the whole first day. This morning, dad took Morgan out and she connected on a small spike at about 07:50. Perfect 70 yard heart shot and the buck piled up in sight.
Raegan slept in this morning since I had to go into work for a bit. We'll head back out this afternoon and see if we can get her first. I'll probably have some pictures later.
Here it is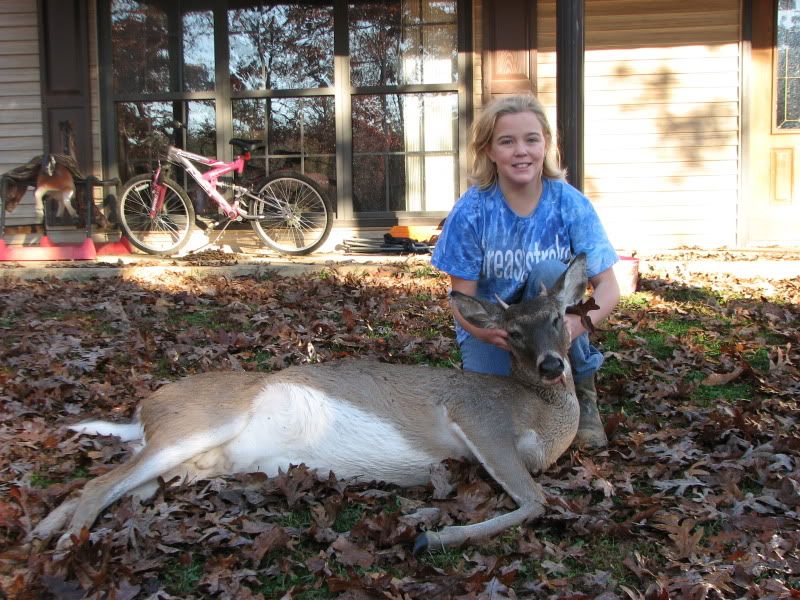 GH
---
Last edited by Grasshopper13; 11-01-2009 at

11:29 AM

. Reason: added picture
11-01-2009, 04:44 PM
Fork Horn
Join Date: Sep 2007
Location: kc mo
Posts: 101
---
My son shot his first buck this morning.It was a 6 point. Blake made a perfect 150 yard shot right in the boiler room. The buck ran roughly 100 or so yards and we got to watch him pile up.Ill try to post pics tomorrow.
11-01-2009, 06:23 PM
---
My 6 year old smoked this doe at 100 yards Saturday evening. We watched 15 slick heads feed in the alfalfa it was getting dark and no bucks had showed and you just can't tell a 6 year old no. He made a great shot and she only went about 70 yards.
11-02-2009, 07:19 AM
Typical Buck
Join Date: Feb 2003
Location: Southeast Missouri
Posts: 968
---
Well yesterday was a great day. After my oldest ( the blond beauty above there) got her first ever buck, it was my youngest daughter's turn that afternoon. We arrived on stand about 3:40 p.m. Everything was uneventful until just before dark. Raegan was really committed to getting her first deer, so much so, that I couldn't get her to leave! We decided to stay 5 more minutes and then we'd have to go...it was getting close to end of legal shooting hours. Not 2 minutes later I hear the unmistakablesound of deer walking our direction. As I mentioned before, Raegan's still a little "motion challenged" and we were about 2 seconds away from the old doe bolting off because she'd seen something she didn't like. Luckily, rae came through and put an awesome neck shot on her at about 50 yards. Folded her up like a lawn chair! Raegan was extremely excited and this capped what was one of the best days in the woods for my family ever.
Here she is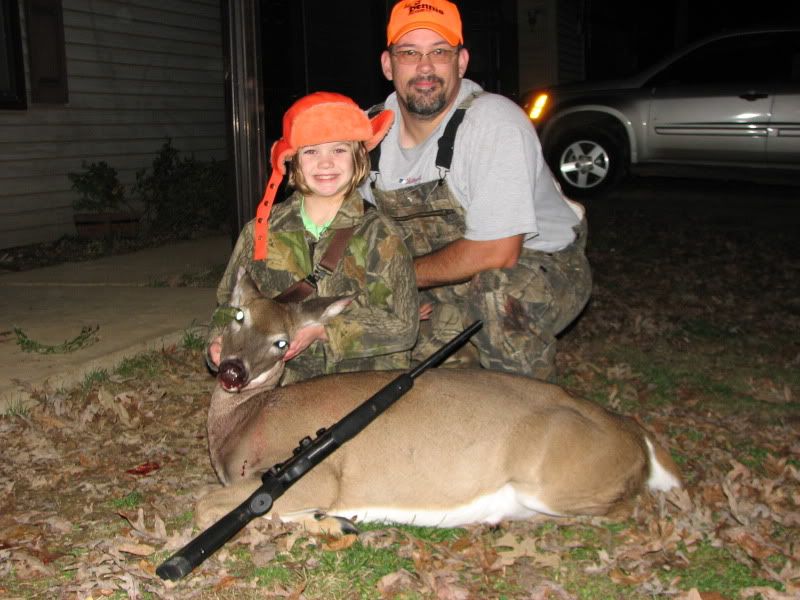 ---
Last edited by Grasshopper13; 11-02-2009 at

07:20 AM

. Reason: wrong picture the 1st time!
Posting Rules
You may not post new threads
You may not post replies
You may not post attachments
You may not edit your posts
---
HTML code is Off
---