| | |
| --- | --- |
| iSnipe | 10-09-2009 05:26 PM |
---
Feed & Time Do You Set Your Feeder(s)?

In a hunting scenario what time do you set your feeders for?

I know there are time-zone issues and day light savings, etc, so... Lets work from sunrise and sunset.

Do you like your feeders to off at sunrise, before or after? And about when?

Same with sunset. Do you like it to go off before, at or after sunset? And when?

What is your favorite feed to put in the feeder?

iSnipe
| | |
| --- | --- |
| bucketmouthhauler | 10-09-2009 07:14 PM |
---
---
Originally Posted by iSnipe (Post 3469077)
Do you like it to go off before, at or after sunset? And when?
iSnipe
---
Personally I would just keep it on the off position. That is the best setting for any feeder. I would also advise again:pst any form of bait. :p
| | |
| --- | --- |
| iSnipe | 10-09-2009 08:01 PM |
---
Why is having the feeder in the off position around sunset the thing to do?

And how do you distinguish feed from bait? Can't oats, bran, corn, sunflowers and the like be both?

iSnipe
| | |
| --- | --- |
| St.Barnard | 10-09-2009 08:20 PM |
---
I personally like the feeder to go off after I'm on stand, usually about sunrise and about 30 min -1 hr before sunset. Also, I use corn in mine.
| | |
| --- | --- |
| isatarak | 10-09-2009 09:09 PM |
---
I usually set mine to go off at around 2:00 PM and an hour or so before sunrise. I don't like it to go off when I am there.
| | |
| --- | --- |
| W9ARcher | 10-09-2009 09:48 PM |
---
Years back, when legal in Wisconsin, I had mine set for 30 minutes before sunset and sunrise. Was a mistake as I had a buck come in and get a face full of corn which sent him bolting for the next forty. Wasn't a shooter so I got a good laugh.
| | |
| --- | --- |
| CamoCop | 10-10-2009 02:41 PM |
---
first of all, i don't hunt over my feeders. the only reason i use them is because i have learned the weather never cooperates with my food plots, making feeders an easier alternative. with that being said, i feed straight protein out of my feeders (Antlers Plus)...no corn or anything else that has no benefit for the overall herd health. i normally set my feeders to broadcast twice a day. once around 0600 hrs and the next around 1200 hrs. this helps me get the deer to get up and feed more during the daylight hours. normally if the deer check the feeder after dark, the protein pellets have already been eaten off the ground by other deer or coons.
| | |
| --- | --- |
| iSnipe | 10-14-2009 04:53 PM |
---
Ok, thanks guys. I've been doing some long range scouting and have been tossing out some corn in a few areas to see what comes and feeds. It also got me thinking more about feeders because I see a lot of hunting videos and feeders are used in a lot hunts in Texas. Makes me wonder if there was a tactic I wasn't aware of.

So far I've been successful feeding the ravens and a 4 pt. buck that I got visuals on. LOL! Usually in the evenings, about 1 hour before dark, is when I go and sit with my binos to see what's going on.

Thanks for the replies.

iSnipe
| | |
| --- | --- |
| J Pike | 10-14-2009 05:25 PM |
---
Snipe right now I have my feeders set for 7:30 AM. and 5:00 PM.
I am feeding corn since deer need all the carbs they can get right now and have very little need for protein. Pike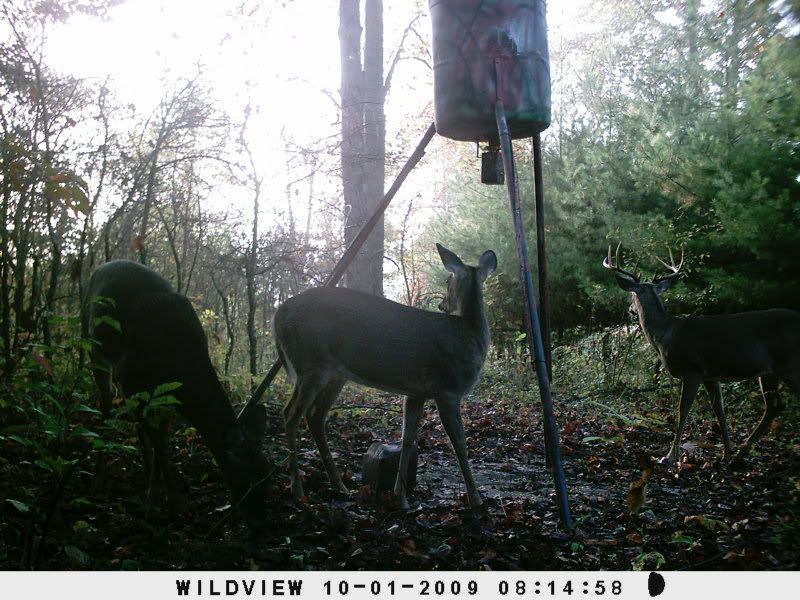 | | |
| --- | --- |
| halfbakedi420 | 10-14-2009 05:31 PM |
---
1 Attachment(s)
if yer lookin to test a spot and not waste corn , a manual feeder is good..pvc pipe with a Y sweep on it works good... i got tired of wastin it, so we put these in back in the day..now we are plottin, let ya know how it goes next year.
Attachment 3848
All times are GMT -8. The time now is

09:46 PM

.

Copyright © 2021 MH Sub I, LLC dba Internet Brands. All rights reserved. Use of this site indicates your consent to the Terms of Use.