Shooting Houses?
09-14-2009, 09:45 PM
Shooting Houses?
---
I have recently completed contruction on 2 shooting houses. Both feature 4x8 floors with an additional 4ft deck, have 6 ft ceiling heights and are elevated on 8ft 4x4's. Being a hardcore bowhunter I didn't really have any idea of what I would really need in a shooting house for our gun seasons. However, with all 3 of my kids (Ages 9, 10 & 14) now enjoying Firearm hunting during our Youth, General, and special Late firearm seasons I wanted to provide a comfortable stand for ALL day sits to maximize their odds at a deer and their enjoyment.
My question, do any of you have any thought and opinions on additional add-ons and/or accessories that I could add that have improved your own shooting houses. For instance, the best floor coverings (rubber mats vs. carpet), the most comfortable chairs, any shelves or accessory hooks, etc, etc. ??? Any suggestions would be welcomed. Thanks for the input.
Some pix of the project..... they are Cell pix so please excuse the low quality.
The quiet sliding widows work pretty slick. They feature a metal faced outside with a sliding plexi window on the inside.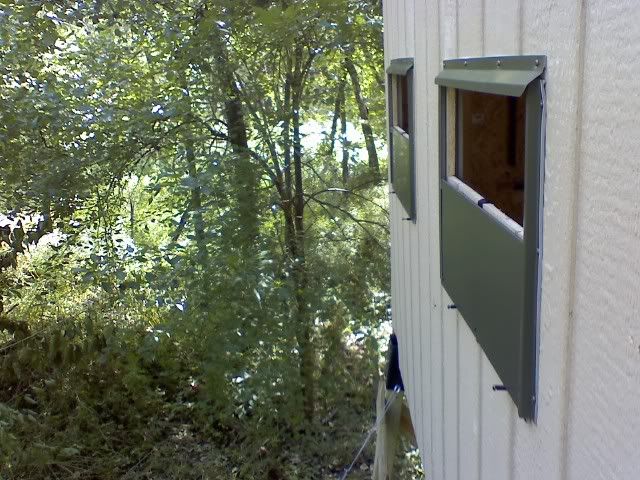 Each blind features 4 "gun" windows and 1 "bow" window on the end.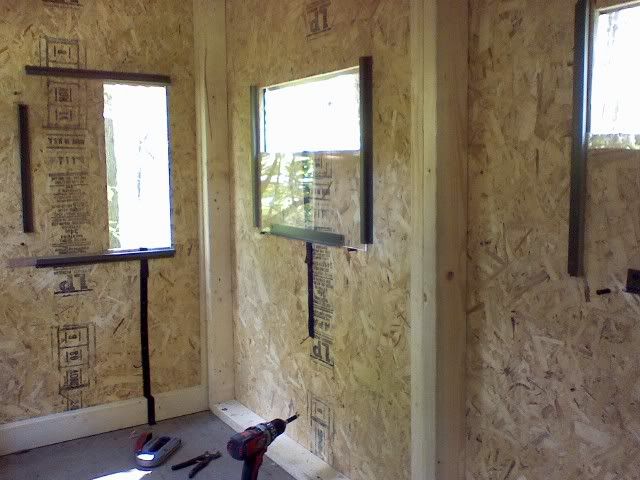 The finished project.....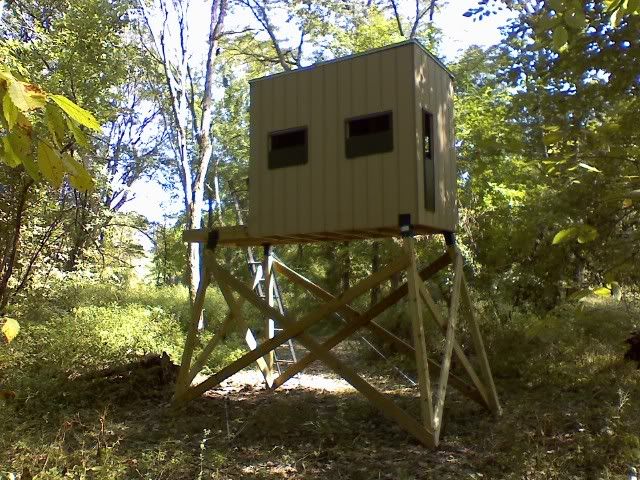 09-15-2009, 01:58 AM
---
Wish I had the talent to do that. They sell very similar shooting houses around here for several hundred dollars. More than I'm willing to pay.

Here's some stuff...

1.) Maybe add some glue or extra nails/screws on the flooring to prevent squeaks.
2.) Right chair height makes shots steadier instead of raising or stooping while shooting.
3.) Get a shooting bag to rest over windowsill edge to steady the rest.
4.) Hanging cloth material inside helps prevent/lower sound echoes. (line walls)
5.) Might add some graphite to areas where windows slide to make quieter/easier.

Might be a good time to get the kids out and let them do some .22 shooting as well. That way they can have fun, build confidence and learn what it will be like come huntin' season! You'll also work out some bugs before hand, instead of on opener when that huge 12 pointer is out there. LOL!

Thanks for the post. Fun to look at! Good luck this season.

iSnipe
09-15-2009, 03:35 AM
Spike
Join Date: Jun 2009
Location: Southwest Arkansas
Posts: 64
---
I use carpet in mine. important to use a adjustable hiegiht chair w/ arm rest, brought mine
at Wally world five years ago. Put shelf below all windows for stuff.

Did you build on site or off, then assbleme.
09-15-2009, 05:39 AM
Nontypical Buck
Join Date: Feb 2008
Location: Ohio,mid
Posts: 1,275
---
I'd cut me a hole and get a drain pipe into the ground for a pissuer. Make sure you put a cap on it to stop stink in the shanty and put that hose about 3-4 feet into the ground. a coleman stove will heat that place for you and get a small tank, lets you have coffee, teas, soups and stews or eggs and such for an all day trip.I always mount my tanks on the out side and run the hose in.
But the best thing you can do for your kids imo, tear that thing down and teach them how tohunt in the woods first, let them earn that shanty first. Otherwise people have a tendency for lazy hunting or shooting. Yes, I have a great shanty about 18 feet off the ground w/all the dood dads but, I spend most my time on the move and let others use my shanty. But thats just me.......
09-15-2009, 08:17 PM
---
I hunt out of a couple that are pretty close to that. Here is how I do them or how I would ideally have them. 1) I use office chairs in all of them. I get them cheap throughout the year when big companies are going out of business or expanding in my area. This way whatever window you have a deer approaching you can turn your whole body with your feet and not do a sudden jerk to see the deer or just twist half of your body. Most are height adjustable so you can move it up and down for your kids. I'd personally stay away from lawnchairs, Ive used them in stands and don't like them at all. 2) I use carpet. Its a little bit quieter and for some reason it just works better for me. 3) put in a few shelves for binoculars, range finders, drinks and such. 4) throw a few hooks or nails where you can't bang your head on them. You always can use more hooks. 5) Heaters are very nice. I have one in most of by box blinds. Its a lot easier to stay in your blind when you are not seeing deer if you have warm feet! I run propane from the ground if my blind is in the air. I always have it outside. If you have a deck, secure it down and your perfect. I would always make it bug proof at the end of the year. Wasps and bugs wake up quick when those heaters start! 6) Personally I don't worry about sound that much. You only open the windows in the early AM and as long as you do it softly, you should be fine. Personally, I would rather paint the inside brown in order to break your siloutte up from the plywood. They will pick out a head easy with that light of a back drop. Brown or Black in the background will hide you a lot! 7) Have a hook on the outside. When you are getting to that top rung if you are carry anything you can put it on the hook to safely open the door if its secured shut.

Good luck, it looks like a great blind! You should have many long hunts in there with your kids!