deer fever?!?
11-23-2008, 09:09 PM
Spike
Join Date: Nov 2008
Location: Wisconsin
Posts: 4
deer fever?!?
---
So everybody's heard of buck fever, but this season I encountered a bigger problem which is deer fever. I've seen my fair share of deer with no problem, but today during the 2nd day of WI gun season, I saw 2 does come in and i just freaked. I had them at about 30 yards but they busted me and spooked. I spent 20+ hours in the woods this weekend with nothing to show for it. So I was wondering if any of you guys have any tips or anything to keep yourself calm in the stand. Also do any of you guys do anything to keep yourself occupied with you're bored as heck in the stand with nothing doin around you?
11-24-2008, 06:53 AM
Spike
Join Date: May 2007
Location:
Posts: 62
RE: deer fever?!?
---
im not an expert.But i try to take a deep breath before i shoot . That kinda gets the heart rate down.As far as bordem i take a game like texas hold'em,yatzee,psp,ect. Just play the game and every few mins look around but listening is the most important.dont know if that helps but thats what i do and take deer every year. good luck and hope you get 1
11-24-2008, 08:10 AM
RE: deer fever?!?
---
I have killed deer for years and i still freak out over a 60# doe walking out thats the reason I hunt, but to calm down I focus on the shot and on a single hair on the shoulder.

As for the boredom factor. I have taken books but usually try to put my stand in an area with lots to view. I get int he deep woods sometimes and there just isn't enough to look at. I hunt fire breakes right now and continually scan the 600+ yards of road in detail it works rather well.

11-24-2008, 08:38 AM
Join Date: Nov 2008
Location:
Posts: 162
RE: deer fever?!?
---
i don seehow people get bored i love it. im always getting excited when i hear the smallest sound. mayb you need more cover were your hunting from................ my buddy missed a monster walk right by him listing to music..
11-24-2008, 11:04 AM
RE: deer fever?!?
---
These are just my personal thought, so here goes:
I am in the woods to hunt deer, not read or play games. I say that because I never need anything to keep me occupied while looking for a deer that will offer me a clean kill. There is always a lot going on in the deer woods that keeps me entertained. Things that I see that few non hunters will even experience.

As far as trying to avoid 'deer fever', here are a few suggestions:
I always play over in my head what I will do if a deer suddenly appears in front of me, to my left/right or behind me. I have a plan ready to be played out when and if that happens. That way, I am less likely to be fooled and posssibly react in a way to alert the deer.

The expression, "Aim small - miss small" is something all hunters should do. It comes into play more often when the deer does not offer that good, clean shot when its first seen. Waiting for a shot that should result in a quick death is key.

Try to learn something every time in the woods. Ask yourself are you not seeing deer because of the wind, your movement or anything else.

I hunt from treestand most of the time. I hunt big woods in New England with no fields, no farmland, just miles of uninterupted woods. My job is to put myself in a position that I hopefully will see the deer before he ever knows I'm there. From there, making a shot that results in a clean kill is my goal. I hunt 20 feet up because I feel it helps keep my scent away from the deer and also allows me a better view of my woods.

The most successful hunter in all the woods is the owl. His success rate is estimated in the high 90%. He is a patient hunter that sits high above the forest floor and waits for an opportunity. Once that decision is made, he moves quickly and silently as he flies to his quorry. I have seen owls in action and have much respect for what and how they hunt. I try to emulate that when sitting high above the forest floor. Keeping alert, being quiet and ready to make a move no matter what direction the deer suddenly appears can be crucial.
Once you spot deer movement the games begin. Now you must close the deal with a good shot, hopefully when the deer never expects it. If you complete that successfully you get an 'A' because you have done your homework.

Good Luck to you!


11-24-2008, 12:12 PM
RE: deer fever?!?
---
Some very good points made in Jimmy's post. The fact that you get to see nature awaken in the morning and listen to all the sounds you don't hear in the city or even in the country when you're too busy to notice is what keeps me entertained. It is a beautiful thing that a lot of hunters overlook I believe. There is nothing wrong with hunting just to put meat in the freezer or to shoot a trophy buck, but I think a lot of hunters would find more enjoyment out of hunting if they allowed themselves to get caught up in what is really taking place out there in the woods.

Also, preparing yourself for different situations is a great idea. I have a baseball background that actually helps me out with this. They teach you at a young age to think about what you're gonna do if a ball is hit in the air, on the ground, to your left, softly, etc... If you can do this while sitting in your stand you will be ready when a deer makes itself visible to you. Just knowing how you will turn your body to get yourself into a good shooting position is key. And of course, learn how to sit dead still when a deer is looking around and wait til they turn or put their head down to eat before you make your movements.

Best of luck!

11-24-2008, 12:13 PM
RE: deer fever?!?
---
Hech I get excited with all of them. If I didn't I wouldn't go. But I think if you press yourself for a "kill" you'll miss out. I spent a few years without a deer and I got so I got burned out becuase I just had to get one. When I went back to enjoying the woods and the animals in it I found it much easier to deal with. And geuss what...I killed a deer pretty quickly after that. I think trying to hard sometimes can get you.
When I have them coming in I take my time...worst case you get no shot... I slowly get into position. Even if I don't plan on shooting. Its good practice. Just get ready everytime you see deer. Then if one pops up that you do want to take your already ready. I added a pic of a button buck under my treestand. I watched this buck for a long while. When I knew his head was behind something I could look around and make sure nothing else was around. Then I eased up so I could get the bow back if a big buck or nice doe showed up.
If this doesn't get you excited you should just stay home!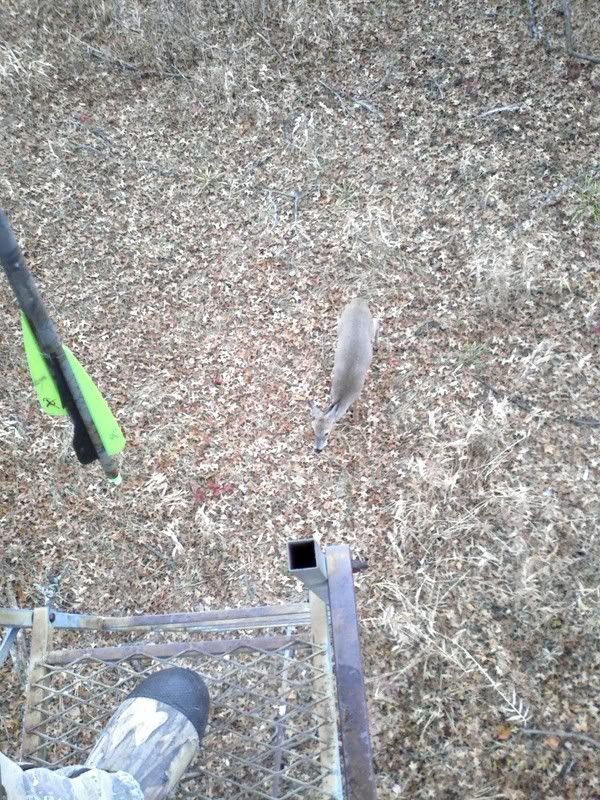 11-24-2008, 12:33 PM
Spike
Join Date: Jan 2008
Location: Ohio
Posts: 88
RE: deer fever?!?
---
I don't know how you could get bored in the woods. Yesterday evening I spent a little over 3 hours on stand. I seen 5 squirrels, 1 giant red headed woodpecker, a hawk, more red birds than I could keep track of, some other little grey birds that are pretty cool. Had something walking around on the ground in the leaves that I never could locate. (I assume it was a chipmunk under the leaves) and two deer. One on a dead run about 150 yards away and another on the other side of the cornfield about 450 yards away. I thought it was a great evening in the woods! Being out in the woods is fun for me. I consider seeing deer a good day and getting close enough to actually harvest one is a successful hunt whether I take one or not.
11-24-2008, 01:46 PM
RE: deer fever?!?
---
ORIGINAL: 2FNSLO
Oh, and Jasonlester, it looks like it's about time for some new fletching.
And your right, that is always exciting seeing deer that close.
Yeah that one ended up my squirrel arrow after a couple shots at the target with a BH. LOL still flies good though!
Thread
Thread Starter
Forum
Replies
Last Post
Posting Rules
You may not post new threads
You may not post replies
You may not post attachments
You may not edit your posts
---
HTML code is Off
---