Well guys, to say the least it has been a somewhat tough season so far. I have been hunting hard since bow season opener here on October 1st. I mainly hunt a small piece of private property that a good buddy of mine owns and shot my first archery deer there last year. So far i havent had any luck with my bow this season. Needless to say, i had high hopes coming into the November shotgun hunt. I knew a couple does were moving through this piece of timber and if i stuck it out it would only be a matter of time before i got my chance, or so i hoped. I was hoping for a doe, i would be passing a fawn if i saw one and was not aware of any bucks that were using this timber. Opening day came and went and i was able to take a coyote out of this timber on tuesday,which provided some optimism. I saw a doe and a fawn wednesday at 70 yards but couldnt get a good shot. Due to the thick brush i just wasnt comfortable with the shot so i passed the doe.
Friday night comes along and i get settled into my stand for the evening sit. Not feeling too optimistic at this point and to make things worse i see the neighbor walking around in his side of the adjoining woods at about 315 and by 330 hes gone. Talk about taking the wind out of my sails. This followed by 3 consecutive trains has me feeling worse about my chances of connecting with a whitetail.
5:25 rolls around, meaning i have about 5 minutes left of shooting light. At this point, i stand up slowly and very quietly begin packing my stuff up. I reach up to undo my safety harness and hear footsteps behind me. I slowly grab my gun and turn around to see a nice little 6 point buck squeaking out of the timber and onto the trail just to the left of my stand. He keeps walking and literally walks a foot from the ladder on my stand and keeps walking straight away from me. Its decision time. He's trotting nose to the ground and is going out of my life as fast as he came in. I am confident i can make the shot i am planning, on the fly and shoot him heading directly away from me at about 15 yards. Turned out the shot worked out perfectly, nicked his spine and destroyed the off side lung before getting lodged in his shoulder. No more than 20 seconds before he was out cold. Not the ideal shot, but hunting in reality is far from perfect, i was confident in the shot, and not willing to let this beauty walk away on me. This is my first real buck, not counting the spike i shot when i was 13. I am super proud of him and once again all the hard work payed of ten fold.
Gun: Remington 870 Magnum: Fully Rifled Barrel
Ammunition: Hornady SST Sabot Slugs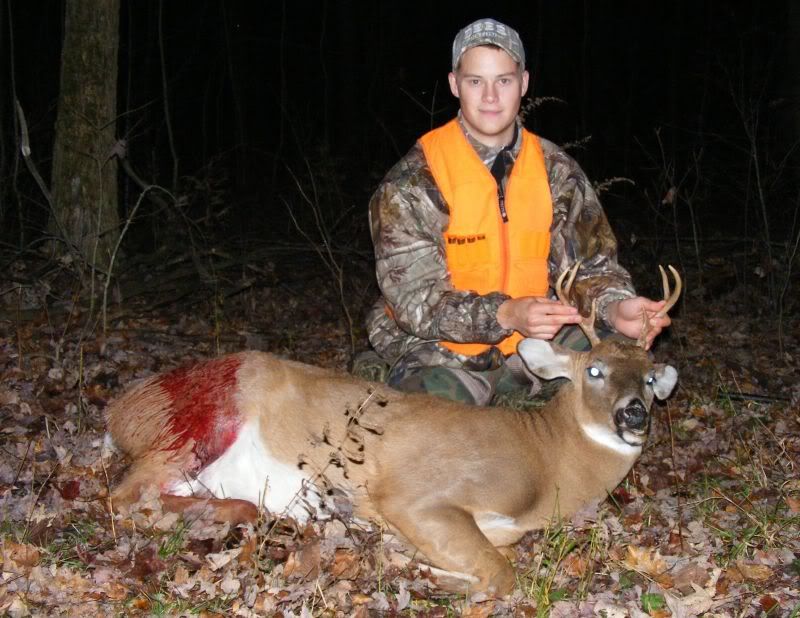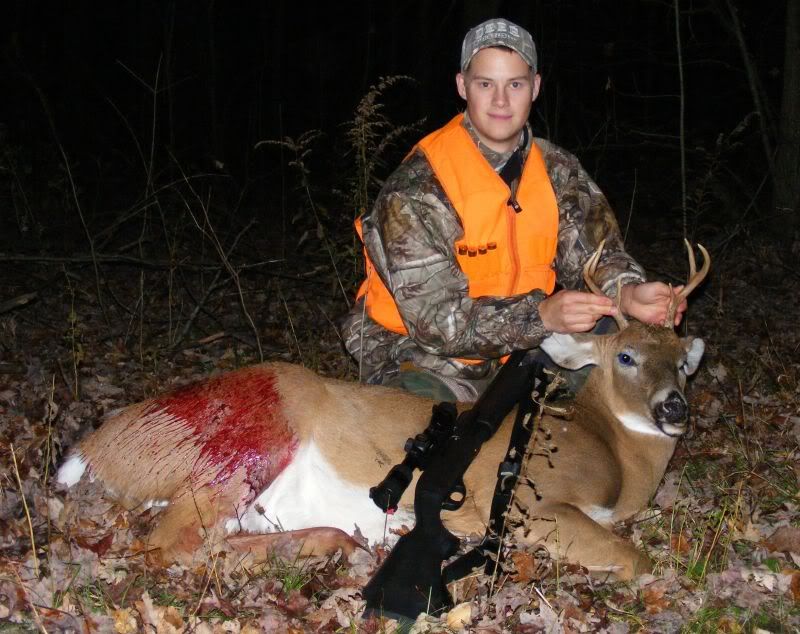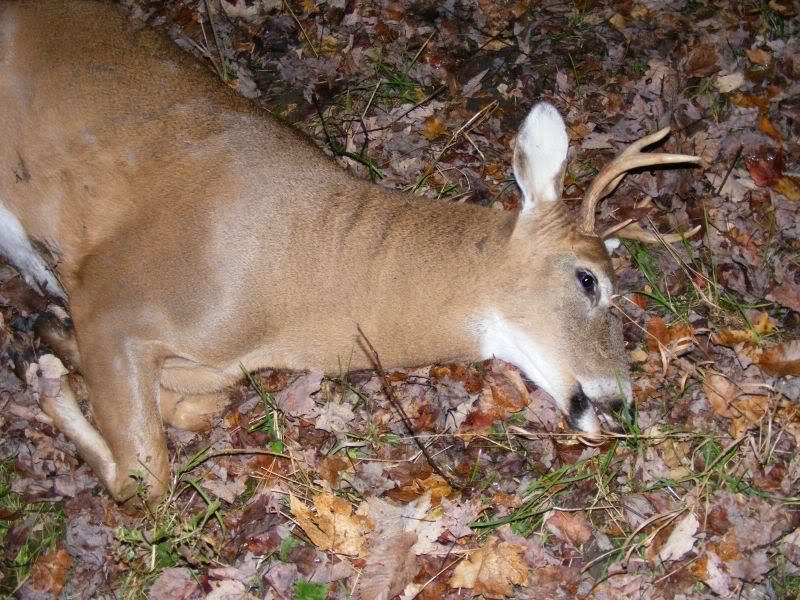 I had decided to stay out of the one section of this timber during the season because i felt it was sensitive because of its close proximity with the doe bedding area. Today after i skinned him out and got him in the cooler i decided to go for a walk and see if there was any sign of this guy in the woods. About 80 yards behind me i found what you see in these pictures.
Picture from my stand. He died right before the two little ponds of water on the trail!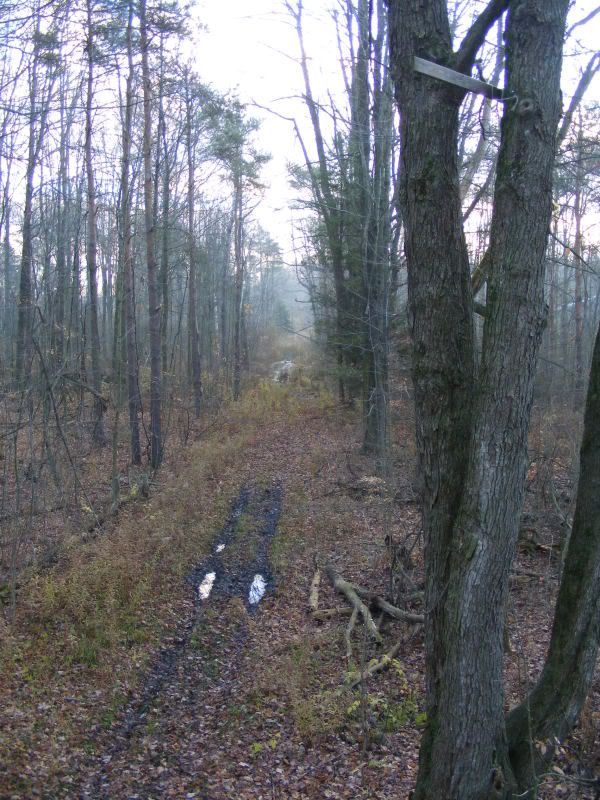 Goodluck this season guys!