UV light, true or crap?
02-04-2008, 05:57 PM
UV light, true or crap?
---
What's the deal with deer and predators seeing UV light.
You know when people say that they will see you ( your clothes ) glow like a light bulb.
Is this true or just a bunch of crap?
02-04-2008, 07:31 PM
Nontypical Buck
Join Date: Jan 2004
Location: NW Oklahoma
Posts: 1,166
RE: UV light, true or crap?
---
I kept reading articles about "glowing" camo, so I got worried and got a black light. I always use the detergent without the UV brighteners, but I read where camo that you buy will glow. When I checked, none of my camo or any of my clothes glowed. Then I checked othere clothes and about the only thing that really showed up was whites.
02-05-2008, 06:08 AM
RE: UV light, true or crap?
---
This is from a university study on cervid vision, draw your own conclusion: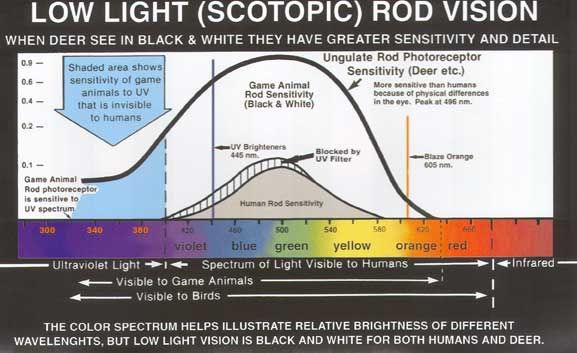 I've blacklighted newly purchased camo, and camo that I've washed in Sportwash, only the new stuff "glowed". Whites and blaze were particularly bright, but all of the new items showed a distinct "glow". I've also tested Atsko UV Killer and found it to work as advertised. One thing you need to remember is that unlike animals with enhanced night vision our corneas have a built in UV blocking ability, so we can't see the glow like they do without using a UV emitting source such as a blacklight. Get a blacklight and try it yourself, you'll see what I mean.
02-05-2008, 09:27 AM
RE: UV light, true or crap?
---
I did some research on this as well. What I found was some camo will "glow" more than others under a black light.. Especially faded camo that has seen repeated washing and drying.. So I don't dry my camo any more and I use the scent free/uv free detergent where I used to just use regular detergent.. I believe the deer can see UV light more than humans.. I mean how else can you explain the ability for them to run thru the woods in pitch black and not run into a tree..
.. Most of the modern camo companies have figured this out to.. So if your using name brand camo your probably OK..
02-05-2008, 09:44 AM
Giant Nontypical
Join Date: Nov 2004
Posts: 5,425
RE: UV light, true or crap?
---
I think its Marketing propaganda...You guys would laugh if you saw how faded some of my camo is, guess I'm a tightwad...I actually have thought of tie dying some to put color back in...

I killed 3 deer this year with a bow, all within 20 yards and had several times that a deer looked straight at me...I believe the secret is keeping still...

I don't buy new camo until I have outgrown or until it shrinks too much...

02-05-2008, 11:40 AM
Nontypical Buck
Join Date: Sep 2006
Location:
Posts: 1,394
RE: UV light, true or crap?
---
You know, when I reflect back on my life and hunting and I think of my mentors, its hard to believe that they ever even got a deer.
My buddy Carl for example; this guy is old enough to be my father. He's got a bunch of wall hangers; I'm guessing 20? He smokes a cigar half the time while hunting. He says it tells him which way the wind is blowing. He also wears plaid (the original camo) all the time. Further, some of the jackets he wears look like they've never been washed in anything! He says he's never hunted from a stand; I've never seen him in one.
You'd think after reading all the advertising that he doesn't stand a chance, but he does. In fact, I'd say that he stands a better chance than most of the people I know, including me. My opinion on why he stands a better chance is that he's wise, to the woods. He's spent enough time in them to know them. To hunt with him is a pleasure. He's amazed me in places that I've taken him that he's never been in.
People like Carl don't buy UV blocker.