Finally, Last Day of Gun Season!
12-12-2007, 10:00 AM
Finally, Last Day of Gun Season!
---
Well fellas, after putting over 90 hours in the stand this season, I finally scored on a buck.I had posted thisin the archery forum a few days ago (even though I got him with a shotgun), but thought I'd share it here as well. Here is the story.
Saturday December 8th was the last day of the PA antlered deer season and I had planned on bowhunting it in a spot where a buddy and myself had scouted out and set up stands a few weeks ago. A last minute change in plans thanks to the weather had us heading out to another spot which is a good spot to gun hunt, so I pulled out the old trusty Remington 870 with iron sights (shotgun only zone).
After getting up nice and early I cursed the heavens as there was a steady cold rain coming down making me wonder if it was worthwhile to even head out. I was awake and I've dedicated myself to putting in a serious effort this year so I got into the truck and headed to my buddy Paul's house to pick him up. When I got there he asked if I really wanted to go, and I said "I'm here aren't I." So we packed up and headed to the spot.
We got there and I didn't even need a light to head out to my stand thanks to the 1.5" of snow that was left on the ground. I had bowhunted this spot earlier in the season and saw 2 bucks, one was a 2.5 year old 6 point that I could have taken a shot at, but he wasn't what I was looking for. I wanted to get in that same tree, but ended up about 40 yards upstream of that tree overlooking the creek running through the property. The spot is in a creek bottom surrounded on both sides by some fairly steep hills. There are some drainages and saddles that lead down to the creek so the terrain creates a really nice funnel to where I was set up.
So I settled in around 6:30 and it was just about light enough to shoot with all of the snow. Legal shooting time wasn't for another 15-20 minutes so I just sat tight and waited in the rain. As the sun came up the rain started to slow, but everything was very wet and dripping so hearing the deer coming was going to be out of the question. I thought I had heard something to my leftrear so I slowly turned and scanned and saw a whole lotta nothing. As I turned back around I looked up the hill to my right and there were 4 deer that had just come over the crest of the hill and were about 75-80 yards away. This was around 7:20. I looked and saw that one was a buck, but he didn't look very big. He was milling around the does looking for some affection and it was strange because he wouldn't look very impressive, then he would look pretty good, then he wouldn't look so good again. After watching him for a while I got a look at his spread and could tell he was a pretty good buck and figured it was his light rack against the snow playing tricks on me. This area is very open and since they were above me on the hill I had to keep my movements very slow. I was hoping they were going to work their way down the hill and cross the creek like they normally dogiving me a nice close shot. After being hunted hard these deer were very skittish. They had closed the distance to about 65 yards when the buck seemed to be getting challenged by one of the does. I found this very strange behavior that I had never seen before. The buck then moved back up the hill and put his head and vitals behind a tree. I realized that is was now or never and waited for the other deer to be looking away and raised my shotgun. I waited for him to step out for a few minutes, but then he turned up the hill. I was afraid he was going to stay behind the tree and head back up and where he came from when he turned around back down the hill and stopped quartering to me at about 75 yards. I leveled my shotgun, put the sights on his front shoulder and brought the thunder.
He shuttered at the shot and turned and headed down the hill on a dead run. I couldn't believe it, but he didn't seem hurt at all. I chambered another shell and shot again as he past me at around 40 yards. As he hit the ridge he started to stumble and then fell down the hill to a flat on the edge of the creek. The other deer had continued on and I then heard Paul let a shot rip. After his shot one of the does ran past full boar and I watched her head for safer territory. I looked back up on the ridge where my buck had fallen from and saw a deer struggling. I thought "how the heck did he get back up there?" I leveled my gun waiting for the deer to get back upbut the deer let out a bawl and then expired.
I got down out of the stand and went to where I last saw my deer and there he was, so the other deer I saw was the one Paul had shot. When I got to my buck I saw why he was so deceptive. He was a very solid 2.5 year old 8 point that had broken off at least 6 inches of his main beam on his left antler at the G3. His G3 on his right antler was also broken off at the main beam as well as the tip of his right antler. This was a warrior. Upon further inspection he hadalso been shot with a bow as he had a scar on his left shoulder in the shape of a 3 blade broadhead. The deer that Paul had shot was a very small spike (less than 3") and that explains the challenging behavior. I back trailed the blood from my deer and had in fact hit him with the first shot, he was just a tough deer.
I scored him at 86 4/8" and estimate that he probably lost about 16" or so in broken off antler. He has a 17 6/8" inside spread. I'm very pleased with him and happy to have taken such a scrapper this late in the season.
Sorry about the long post, but this has been a long season for me and personally I like reading long success stories. Now it'll be nothing but more nanny whackin' for me. On to the pics:
Me and the buck: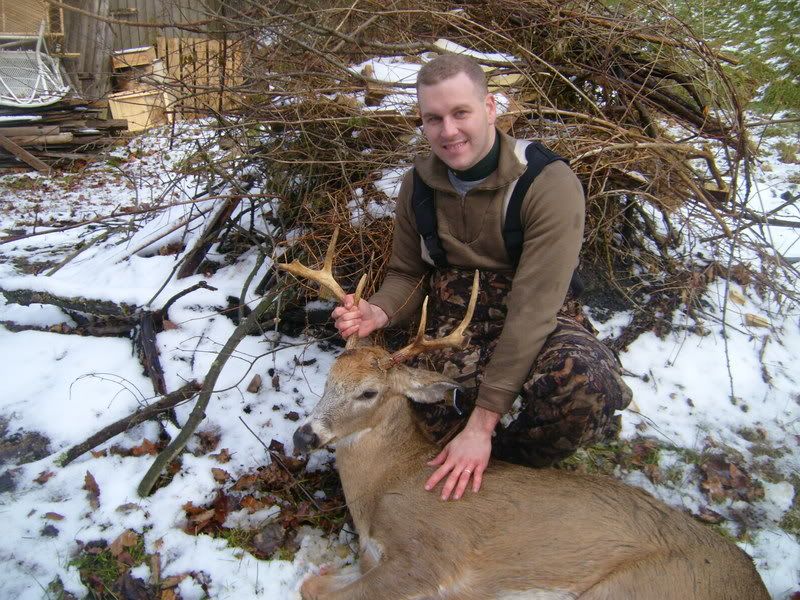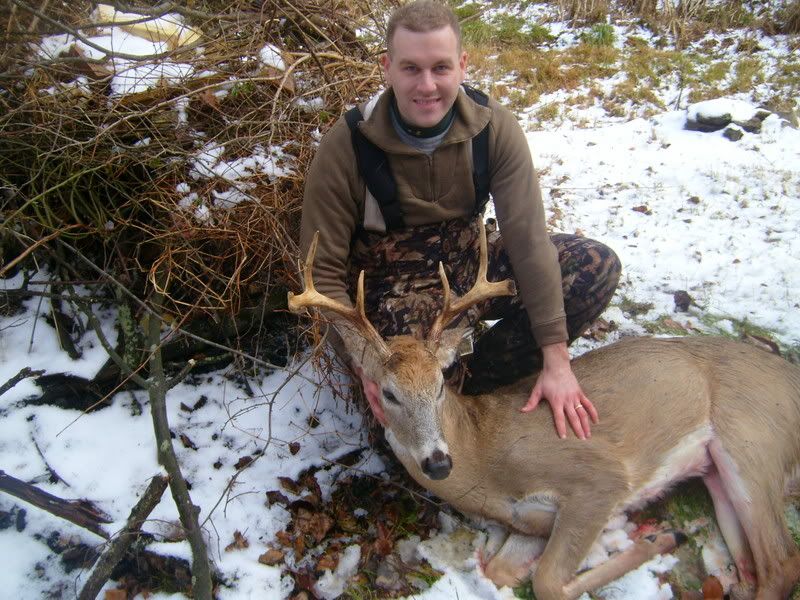 Paul and the buck:
I wish I had some in the field pics, but the batteries in my camera died.
Posting Rules
You may not post new threads
You may not post replies
You may not post attachments
You may not edit your posts
---
HTML code is Off
---