Why I love gun hunting as well as bow
11-25-2007, 05:55 AM
Join Date: Feb 2003
Location: NY
Posts: 4,668
RE: Why I love gun hunting as well as bow
---
ORIGINAL: PA Bow/Flinter

atlas: You just sent chills down my spine. As I sit here tonight and prepare to head to camp tomorrow afternoon for Monday's opener...I can picture everything you said in my mind.

Thank you for posting this. The last few years I've been facing the mental challenge as to why I continue to hunt with my rifle when I love my bow and flintlock that much more. Especially this year. Now I remember why. Its not the gun, its not the deer. Its the experience.

Thank you,
Steven

Awe...now I'm all excited for Monday! WHOO HOO!!!
Good luck buddy................nothing quite like deer camp
11-25-2007, 07:14 AM
RE: Why I love gun hunting as well as bow
---
Atlas, great post, I like Rob was a self taught hunter also, Dad would just drop me off and come get me at a set time, i wish i had all the memories like that with my Dad in the Deer woods, he was not a deer hunter but a rabbit hunter and i do have some great memories of that. Me, him, uncles and friends beatin the brush and walking railroad track edges carring my Browning sweet 16 that my Grandpa passed down to me. I cherished that gun and kept it in mint condition, then lost it in a house fire in 2005, luckily i knew a gun smith that completly restored it, its not mint but i still have it and treasure it. However the situation is different with my kids, My oldest Dalton 16, now a very accomplished bow and gun hunter used to stand in the driveway crying
as i was leaving to go hunting, because he like you was to little at the time ,but wanted so bad to go himself. He is at this moment Duck hunting with his bud. Now im dealing with the same thing with my 8 year old Tanner. I have taken him just to be there AND ENJOY the great outdoors, snacks and all
He is very ammused with my pull up string in a double stand
but the patience thing with him is taking a little longer than it did with Dalton but eventually he will be where Dalton is
He is now shooting a bow, next week he is going to try a youth 20 ga. to see if maby i can ready him to possably take a spring turkey after taking a hunter safety course. Itto me is great time spent with my family, my daughter on occasion will tag along and its welcomed. Keep it family!! memories forever
Again great post Atlas!! Im including a pic from last season when Dalton was just barely 15 and Tanner was 6. This was the first time i had not sat with Dalton on opening day but i was a couple 100 yards from him, i heard the shot, something i will never forget, them him coming over the radio telling me he had just shot a good one, i had tears. guys i know its not a bow post, but im very proud of these two boys.
11-25-2007, 07:36 AM
Join Date: Feb 2003
Location: Blissfield MI USA
Posts: 5,293
RE: Why I love gun hunting as well as bow
---
I have never done the deer camp thing either. As a matter of fact I never started really hunting until I was in my thirties. I did hunt with my dad when I was young though. We did some squirrel hunting with a marlin lever action (the gun I learned to shoot on after I graduated from bb and pellet guns) and then some bunny hunting now and then. Him with his old 20 ga SxS, me with my 20 ga single shot he got me at Sears, and a little beagle named Candy. If my dad deer hunted I never saw it. The biggest gun he owned was that 20 ga.

I can sort of relate though. A few years after I started hunting me and two friends from work started hunting together on one of the guy's property during gun season. We spent a winter building identical blinds in his barn, then put them up the following summer. We hunted there for three years talking on radios sometimes, meeting up for lunch now and then at the barn and meeting somewhere when someone shot a deer.

Well he got a divorce, things went bad and we don't hunt there anymore. The odd thing is I don't miss the deer hunting so much. I miss hanging out at lunch or after the day was over just shooting the bull about what we saw or didn't see. I guess it was sort of our own little mini camp experience.

I can't imagine what it would be like to have a 20 year tradition full of memories with your family. Most of my hunting is done alone, maybe with one buddy a mile or so away.

Ya know what, this place is the closest thing I have to deer camp. You guys are great, but that is kind of sad when I really think about it.

Paul

11-25-2007, 07:49 AM
RE: Why I love gun hunting as well as bow
---
Great post Atlas!
My Dad doesn't hunt. I started late at 29 with an uncle gun hunting. We had a friends camp in NY state we could use & Me, Uncle Richie & his brother Bob went every year until the land got sold 2 years ago. The times were great & the memories will last a lifetime.
Sadly just as my oldest boy got old enoughto tag along the camp was sold.
This year I took him to our camp in northern NH for a week. We hunted farms & mountains & saw not one deer. We did see many other wonderful things & the kid was thrilled just to be hunting & know that if we did see a deer he could take it. NH allows a junior hunter to hunt with no license or anything as long as he's acompanied by a licensed adult. We saw a mink & tracked deer for miles thru the snow. This is something we WILL do until I cant anymore. his littl;e brother can come next year if he wants. They come bowhunting but its not the same. Alone I perefer bowhunting, but as a family thing I dont think anything will replace rifle season for me.
This is priceless!,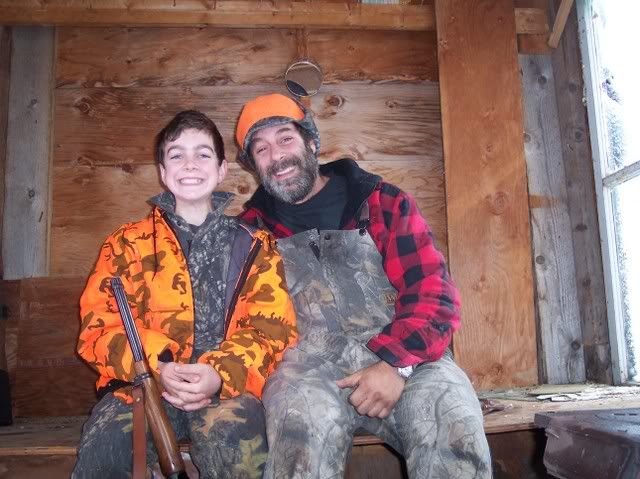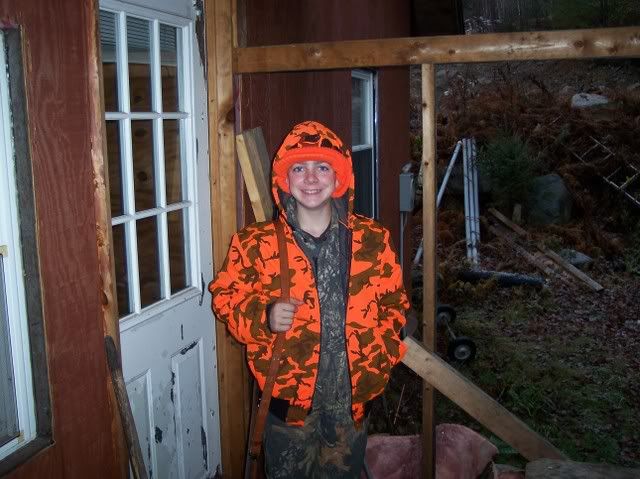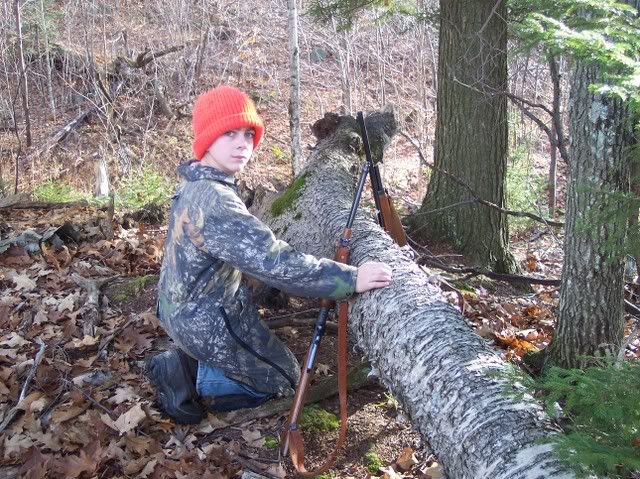 11-25-2007, 07:54 AM
RE: Why I love gun hunting as well as bow
---
Atlas great post. I also started gun hunting with shot gun in NY. While bow hunting is different and more up close,I do miss those hunts with my Dad in years past. We still hunt together today 29 years later. Dad was just at my shop butchering a deer yesterday and looking at trail cam pictures.
11-25-2007, 08:09 AM
RE: Why I love gun hunting as well as bow
---
Another Thumbs Up for Atlas's post! Bohunting for me is a personal challenge but when Rifle season comes around it becomes a family event. We don't hunt much different than bow season but meeting up at the end of the day and sharing stories, busting on each other, and everything else is priceless! With everyone's schedules if we didn't have rifle season I oprobably would have lost touch with some of my relation. Our rifle season starts tomorrow and I can't wait!!
11-25-2007, 08:13 AM
RE: Why I love gun hunting as well as bow
---
couldn't have said it better myself, but bowhunting is still my passion. gun season is a very special tradition though!
ORIGINAL: atlasman
Gun season is just different.......the woods "feel" different, stuff happens in the blink of an eye.....shots ring out and make your heart race at the thought of someone in your group getting a deer and what might be coming up over the ridge your way.
That's gun hunting to me..........the cold biting at my toes, snow flakes the size of Frito's, great friends, great family, and hopefully the acrid smell of gunpowder smoke engulfing my stand
11-25-2007, 09:30 AM
RE: Why I love gun hunting as well as bow
---
i agree with you 100%. hunting with dad is just, different.
But heres the question i often ask myself, why
not
take the bow instead of the rifle. I enjoy bow hunting more, would much rather harvest a deer with a bow, and like you said it is all about the experience. I can see the same experience being shared. Its almost as if i feel like i must take the rifle for that experience, when in reality, i could still have the same memories but also have a bow in hand.
btw, i still havent brought myself to give up the rifle and probably never will muzzleloader.
just rambling or does anyone else feel this way?