AERIAL PHOTOS
09-03-2006, 06:06 AM
Spike
Join Date: Jul 2006
Location: St. Petersburg, FL
Posts: 75
RE: AERIAL PHOTOS
---
I think MK is right in that they all get their photos from the USGS. Overall, I find that the Yahoo Beta map site uses the most up to date photos. You just need to try a few for your particular area and see which one is best. If you are in an area covered by Google's "Birds Eye" view, the pictures are unbelievable.
09-03-2006, 06:27 AM
RE: AERIAL PHOTOS
---
ORIGINAL: MK M GOBL

The dates for the maps should be the same for every website, as they all pull their data from the same source. Some areas are more up to date than others, but each site has access to the same info.
I think you just disagreed with yourself in the first sentence."all should be the same.....some are more up to date then others.
I know for my area Yahoo has data on it that was done to my area last summer. Goggle earth and the free tera server both have houses missing from fifteen years ago. Heres some pics to show the diff. But I have seen guys say for their area one is odl and one is new, it just depends on where you are.
The terra has the advantage over yahooin the topo maps, which yahoo does not even have. But just wanted to post some pics as far as quality and age of pics go. I think the free terraserver that is hosted by microsoft are old pics that terraserver.com sold off and that is why they are free. The first pic is the free terraserver which is out of date for my area, maybe some areas it is newer. The second pic is from terraserver.com in which you have to subscribe to get the real close zoom in. and the third pic is the yahoofree pics. Hope this helps people find some good areas!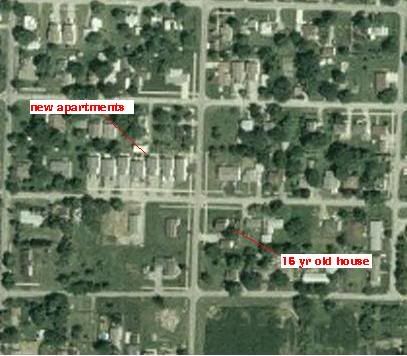 Posting Rules
You may not post new threads
You may not post replies
You may not post attachments
You may not edit your posts
---
HTML code is Off
---