Close-Range Neck Shots
11-19-2005, 11:11 PM
RE: Close-Range Neck Shots
---
Obviously, the popular shot is the vital shot. But let's say all your shots are within 35 yards and you are hunting for meat. With a .270 Win sighted in at 100 yards, I'm pretty sure a middle-of-the-neck shot will down any deer instantly. Basically, if a doe steps out and offers me a broadside shot, I'm going for the neck because it is the least meat damage. On the other hand, if a respectable buck walks out, i'm going vitals for sure. Remember, all this shots or 50 yards or less for sure. Any objections???
11-20-2005, 01:26 AM
Fork Horn
Join Date: Sep 2005
Location: IDAHO
Posts: 252
RE: Close-Range Neck Shots
---
Itake a neck shot only when no other shot is possible. I prefer to take a lung shot. The only reason I stay away from the neck shot is due to bloodshot. I use the neck meat for burger meat and seems like alot of time is spent soaking the meat to cleanout the excess blood.Some hunters might say the deer will suffer if not hit correctly in the neck, but that can happen on any shot. Thekey is practice shot placement. Good Luck!!
11-20-2005, 05:29 AM
RE: Close-Range Neck Shots
---
I suppose a neck shot is pretty effective but I do what my ole Pappy always taught me .... hunt with the wind in your face and shoot them where their the BIGGEST !

dd

11-20-2005, 06:55 AM
Nontypical Buck
Join Date: Feb 2005
Location:
Posts: 1,784
RE: Close-Range Neck Shots
---
I am a huge fan of neck shots and have killed 3 with 30/30 this past week in the neck (one was a 120 class 10 point). On a neck shot, a shot "close to the vertebrae" is called a miss. I NEVER take neck shots past 50-60 yards. There is too much risk of movement during bullet travel past 50 yards.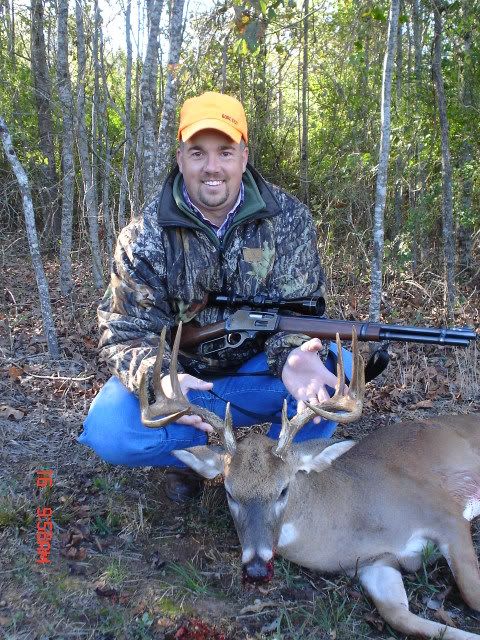 11-20-2005, 08:17 AM
Join Date: Feb 2003
Location: chiefland Florida USA
Posts: 5,417
RE: Close-Range Neck Shots
---
I have taken a few neck shots ; they were all with in 20 yards.there I know I can hit a quater,so I will take that one. over 50 yards "NEVER"
if you go high,they fall but will get up.low they will go down and get up and may not find them,(they will die later).
it all depends on the person and there ability to hit the spot.
get a chart of deer vitals and look at the neck bone.it is not where most people think,it is low at the back and higher at the headalmost in the middle.
http://home.mn.rr.com/deerfever/Anatomy.html
11-20-2005, 09:52 AM
Typical Buck
Join Date: Nov 2005
Location: Livonia,new york
Posts: 564
RE: Close-Range Neck Shots
---
i've heard neck shots will do the trick. having both spinal cord and arteries in a fairly small area. never done it myself. bagged a 9 pointer the other day. could have taken a neck shot but opted for the center of the chest. he only went 30 yards. but ya if i had a deer covered by a tree and only the neck was showing and it was a good shot (under 50 yards for me i'd say) hell i'd take a shot.good luck this season.


THE FOOT