Upland Contest Teams and Scoring Sheet
11-08-2008, 08:37 AM
Fork Horn
Join Date: Jan 2006
Location:
Posts: 460
RE: Upland Contest Teams and Scoring Sheet
---
sorry I haven't been around to post on here team but we are now on the board!!!!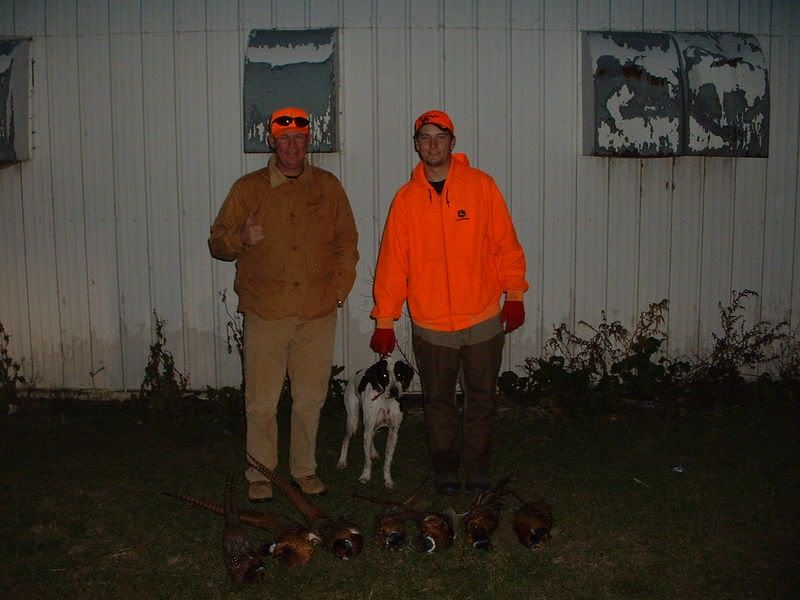 3 for me only but all in all a good day hunting...I got more pictures that need posting but they are still on the camera
11-10-2008, 02:35 PM
RE: Upland Contest Teams and Scoring Sheet
---
yup, we're on a roll now npaden. Still another month and a half left in the season here too.

Nice buck by the way. It's pretty cool to see how much the deer change from season to season like Double wide did isn't it?

11-10-2008, 03:44 PM
RE: Upland Contest Teams and Scoring Sheet
---
Thanks.
It was pretty amazing to see how much he regressed this year from last year. It wasn't like he was a B&C buck last year, but I think he would have been a solid 135" - 140" with an inside spread of 20+". His bases are HUGE and I can only imagine what he looked like in his prime. I think he was probably already on the downhill slide last year. I've seen 4 other good bucks that would all be shooters next year if they make it through the season. One of them will be 5 1/2 next year and has shown the ability to put on some nice junk in previous years so if he makes it through another year I will be SERIOUSLY after him!
These 2 pictures show the difference the best to me.
Last year's antlers: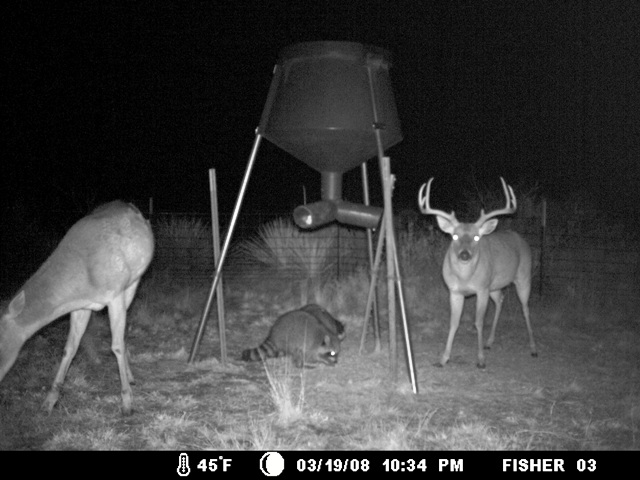 This year when he was just about done growing his antlers: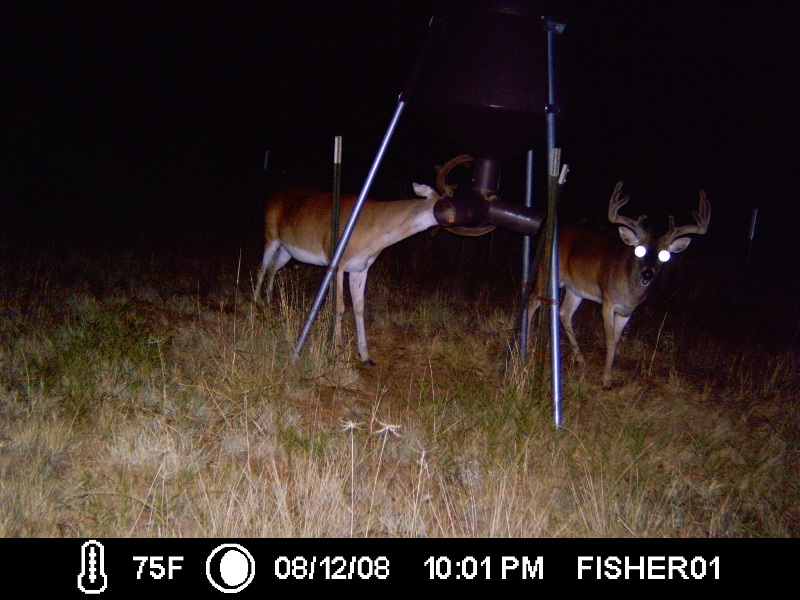 I was still very happy to take him, he was #1 on my hit list.
Another interesting thing is the buck in both of those pictures with him is the buck I nicknamed "Stickers". He was #2 on my hit list. Hopefully he will fall into the same habits that Doublewide had and will get ground checked by me next year!
He had a nice sticker coming off his G2 this year but if fell off!!
Here he was with the nice sticker coming off his left G2: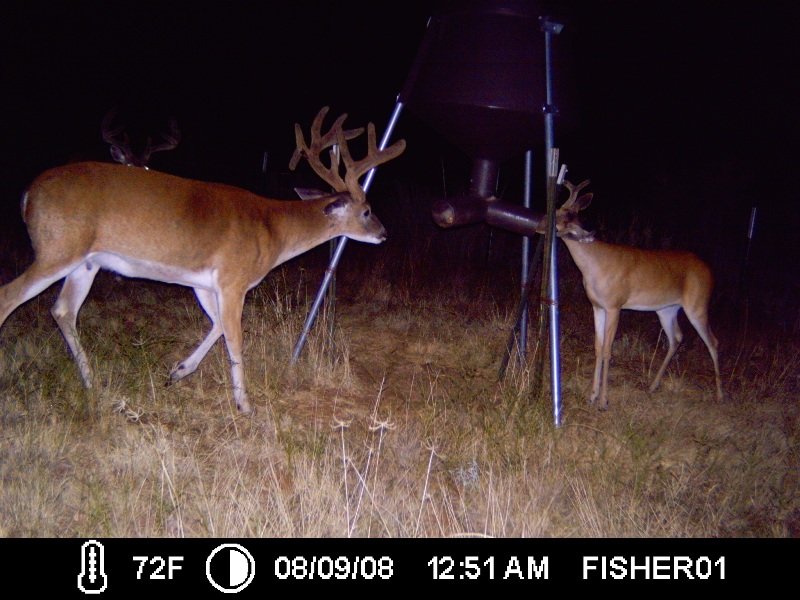 And here he is after the sticker dropped off: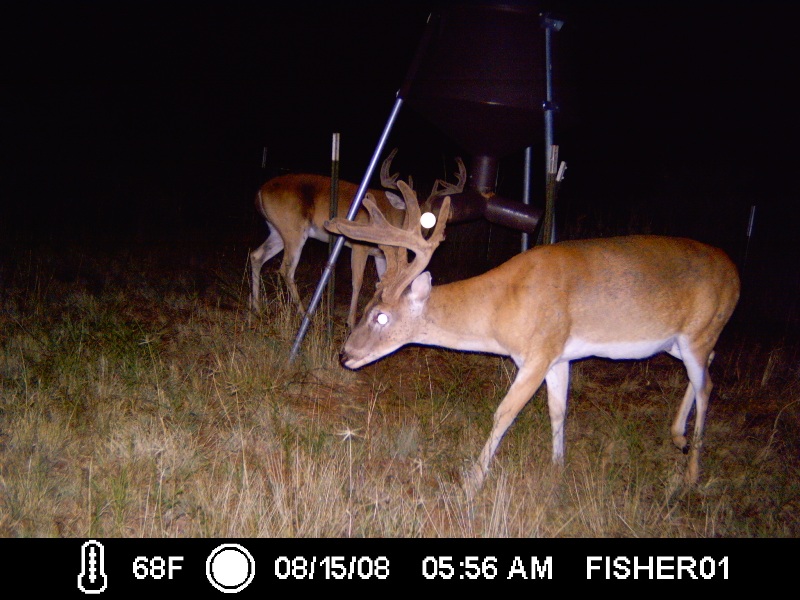 He is still on the upward swing on antler growth though, here is a picture of him last year (this is the first picture I got of him and when I nicknamed him stickers), note how much his mass has increased this year over last year.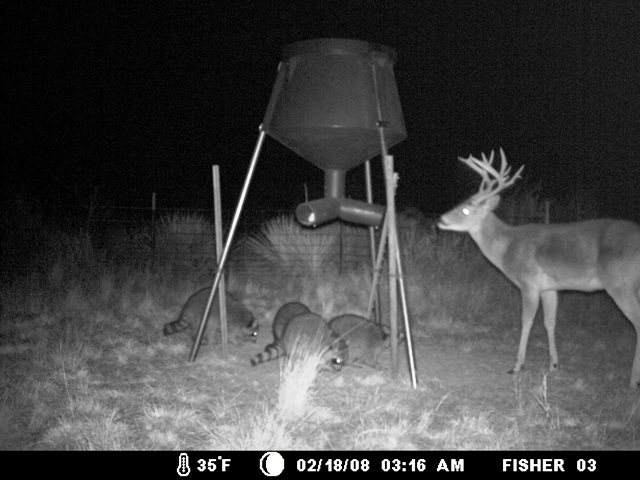 Okay, sorry for hijacking the score thread. I just think it is very interesting to see the antler growth sequences documented and thought I would share.