Muskoka Trio - Ontario Canada
04-28-2012, 03:25 PM
Nontypical Buck
Join Date: Feb 2003
Location: NewLowell ,Ontario ,Canada
Posts: 2,765
Muskoka Trio - Ontario Canada
---
Well headed last night up to the bear camp to try some birds here being that 76D around my place has no birds. Well what a hunt the action was great and even seen 3 black bears walking a field at 10:00am.
The turkey hunt was great and I killed mine off the roost but Jim and Dustin's hunt was something.
Have you heard that gobblers don't like objects and get hung up easy well let me tell you this story.
I started a gobbler on a hardwood ridge with the tube call. As I worked the birds I thought they were a long way off, so I worked them hard with cutting and all. I switched to the moth call and to find out they were on the other side of a main road. As I was calling the traffic was going back and forth on a constant rate. The gobbler teamed up with another gobbler and a hen and here now I got two gobblers and a hen all talking back to me and working. They fly across a large creek, crossed a busy road between traffic and came up the trail to the back of my truck and all three birds are standing 30 yards away but the woods is thick.
Jim shoots and drops one gobbler and the other never knew what happened so I start cutting like crazy and he starts gobbling back and turns and walks towards Dustin and works back and forth until Dustin gets a shot and down goes the second gobbler.
A Triple of long beards before noon what a great hunt.
Sorry about the pic, but we had to have a shot of the camp with a gobbler trio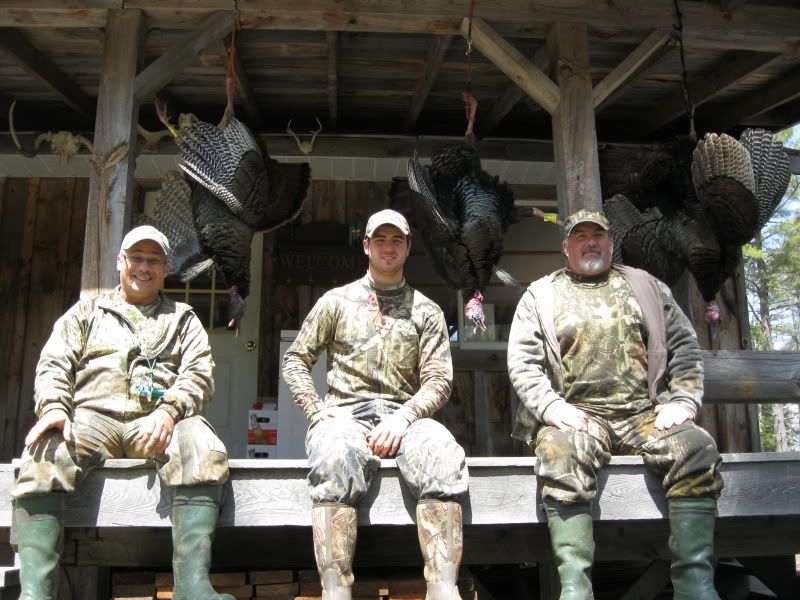 Posting Rules
You may not post new threads
You may not post replies
You may not post attachments
You may not edit your posts
---
HTML code is Off
---