Do you think this is a bearded hen?
04-24-2011, 12:12 PM
---
I have also seen jakes with a full fan. A guy shot one in NE a few years back thinking it was a Tom because it had a full fan. It had a short 3" beard and just little nubs for spurs I would rule out the tail feathers but it does look to me like there are black tipped breast feathers, the head looks like a jake to me, and the nubs (evern very small) all add up to jake. I am a taxidermist and have seen quite a few birds. I also get quite a lot of hens (for making decoys). I've seen my fair share of bearded hens and this is not one.
04-25-2011, 05:37 AM
---
Originally Posted by
Ridge Runner
line of fine feathers up the back of the neck/head and the lack of any waddels says hen, even overlooking the dull coloration, I see what JW is saying is a spur on the right leg but looks like an optical illusion from a round edge on a leaf on the ground, no way is that a gobbler.
RR
What RR said Back of a gobblers head
Back of a hens head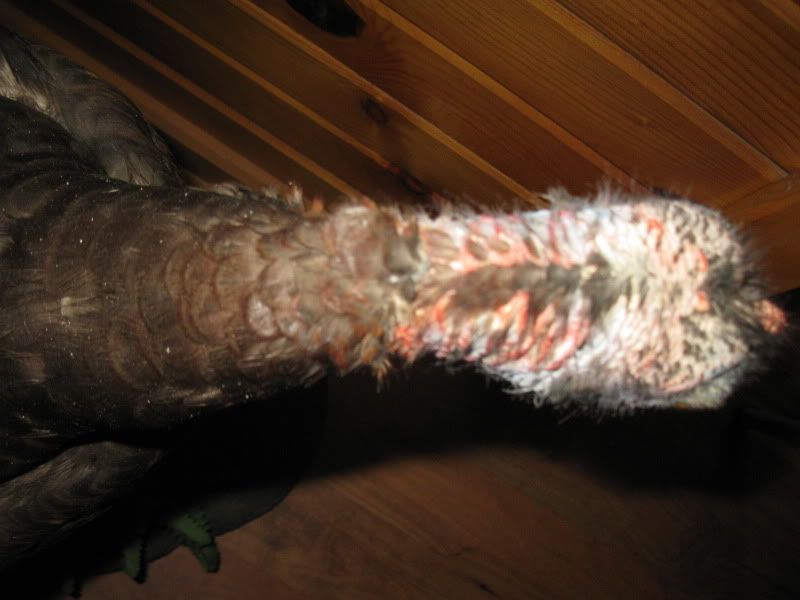 04-26-2011, 07:38 AM
---
It's a hen...a little tricky to tell on this one, but not that tricky, to me at least. I have been wrong many times in my life, but I don't believe I am wrong on this occasion in believing that this is a hen.